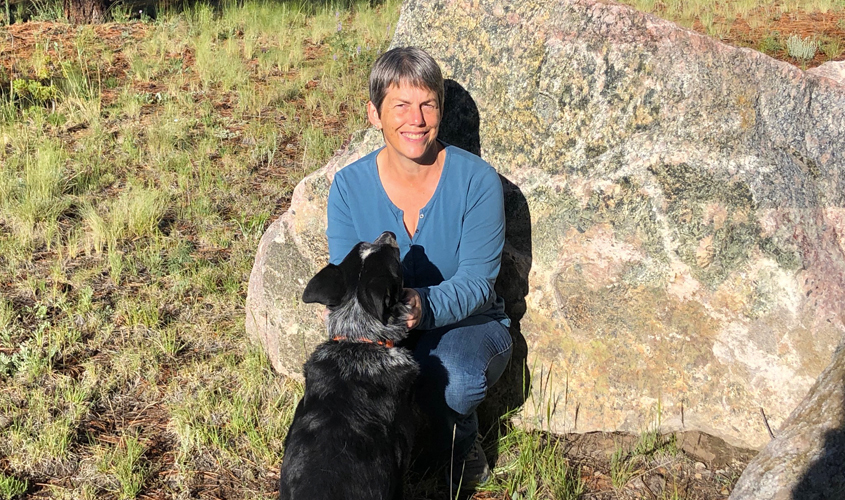 School of Veterinary Medicine professor, Stacey Byers, DVM, MS, DACVIM(LA), took a circuitous route to becoming a veterinarian.
Possessing strong math and science skills, she obtained a degree in metallurgical engineering and began working at The Boeing Company. However, soon after volunteering at a wildlife rehabilitation hospital she discovered what was missing in her career and applied to veterinary school. It was there she discovered her love for livestock medicine and teaching, and her desire for a career in academia.
Dr. Byers started working at St. George's University in 2018 and was recently promoted to professor of livestock medicine in SVM's Large Animal Medicine and Surgery Department. In her role, she lectures mostly to Terms 4, 5, and 6 students on livestock medicine and teaches in large animal laboratories to students in the earlier Terms 1-3 and is co-leader on communication training courses. She also serves as a mentor to junior SVM faculty, along with handling administrative functions for a variety of SVM committees.
Her efforts have not gone unnoticed. Dr. Byers was awarded the Zoetis Distinguished Veterinary Teacher Award during the SVM's Spring 2022 Term Awards ceremony. Veterinary students from each term submit nominations for the award, with Term 6 students casting the deciding votes.
She shared with SGU News why she loves large animal medicine, what winning the award means to her, and what she hopes to instill in the students she teaches.
St. George's University: What do you see as your role with your students? And what are the key takeaways you want them to learn?
Dr. Byers: My role is varied with my students. I teach them a variety of livestock topics to prepare them for their clinical rotations and life after veterinary school. I also provide assistance to and mentor students who are looking to specialize in large animal medicine.
The transition to clinical rotations can be intimidating, similar to the "new kid at school" feeling, so I want them to realize that they shouldn't expect to have all the answers when they graduate and that is okay. Becoming a skilled veterinarian means always being open to learning, especially as new graduates.
Also, being a livestock vet requires a good sense of humor and a lot of patience. Having the ability to laugh at yourself when things get very messy is a definite plus.
SGU: What does winning the Zoetis Distinguished Veterinary Teacher Award mean to you?
Dr. Byers: It was an amazing honor to be both nominated and receive this teaching award. It helps validate what I am trying to do. I teach a topic most students are not as interested in pursuing, so it means so much to have my teaching methods appreciated and to be recognized by our students for trying to be a good teacher and mentor.
"Becoming a skilled veterinarian means always being open to learning, especially as new graduates."
SGU: Why did you choose livestock medicine? Why this specialty?
Dr. Byers: Shortly after working at Boeing I started volunteering at a wildlife rehabilitation hospital and later a large animal referral hospital. It was during that time I realized how much I loved working with large animals and clients. I soon went back to school to study wildlife biology and then applied to veterinary school. It was there that I found I most enjoyed working outside with the livestock clients. Every day was a new challenge and adventure. I also discovered how much fun teaching was and decided to focus on academia.
SGU: What is the best part of your job and why do you love what you do?  
Dr. Byers: My favorite part of my job is working through cases with students to bring the "real world" into the discussions and teaching. I love when students send me comments about cases that they observe during their breaks or clinical rotations, and how comfortable they feel discussing the case with their instructors and clients.
I also love when students decide they want to be a mixed animal veterinarian working with both small and large animals because they have discovered the fun and adventurous side of working with large animals.
SGU: How do SGUSVM students compare to students you've taught at other schools?  
Dr. Byers: Teaching veterinary students has been enlightening, educational, challenging, and even entertaining in some cases. Our students at SGU are definitely on par with students I've taught at other schools. All veterinary programs accredited by the American Veterinary Medical Association are designed to ensure all students have a good solid foundation in veterinary medicine and SGU is no exception. I'm usually only able to tell a student was from Grenada during the winters in Colorado and Washington, otherwise they blend in with the rest of the students.
SGU: What are you most proud of in your career?  
Dr. Byers: I am extremely proud of my teaching and have tried to do the best I can to help students excel in working with livestock medicine. Even more importantly, I care deeply about my students and want them to succeed regardless of what areas they choose to work in after veterinary school.
I am also proud of the research I did while earning my master's degree—working on bovine viral diarrhea virus infections in camelids. And later, the research mentoring I did with vet students and interns/residents in helping them develop their research skills.
SGU: Any plans or future projects you'd like to share? 
Dr. Byers: I am working on obtaining an MBA in multisector health management at SGU. This new endeavor has been a bit of a challenge after having such a science focus in my other degrees. However, it's been interesting learning these various new topics and I look forward to applying some of what I learn to my teaching.
SGU: What are you most looking forward to with the start of the August term? 
Dr. Byers: I am most excited to welcome new students, and those who have been learning online, back to our vibrant campus community. Being able to see students' faces in person will be wonderful. We also have some new faculty joining us in August and I look forward to hearing about what will be going on in the other programs.
– Ray-Donna Peters
Related Reading   
https://www.sgu.edu/wp-content/uploads/2022/07/Stacey-Byer.jpg
500
845
lchartor
https://www.sgu.edu/wp-content/uploads/2020/02/sgu-logo-grenada.svg
lchartor
2022-07-07 14:53:43
2022-07-08 08:46:46
SVM Large Animal Professor Honored with Zoetis Distinguished Teacher Award