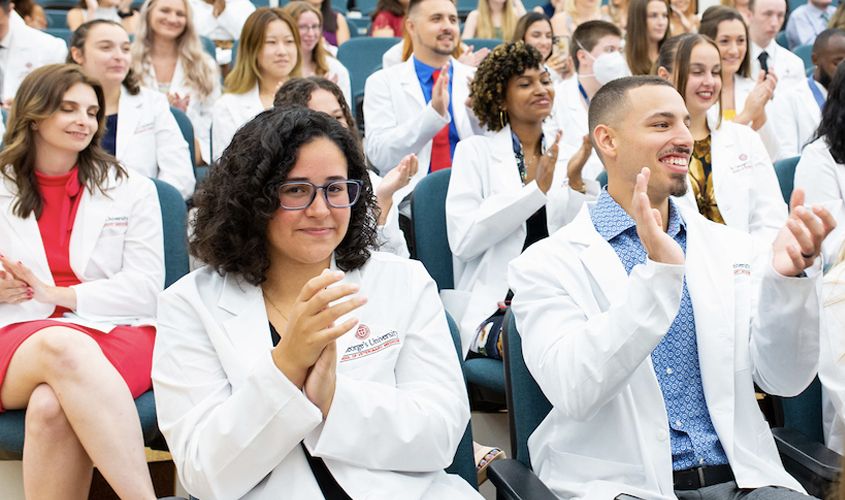 When Dr. Marie-Claude Poulin visited Grenada 25 years ago, she marveled at the impressive St. George's University True Blue campus. She had no idea that years later she would return to coat her daughter Eloise Verret, now a first-term School of Veterinary Medicine student at SGU, during the School of Veterinary Medicine's recent White Coat Ceremony.
"I'm very happy and proud that my daughter will be following in my footsteps," said Dr. Poulin, a veterinarian practicing in Quebec, Canada. "Going up on stage to coat her was a very special moment for us. When my husband and I visited the campus all those years ago, we were amazed at what we saw. So, when the time came for her to apply to veterinary school, we knew that SGU would be perfect for her."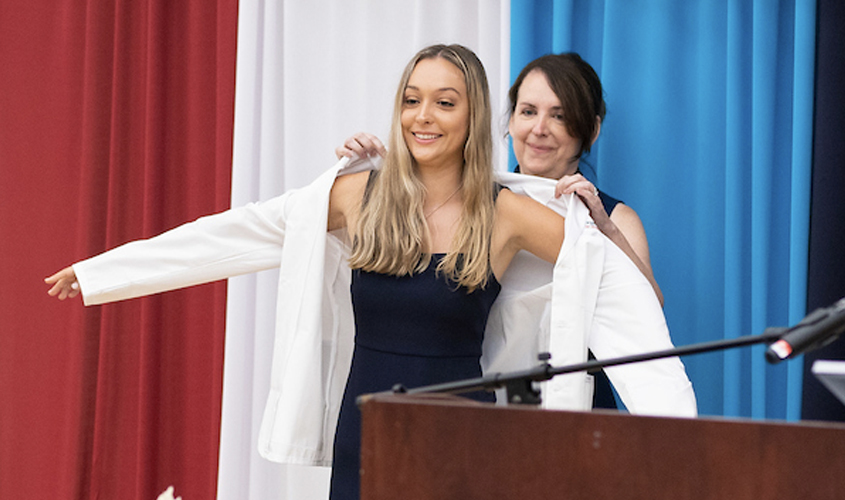 Ms. Verret shared that the experience was also special to her. "I always knew I wanted to be a veterinarian, just like my mom," she said. "Growing up as the daughter of a vet, I got to see firsthand what the job was like. When I started researching schools to apply to, it was my mom who introduced me to SGU—and I just knew this would be the best place to start my own veterinary medical journey."
Aspiring veterinarians walked across the stage on August 27 at Patrick F. Adams Hall, where they received white lab coats marking their entry into the veterinary medical profession. Students were coated by various SGU administration, faculty, and sometimes by family members or mentors who have become veterinarians before them. This is the SVM's 21st White Coat Ceremony and the first to be back in person since the COVID-19 pandemic.
From the Master of Ceremonies Dr. Kerri Nigito to Provost Glen Jacobs, the veterinarians-in-training were urged to rally around each other in the good times and bad. They advised the Class of 2026 that working together would bring them success.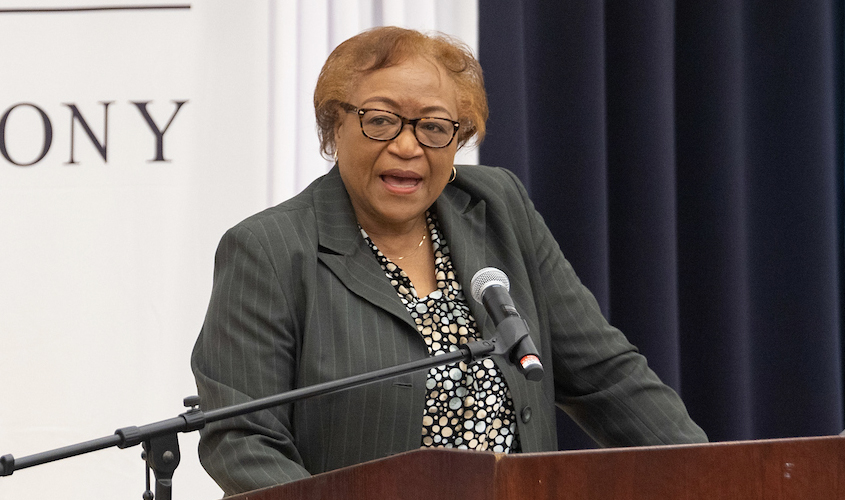 Those sentiments were echoed by Dr. Ruby Perry, dean of veterinary radiology at the Tuskegee University College of Veterinary Medicine in her keynote address.
"The support of your family members and friends along with your mentors, faculty, staff, and your classmates will be a valued component of your success and worthy of acknowledgment. So, let's never forget those who help you along the way," counseled Dr. Perry, who is also the first female African American board-certified veterinary radiologist in the American College of Veterinary Radiology.
Ashlee Ganpot, BSc '21, the sole Grenadian Term 1 veterinary medical student felt drawn to the School of Veterinary Medicine while pursuing her undergraduate degree in biology at SGU's School of Arts and Sciences.
"My faculty advisors at SGU played a major role in my decision to become a veterinarian," said Ms. Ganpot. "Being exposed to the vet school while completing my undergrad studies is what influenced me to pursue a career in veterinary medicine—and to pursue it at SGU. When I found the vet school, I felt like this is where I belong. I found my place."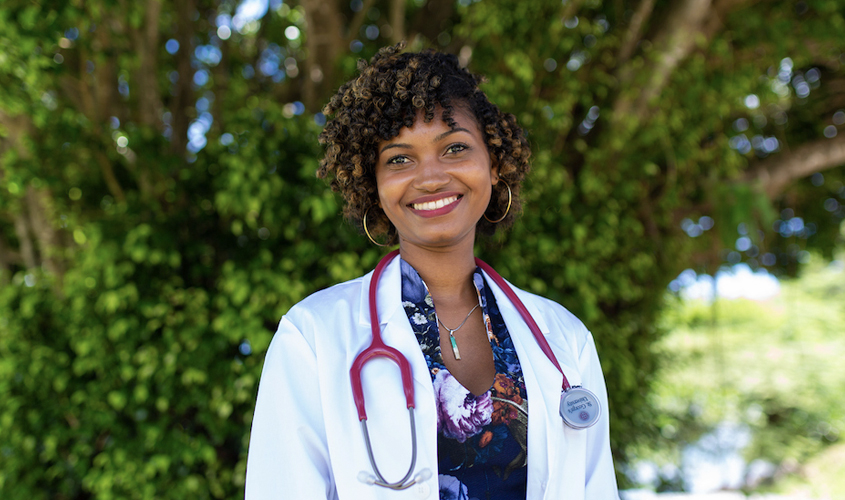 – Ray-Donna Peters
Related Reading 
https://www.sgu.edu/wp-content/uploads/2022/09/IMG_0072-1.jpg
500
845
rpetersgmail
https://www.sgu.edu/wp-content/uploads/2020/02/sgu-logo-grenada.svg
rpetersgmail
2022-09-13 10:33:00
2022-09-13 10:50:57
SVM White Coat Ceremony: Aspiring Veterinarians Take Oath to Enter Profession