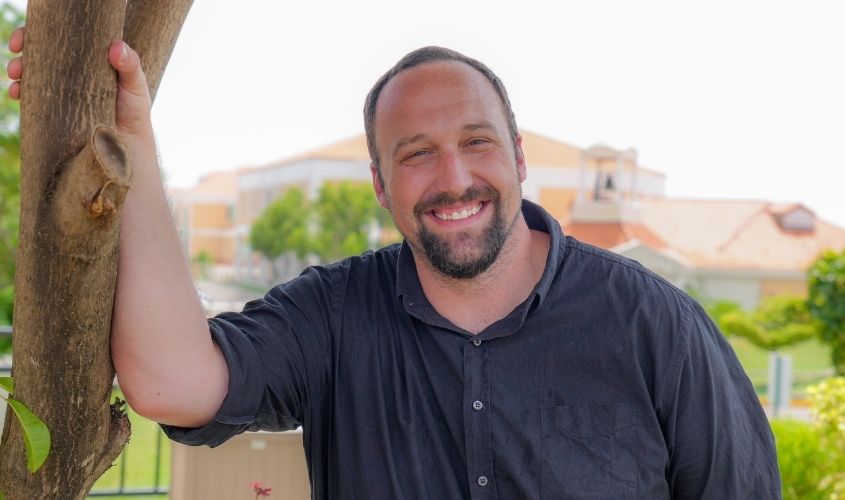 What does it feel like to return to Grenada for the first time in 10 years? Just ask Preston Smith, DVM '12, who recently returned to the island courtesy of the School of Veterinary Medicine Alumni Association
As winner of the SVMAA's 20th anniversary raffle, which took place in 2019, Dr. Smith was awarded a one-week stay at the University Club as well as $1,500 USD toward flights. However, because of the COVID-19 pandemic, it wasn't until October of this year that Dr. Smith and his wife were able to travel to Grenada.
"I know that I have wanted to come back for some time," said Dr. Smith, an associate veterinarian and assistant medical director at Veterinary Surgical and Referral Hospital in Cary, NC. "I just didn't know how much I had missed Grenada until I walked off the plane at Maurice Bishop Airport. My wife laughed at me a fair bit for my excitement to be walking around the island again. It gets into your soul and changes you for the better for the rest of your life."
Among the activities the couple took part in while visiting were sightseeing and scuba diving (the graduate was certified as a student), visiting campus (and being amazed at the transformation, he said), and connecting with several former professors, including Drs. CV Rao and Tara Paterson.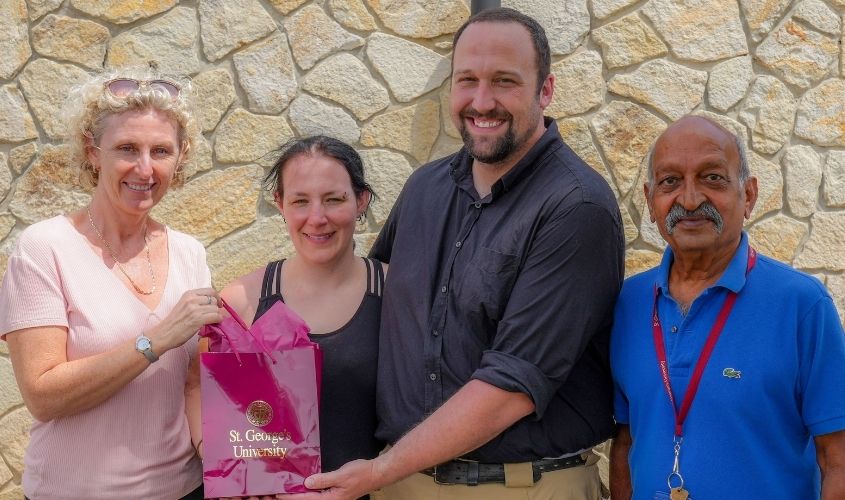 Two years ago, the SVMAA ran the contest to commemorate the school's 20th anniversary. Raffle tickets were sold to more than 160 SVM alumni. The drawing took place that summer at an SVMAA alumni reception in conjunction with the American Veterinary Medical Association's annual convention. Since then, proceeds from the raffle have funded a scholarship award, which the SVMAA gives to a deserving sixth-term vet student twice each year.
SGU News caught up with Dr. Smith while he was on island.
St. George's University: What have you missed the most since leaving Grenada?
Dr. Smith: As strange as it sounds, I just wanted to be back. I really love it in Grenada. I've missed the people and culture. There is just something about it here that makes it feel like home. I've missed waking up to the sounds of the waves and the smell of the ocean. I've missed chatting with all the friendly people. I've missed the food. There is really nothing that I haven't missed.
I've wanted to take a trip for some time, but between two internships, a residency, and two kids, there wasn't the ability to do so. I have mentioned diving so often that my wife got her scuba certification prior to coming. We spent several mornings diving. We went on several hikes and trips to the waterfalls. I was disappointed that we couldn't make it to Fish Friday in Gouyave.
SGU: How did it feel to connect with former professors?
Dr. Smith: There is something about getting to see the people from 10 years ago that, while things were different, they were still very much familiar. Knowing that a lot of the people who made it what it was for me while I was in school are still there, made me miss Grenada just that much more.
SGU: How was your SGU experience when you were a student?
Dr. Smith: My overall experience at SGU was amazing. I went into my clinical year at Louisiana State University as prepared, if not more so, than the students from that school. I think it is because we had so many more technical and hands-on labs.
I loved that the vet school as a whole felt like family. Everyone was willing to help anyone who needed it, professors included. That sense of family was very necessary being so far away from home. In addition, Grenada itself is a beautiful country, and it was awesome getting to spend so much time there and take in the culture and activities the island has to provide. There was always something going on, which really helped to mitigate the stress from school. I loved that time of my life.
SGU:  You are currently an assistant medical director for the clinic you work at, but you actually specialized in anesthesia. What is it about the specialty that appeals to you?
Dr. Smith: I was lucky enough to have a great professor—Dr. Jill Price—for anesthesia while I was at SGU. In addition, the anesthesia department at LSU was very friendly and easy-going. They made learning a lot of fun. Now, there is something I really enjoy about educating and trying to elevate the analgesia practices in the clinics around me.
SGU: Advice for current or incoming SVM students?
Dr. Smith: My advice for students:
Make friends with everyone from professors to the local vendors. There is so much information to be found from everyone, and they are friendships and bonds that can help you for the rest of your life.
Study hard. Even the most basic information will help in the long run.
Take the time to relax. There are not many people that get to spend three years on an island in the Caribbean.
Take in the culture. Go to Fish Friday, go on a catamaran, and try the different food and drinks. It will make the experience even more memorable and open your eyes to new things you may have never guessed you would enjoy.
But most of all, cherish your time. While it seems like the hardest and most stressful time of your life—and it certainly could be at the time—you may find that it is also the best.
– Laurie Chartorynsky
Related Reading
·       Vet cardiologist inspired to strengthen animal and human bond
·       New SVM associate dean aims to inspire future veterinary researchers
·       SVM welcomes prestigious university in Netherlands to expansive clinical network
https://www.sgu.edu/wp-content/uploads/2021/11/preston-smith-wide-845.jpg
500
845
lchartor
https://www.sgu.edu/wp-content/uploads/2020/02/sgu-logo-grenada.svg
lchartor
2021-11-22 17:55:22
2021-11-22 17:55:54
SVMAA raffle spurs vet grad's long-overdue return to campus