After a three day comprehensive visit to St. George's University in April, the Medical Board of Trinidad and Tobago (MBTT) now considers SGU a Traditional Medical School. After the visit, the MBTT met on June 7, 2006, and officially changed SGU's status, making it easier and smoother for Trinidad and Tobago students at SGU to transition back to their home and practice medicine with full registration.
Over the past few years, more and more nationals from Trinidad and Tobago have been granted scholarships to SGU and will be applying for registration after graduation to work in their home country. The MBTT felt it was necessary to assess SGU to see for themselves the standards that exist there.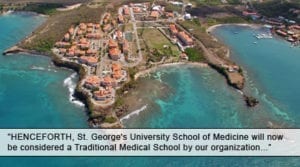 Following the visit, the MBTT sent a 48 page report to the Ministry of Health in Trinidad and Tobago and copied SGU. In the cover letter of this report, it states:
"HENCEFORTH, St. George's University School of Medicine will now be considered a Traditional Medical School by our organization. As a result, graduates of St. George's University will now be entitled to automatic Provisional Registration. If such an applicant desires further registration beyond the internship period, then such an applicant will be entitled to three years of Temporary Registration, before the consideration of Full Registration."
During the visit, members from MBTT Review Team met with all the departments at SGU and at Kingstown Medical College in St. Vincent's and were able to conduct a thorough assessment of the school. Mr. Robert Ryan, Associate Dean of Enrolment Planning for Admissions at SGU, Ms. Laurie Hinrichs, Director of International Admissions at SGU, and Mr. Colin Dowe, Assistant Dean of Enrolment Planning for Caribbean Admissions at SGU, were instrumental in organizing the visit and making it the success it was.
In the Final Comments and Conclusion of the report, it states:
"From the Review Team's Report above, one can clearly see that we were very pleased indeed with what we saw, and with what we learned of the SGU. The Review Team was unanimous in their satisfaction with the School. The Team commends the SGUSOM for providing our young men and women in the Caribbean and elsewhere with a quality Medical Education that emphasizes excellence in academia as well as in professionalism. The School has been very responsible in establishing and maintaining a balance between its student intake and the level of available resources and teaching man-power."
Published on 08/01/2006
https://www.sgu.edu/wp-content/uploads/2016/10/Campus-Shot-with-Trinidad-Quote.jpg
240
432
smashm3233
https://www.sgu.edu/wp-content/uploads/2020/02/sgu-logo-grenada.svg
smashm3233
2006-08-01 20:07:06
2017-01-18 03:08:30
Trinidad and Tobago's Medical Board Visit to St. George's University a Success