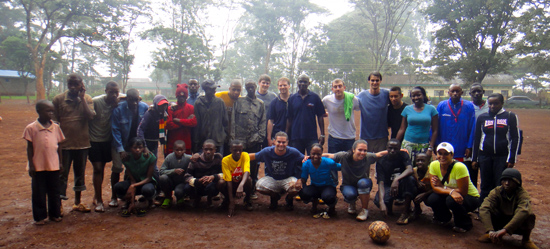 Over the past three decades St. George's University has gained a reputation as one of the top centers for international education. In addition to drawing students and faculty from 140 countries to the small island of Grenada, SGU encourages students to explore course selectives around the world from Peru to Prague, from India to Thailand, and beyond. During summer 2011, the University will once again offer its third annual Tropical Medicine Selective in Kenya.
Dr. Calum Macpherson, Vice Provost for International Program Development, Dean of Graduate Studies, and Director of Research, launched the two-week long selective in 2009. As a native of the region, Dr. Macpherson has a long standing relationship with many health organizations in the region, and he launched the course in partnership with the Kenya Medical Research Institute (KEMRI) and African Medical Research Foundation (AMREF). The collaboration has allowed nearly two dozen students to study Tropical Medicine in Kenya every summer. Dr. Macpherson explains, "The Tropical Medicine Selective is important because it provides students with a critical understanding of the economic and public health relevance of tropical diseases in a developing country."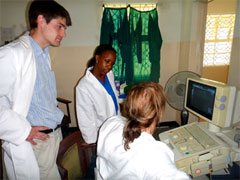 During the first week of the selective, students typically spend a few days at the large hospital in Nairobi, Kenya's capital and largest city at their afternoons at KEMRI. During the day, students accompany consulting physicians on their ward rounds and are exposed to the different research programs. In the evenings, students attend a series of AMREF-hosted lectures and seminars on tropical medicine, community and public health, and current methods to combat tropical diseases. Last year's group benefited by hearing from the former head of AMREF and new head of the World Health Organization (WHO), Director General Michael Smalley.
The remainder of the trip is spent 250 miles southwest of the capital city among the nomadic communities of Kajiado District. This rural population receives health services from AMREF's Entasopia Clinic. In 2009, in collaboration with the regional health authorities and Dr. John Nduba, Director of AMREF's Sexual Reproductive and Child Health program, students conducted an ultrasound clinic on reproductive health as well as cystic hydatid disease. More than 250 people were successfully screened, including 49 pregnant women. In 2010, participants of the selective revisited the clinic to not only provide services, but to donate an ultrasound machine and printer worth $20,000 USD. Twenty-five health workers were trained on how to use the machine so they could continue to benefit the local population without being dependent on the annual Tropical Medicine Selective students. An elaborate handing over ceremony took place to celebrate the event. Student organization International Federation of Medical Student's Associations (IFMSA) raised funds to package and to ship the ultrasound to Kenya.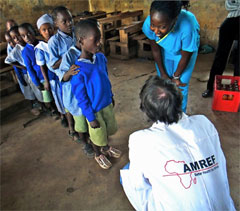 Last year 19 medical students, three physicians, and one parasitologist, representing Sweden, Canada, United States, Nigeria, Kenya, Trinidad and Hong Kong, took part in the selective. "Such a wealth of both practical and field experience that was shared had a profound effect on the students' outlook on culture, health systems, and health care delivery options," described Dr. Macpherson. In addition cultural interchange and learning within the diverse group, students benefited by interacting with their Kenyan peers. Throughout the duration of the program, students were joined by local medical students from Nairobi University. The selective ends with a two night stay at the luxury resort at the Masai Mara Game Reserve—one of the best and largest in Africa—where the group can witness the indigenous wildlife abundance and experience the wildlife, domestic animal, and human interface.
The next Tropical Medicine Selective in Kenya will take place from May 24, 2011 to June 3, 2011 and is open to 15 students and three physicians. The summer 2011 Tropical Medicine Selective offers research options in OB/GYN and the nomadic Masai with Dr. John Nduba and Dr. Schleucher, cystic echinococcosis with Dr. Zeyhle, and laboratory studies with Dr. Carter. Additional opportunities are available for students who wish to gain additional experience and extend their stay in Kenya.
https://www.sgu.edu/wp-content/uploads/2016/10/news-tropical-med-provides-sgu-field-experience-kenya-story.jpg
249
550
VS
https://www.sgu.edu/wp-content/uploads/2020/02/sgu-logo-grenada.svg
VS
2010-02-18 14:17:23
2017-01-18 01:43:22
Tropical Medicine Selective Provides St. Georges University Students Unique Field Experience in Kenya