Keith Breden Taylor, DM, FRCP
16 April 1924 – 31 December 2006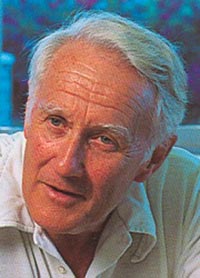 There is often disagreement as to whether the man makes history or history makes the man. There is no disagreement at St. George's University that Keith B. Taylor made SGU history, and, along with Chancellor Charles Modica and former Vice Chancellor Geoffrey Bourne, put St. George's University on the world's radar screen. Because of his tireless efforts and unswerving dedication, St. George's was transformed from a medical school which was the first and best of its kind in the Caribbean, to an international, world class University with many schools and programs and a vibrant research institute needed in the region.
Dr. Taylor came to SGU from Stanford University where he had served in academic medicine for 30 years. As well as being appointed the George de Forest Barnett Professor of Medicine he also served as Vice Chairman of the Department of Medicine and the Chief of Medical Service, Palo Alto Veterans Administration Hospital. Prior to his achievements at Stanford, Dr. Taylor had been a senior lecturer in medicine at the Nuffield Department of Medicine, Oxford. He had won many awards and prizes during his medical school years and postgraduate work as he began a lifetime of achievement in research and clinical medicine. Dr. Taylor published over 100 papers and abstracts in international peer reviewed journals such as Nature, Science, The Lancet, New England Journal of Medicine, the British Medical Journal, Gut, Gastroenterology, and Clinical Science. He published nine book chapters and was widely regarded as the leading authority on many areas of gastroenterology, particularly in the area of vitamin B12 absorption and pernicious anemia.
Dr. Taylor believed deeply in the concept that international communications and networking were vital in the world of medicine; he traveled widely as a visiting professor, lecturing and learning at the University of Chicago, Harvard University, Boston University, Wisconsin at Madison, Baylor in Texas, Rochester in New York, Washington in Seattle, Columbia in New York, New Mexico in Albuquerque, Adelaide and Queensland in Australia, the Walter and Eliza Hall Institute in Melbourne in Australia, Natal in Durban South Africa, and McMaster in Canada. Dr. Taylor created a wide network of scholars, experts and scientists most of whom became his dear friends for life because of his open, warm and inclusive nature.
Dr. Taylor brought to St. George's this lifetime of experience on the front lines of superior academic medicine, coupled with a rare nature filled with inquisitive intelligence and gentle understanding of humans and their institutions. St. George's was not exactly the academic milieu he was used to. He did not storm into SGU with a series of imperatives for the administration to follow. Because his nature, and hence his management style, was inclusive and embracing, he spent his initial time as Vice Chancellor to discover how, and why, this small band of dedicated people had taken this dream of creating a powerful, excellent medical school and turned it into a successful reality. He discovered the strengths and weaknesses and then very carefully led the administration into expanding that dream. He worked with many others, especially Chancellor Charles Modica, to plan and execute a beautiful and purpose built campus to house the academic dream. Research was one of his top priorities, rightly believing that the study of medicine needs research as a component. His efforts led to the creation of the Windward Island Research and Education Foundation (WINDREF) which in turn brought the St. George's University name out into the world of scientists and researchers. He guided the University into a graduate program which attracted more faculty and students. He expanded the faculty with recruitment initiatives designed to attract scholars. Dr. Taylor was the driving force behind the creation of the School of Arts and Sciences, developed to aid Grenada and the region in its need for quality tertiary education. The recruitment of international students and partnerships with international institutions was one of his main goals and he pursued this with such dedication and drive that results were seen almost immediately. Today, the University has multiple schools and programs, graduate studies, a respected research program with many international partnerships, a lively and highly qualified faculty, a campus that is the envy of many universities all over the world, international partnerships with educational establishments in many countries, and a student body that hails from over 85 countries.
But to those he left behind at the University, he will be remembered most for his kind and giving nature. He was a gentleman, perhaps the last of the breed. His kindness and humility were legendary. He abhorred pomposity and self-promotion. He would have considered this eulogy, this list of accomplishments (woefully abbreviated as it is) "fulsome," since his personal quest was always to learn more and know more and he shunned accolades. He had a generosity of spirit that he shared with all. This spirit, coupled with his unfailing intellectual curiosity, turned every conversation, discussion, encounter, every word spoken in passing, into a positive philosophical discussion, pursued with honesty and intelligence. To be with him was to be invited into a world of ideas and kindness. He elevated the everyday discussions at the University as he imbued its academic endeavors with this generous nature and intellectual curiosity. St. George's University was radically transformed by his gift to us, and we will miss him.
Dr. Taylor died quietly at home, surrounded by his family and friends. He was survived by his four children – Sebastian, Niicholas, Kate, and Daniel – seven grandchildren, and his friend Patricia Staniszewski.
Published on 1/5/07
https://www.sgu.edu/wp-content/uploads/2016/10/Dr-Taylor-Headshot.jpg
278
200
smashm3233
https://www.sgu.edu/wp-content/uploads/2020/02/sgu-logo-grenada.svg
smashm3233
2007-01-05 19:01:40
2017-01-18 03:02:10
University Mourns Visionary Leader In Memoriam