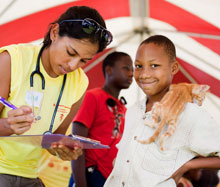 Student clubs and organizations at St. George's University, along with Grenada's Ministry of Health and the Town of St. George's Constituency Organizing Committee, organize multiple health fairs throughout the academic year. The fairs provide free medical services to attendees from the local community.
The most recent health fair, "One Health One Medicine", took place on November 13. Volunteers provided basic eye and ear screenings and blood pressure and diabetes testing to members of the community at no cost. The student organization, Women in Medicine, conducted breast exams and spoke with participants on the importance of conducting self-exams.  In cases where patients have been advised to seek further medical care, students are tasked with following up with patients to ensure they have seen their personal physician. The Ministry of Health also follows up on patient care using referral data collected from the event.
Additionally, St. George's veterinarian students were on hand to see four-legged patients at the health fair.    President of the Student Affiliate of the American Veterinary Medical Associate (SAAVMA), Brendan Moulder, proudly announced, "We were extremely pleased to see over 90 feline and canine patients at this clinic on the beach at Grand Mal.  In addition to physical examinations, students provided vaccinations, deworming medications for intestinal parasites, and various other field veterinary services for the animals."
Because veterinary students only have 3 years in Grenada and medical students only 2 years before they go abroad for their clinical studies, it is important to the students to seize the opportunity to give back. In fact, every semester so many students volunteer that SAAVMA has to create a waitlist. "The events serve as a way for the local population to benefit directly from having a well established human and veterinary medical university right on their island," said Moulder.
The semesters first health fair was held in early September at the Anglican Church Yard in downtown St. George's —just in time for children's back-to-school check-ups. Nearly a dozen physicians as well as several American Medical Student Association (AMSA) members, led by AMSA President Jessica Lennon, attended to over 200 patients. Lennon explains, "The goal of this event was to increase general public health awareness, to ensure a patient's personal health, and to guide patients in the right direction on how to follow up." The second health fair on September 23 in Mt. Caramel proved to have an equally successful turnout.
With the primary purpose of the health fair to serve the local community, St. George's University students benefit as well. Lennon explains, "The health fairs give students the opportunity to see the different parts of the island and to interact with members of the community. Moulder agrees, "As students, the process of hands-on learning and practice is priceless. We are extremely grateful to have a faculty and staff that are so willing to join us during their free time to learn, educate and give back to the community."
To see more pictures from the Fall 2010 health fairs, please visit the Facebook photo album.
https://www.sgu.edu/wp-content/uploads/2020/02/sgu-logo-grenada.svg
0
0
Erin Shaw
https://www.sgu.edu/wp-content/uploads/2020/02/sgu-logo-grenada.svg
Erin Shaw
2010-12-03 04:51:58
2017-01-18 01:25:08
University Student Groups Provide Free Medical Services to Grenada Community