In January 2011, four new students received the prestigious Veterinary Mentor Scholarship Award permitting them to follow their dreams to study veterinary medicine. The scholarship recipients received their white coats, along with nearly 49 new veterinary students of the entering January 2011 class, during the St. George's University School of Veterinary Medicine White Coat Ceremony in Grenada, West Indies. In honor of their hard work and dedication to the profession, the recipient's mentors were invited to witness the ceremony—a proud moment marking a students entrance into the profession and the beginning of their careers.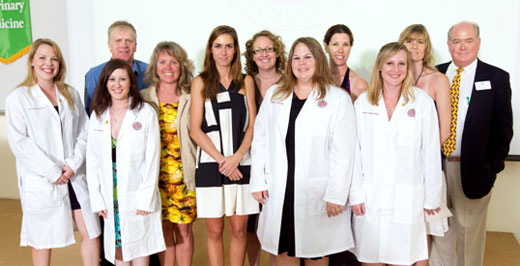 Veterinary Mentor Scholarship Recipients Madison Montgomery, Lisa Onstott, Christen Ragle, and Nikki Blum pictured with mentors and Associate Dean Bob Ryan
The four scholarship recipients, Madison Montgomery, Lisa Onstott, Christen Ragle, and Nikki Blum, are enrolled in the four year veterinary medicine program. They will spend the first three years in Grenada studying basic veterinary science as well as spending time assisting at the University's on-campus veterinary hospital and farm. They will then have the option to complete their clinical studies at some of the world's top academic environments. (The School of Veterinary Medicine has clinical affiliations with 23 of the 28 US veterinary schools, 2 of 5 Canadian schools, 2 of 7 UK veterinary programs, as well affiliations in Ireland and Australia.)
Each scholarship recipient was nominated by their mentor, a practicing veterinarian who felt strongly that his or her protégé demonstrated academic excellence and dedication to the veterinary medical profession. The Veterinary Mentor Scholarship awards of up to 40 percent of the full-tuition of the Doctor of Veterinary Medicine Program to the scholarship recipients. In addition to the partial tuition scholarships, the awardees invited their mentors to Grenada to witness the White Coat Ceremony—an all expense trip paid for by St. George's University.
Since its inception in 1999, St. George's University School of Veterinary Medicine has trained more than 550 veterinarians—the majority of whom are in private practice in countries around the world. Every year the School of Veterinary Medicine awards over a dozen Veterinary Mentor Scholarships as a means to give back to the field of veterinary medicine and support the hard-working and dedicated students who come to Grenada with the dream of becoming veterinarians.
https://www.sgu.edu/wp-content/uploads/2016/10/news-vet-mentor-scholarship-awarded-story.jpg
266
520
VS
https://www.sgu.edu/wp-content/uploads/2020/02/sgu-logo-grenada.svg
VS
2010-01-27 14:48:03
2017-01-18 01:44:39
Veterinary Mentor Scholarship Awarded to Four New Students