As Dean of St. George's University School of Veterinary Medicine, Dr. Raymond F. Sis led the program from its infancy to its current position as a regional and international leader in veterinary medical education. With his wife, Jan, at his side, Dr. Sis steered SGU through a rigorous accreditation process that included full accreditation by Grenada's Ministry of Education and the American Veterinary Medical Association Council on Education.
To honor the family's impact on the University, the School of Veterinary Medicine's Surgical Laboratory was renamed Ray and Jan Sis Hall in a ceremony held on September 1. Constructed in 2007, the two-floor building on the lower level of campus is comprised of two lecture halls and a veterinary medicine surgical lab that features state-of-the-art surgical equipment.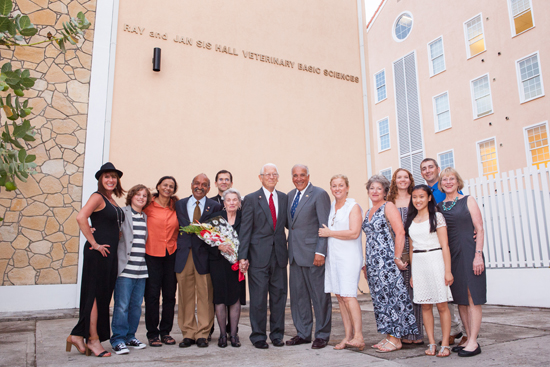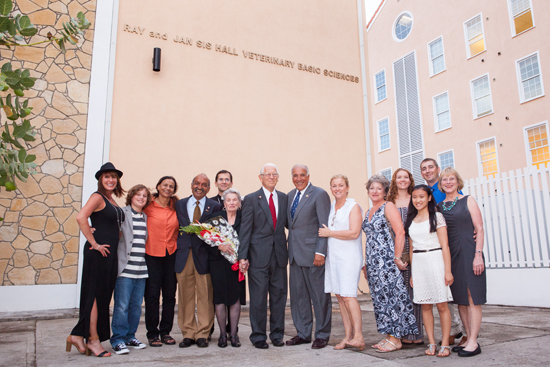 "I am very humbled to be here to receive this honor," said Dr. Sis, now Dean Emeritus. "When I first began to develop plans for seeking accreditation from the AVMA, we were advised to construct a classroom with surgical facilities, and that would not have been possible without the assistance of the University's administration. Jan and I enjoyed working together here at St. George's University and did so as a team. We are proud of the School of Veterinary Medicine, and it will always hold a special place in our heart."
His visionary efforts over his 13-year tenure at SGU did not go unnoticed as University Chancellor Charles R. Modica and Provost Allen Pensick paid tribute to his chivalrous attributes at an intimate ceremony outside the hall.
"The University has many prides, but none of it is more prideful than you and Jan and the way you have elevated this University with the veterinary school," Chancellor Modica said. "As Dean Emeritus, we will always remember the contributions you've made – you brought us through accreditation, and you did it with dignity, giving us all a sense of pride and joy."
Recalling Dr. Sis's actions in coordinating the relocation of veterinary students with limited resources and communications following Hurricane Ivan in 2004, Chancellor Modica stated, " I learned a lot about how a single act like that can demonstrate the confidence and love that people have for you. You had the respect of a lot of US Deans and, together with Jan, who has been a vibrant part of this University, you will always have ours."
"The Ray and Jan Sis Hall stands as testimony to the profound impact of Dr. Sis and his wife, and the School of Veterinary Medicine as a center of academic excellence," added Dr. Pensick. "The progress made within such a short period of time speaks to good leadership, and because of this, the veterinary school will always remain a major player in the future of St. George's University."
About Dr. Raymond F. Sis
Prior to joining SGU, Dr. Sis taught for 35 years at the College of Veterinary Medicine at Texas A&M University, where he led the Department of Veterinary Anatomy for 15 years. He is a Past President for several organizations, including the International Association of Aquatic Animal Medicine and American Association of Veterinary Anatomists. He also served on the National Advisory Panel of the North American Veterinary Medical Educational Consortium (NAVMEC) in 2010.
Internationally recognized for his work in veterinary medicine, Dr. Raymond F. Sis has delivered more than 55 scientific presentations to veterinarians and veterinary students, and has authored and coauthored over 75 publications. Most recently he was selected by Kansas State University College of Veterinary Medicine for its 2013 Alumni Recognition Award.
Dr. Sis also served in the United States Air Force for four years as base veterinarian and then became an environmental health officer in the Air Force Reserve for 25 years. He received the Air Defense Command Commendation and the Air Force Commendation Medal for his work in the Newcastle Disease Eradication Project in California in 1972. Upon retirement from the Air Force Reserve, he received the Air Force Meritorious Service Medal.
https://www.sgu.edu/wp-content/uploads/2016/10/veterinary-surgical-lab-dedicated-to-former-dean-and-his-wife.jpg
367
550
jrichardsink
https://www.sgu.edu/wp-content/uploads/2020/02/sgu-logo-grenada.svg
jrichardsink
2014-10-06 20:49:11
2017-01-17 23:47:10
Veterinary Surgical Lab Dedicated to Former Dean and his Wife