The weekend of January 17th marked a celebration for St. George's University School of Medicine (SGUSOM) and Northumbria University's School of Applied Sciences (NU) as they welcomed a new class of medical students into the Keith B. Taylor Global Scholars Program (KBTGSP).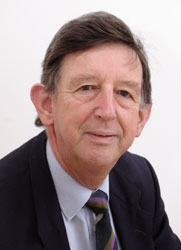 The Keynote Speaker, Dr. John Powell-Jackson, opened his address with heartfelt acknowledgement and recognition of the contributions to St. George's University made by the late Keith B. Taylor, Vice Chancellor of St. George's University from 1991-1998 and inspiration for the Keith B. Taylor Global Scholars Program.  Dr. Powell-Jackson reinforced Keith Taylor's integral role in the transformation of St. George's University into a thriving international university and the creation of the Windward Islands Research and Education Foundation (WINDREF).
Dr. Powell-Jackson was a Consultant Physician for 31 years in Winchester, England and now serves as St. George's University's Associate Director of Career Guidance in the United Kingdom. As he addressed the incoming class of 104 students he spoke of two men who served as a personal inspiration throughout his career.
Dr. Barry Marshall, the first of the two, was born in Australia in 1951 and after becoming a doctor in gastroenterology in the early 1980s joined forces with colleague Dr. Robin Warren to produce an important medical discovery, one which led to the Nobel Prize in Physiology or Medicine in 2005. Dr. Marshall and Dr. Warren found that the bacterium Helicobacter pylori  was the cause of gastritis and peptic ulcer disease, a theory which dispelled decades of medical doctrine claiming that ulcers were caused by stress, spicy foods and too much acid.
Dr. Powell-Jackson explained that to further solidify his research, Dr. Marshall used 'self experimentation' when he swallowed a cocktail containing large numbers of organisms which he obtained from the stomach of a man suffering from indigestion. After a week, a series of related symptoms ensued including abdominal discomfort, vomiting, and, upon examination, inflamed stomach lining and cells with bacteria. After a regimen of antibiotics, his ailments were quickly resolved. "Dr. Marshall's discovery raised further questions that other diseases such as multiple sclerosis and ulcerative colitis may have a biological cause making them amenable to curative treatment.  An opportunity for your generation," said Dr. Powell-Jackson.
Our Keynote Speaker's other hero was Canadian-born academic and founding member of  The Johns Hopkins University School of Medicine in Baltimore, MD, Dr. William Osler. Frequently described as the "Father of Modern Medicine," one of his many contributions to the field of medicine included the establishment of the medical residency, which provided medical students the critical hands-on experience to learn from seeing and talking to patients at their bedsides.
Dr. Powell-Jackson closed his speech with a few poignant quotes from Dr. Osler in which he defined the most valuable characteristics possessed by a physician. "Imperturbability means coolness and presence of mind under all circumstances, calmness amid the storm, clearness of judgment in moments of grave peril, immobility, impassiveness.  It is the quality which is most appreciated by the public…and the physician who has the misfortune to be without it, loses rapidly the confidence of his patients," said Dr. Osler.  He considered imperturbability "largely a bodily endowment," but believed that the life-long process of education, combined with practice and experience, could help with its acquisition.  In keeping with Dr. Osler's position, Dr. Powell-Jackson encouraged the new students in attendance to remember that universities are not just institutions of higher learning but a place to acquire the skills of reason and how to think.
The Master of Ceremonies was SGUSOM alumni Dr. Martin Jan Stránský. A native of New York City, Dr. Stránský is board certified in both internal medicine and neurology. He began practicing neurology and teaching at Yale University in Connecticut as an Assistant Clinical Professor in Neurology, a post he continues to hold.  Dr. Stránský spends about 15 weeks per year in the United States, teaching and practicing neurology, in addition to lecturing at St. George's University.  The rest of his time is spent in Prague, serving as Founder and Director of the Yale University-Charles University Neuroscience Exchange Program, as well as Founder and Director of SGUSOM's Prague Selective, which has sent over 800 US medical students to Prague.
This year's White Coat, as with the previous term in August 2008, combined the celebration with a carefully orchestrated and well-received Parents' Weekend. The "Beyond United" Parents' Weekend welcomed family, friends and loved ones of the students with tours of the campus and its beautiful surroundings, presentations by both faculty and KBTGSP students and an evening boat cruise along the River Tyne.  The staff of both SGU and NU worked tirelessly to assure a seamless weekend for the 120 students and guests, filled with informative and entertaining events which conveyed both SGU and NU's commitment to the KBTGSP students and program.
The White Coat Ceremony marks the beginning of medical studies as the official entry into the profession of medicine. Students don the white coat, a symbol of their chosen profession, and swear a professional oath, promising to act with integrity and in an ethical manner during their training and careers in medicine.
Dr. John Powell-Jackson previously worked among the Massai people for the African Medical and Research Foundation (AMREF) and was awarded a Nuffield Travelling Scholarship to study tropical medicine at Hong Kong University. He was educated at Gonville and Caius College, Cambridge and Guy's Hospital, London and qualified as a doctor in 1966.  He was a clinical research fellow at the Medical Research Council Blood Pressure Unit in Glasgow from 1971-1973, investigating aspects of the renin-angiotensin system and completing his MD thesis.  In 1973 he resumed his medical training at Guy's Hospital until, in 1976, he was appointed Consultant Physician to the Royal Hampshire County Hospital.
As clinical tutor responsible for undergraduate education, he came into contact with St. George's University medical students in 1980 and has taught successive generations ever since, alongside students from Southampton University Medical School.  Dr. Powell-Jackson served as St. George's University Director of Medical Education and was appointed honorary Senior Lecturer in Medicine at Southampton University.  He was also Wessex Regional Advisor in Medicine to the Royal College of Physicians in London.  The fields of general internal and cardiovascular medicine are his primary clinical interests, and he has published articles relating to hypertension and prion diseases.  His recreational interests are cricket (tours to Kenya, Malaysia, South Africa and Zimbabwe), wine tasting and travel.
Dr. Stránský is also the Founder and Director of the Polyclinic at Narodni, a 25-physician multi-specialty clinic in Prague.  Also in Prague, he serves as panel physician to both the US and British Embassies, in addition to lecturing at Charles University Medical School.  Continuing his family's publishing tradition, Dr. Stránský founded the M.J. Stránský Foundation Fund which serves to promote journalism through internships for budding journalists and publishes the magazines Přítmnost, The New Presence, and their internet versions.  These quarterly magazines present a Central European point of view of politics, culture, economics, arts and literature.  As a result of these activities, Dr. Stránský was the sole recipient of the 1996 Award for Outstanding Cultural Achievement given by the Masaryk Academy of the Czech Academy of Arts and Sciences.  He is also the Founder of the Prague Press Club.  Dr. Stránský is a frequent speaker in the Czech Republic and throughout Europe, and his social, political and cultural commentaries have appeared in virtually every Czech newspaper.  He has also published the book Czechs Don't Want Democracy.
https://www.sgu.edu/wp-content/uploads/2016/11/news-PowellJackson.jpg
250
181
jrichardsink
https://www.sgu.edu/wp-content/uploads/2020/02/sgu-logo-grenada.svg
jrichardsink
2009-01-20 16:20:48
2017-01-18 02:07:33
White Coat Ceremony Welcomes Fifth Keith B. Taylor Global Scholars Program