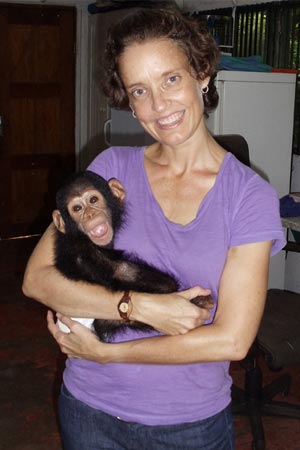 For as long as she can remember, Emily Talkington, SGUDVM '05, MSc, had one goal in mind – to become a veterinarian. However, it was not until her third term at St. George's University, when she participated in a research selective in Uganda through the Windward Islands Research & Education Foundation (WINDREF), an independent research institute located on St. George's True Blue Campus in Grenada, that she recognized her passion for working with exotic animals. Since graduating, Dr. Talkington has worked with exotic species in West Africa, rescuing African Grey Parrots in Limbe and treating orphaned chimpanzees in the Cameroonian bush, helping to usher them back to their natural habitat.
"Participating in the research selective was an amazing experience that I was able to use as a springboard toward achieving my goals," Dr. Talkington said. "I feel as though I have a world of opportunities open to me with my DVM degree. I'm grateful to St. George's for giving me the chance to do what I always wanted to do and to be able to fulfill my dream and live out my passion."
The WINDREF research selective allowed Dr. Talkington and other medical and veterinary students to study wildlife conservation and perform field research at Queen Elizabeth National Park in Uganda. For eight weeks she worked with animals such as lions, hyenas, and leopards.
In January 2011 she returned to Africa as a DVM to work as a volunteer for Limbe Wildlife Centre in Cameroon. She treated more than 400 mammals—including gorillas, chimpanzees, drills, and mandrills, as well as over 1,000 birds, all of which had been either orphaned from the bushmeat industry or confiscated from the illegal exotic animal trade.
Dr. Talkington then volunteered at the Sanaga-Yong Chimpanzee Rescue Centre, where she was involved in running the sanctuary while rehabilitating 74 orphaned chimpanzees. She handled everything from administering preventative medicine to disease diagnosis and treatment and credits her success to the confidence gained from her education at St. George's.
"I loved every day at SGU and enjoyed all aspects of the program," Dr. Talkington said. "I loved the small class size, how accessible the professors were, and that we were able to get a lot of hands-on experience."
Currently, Dr. Talkington performs emergency work as a small animal veterinarian at the East Lake Veterinary Clinic in Watsonville, CA, just outside of Santa Cruz. She is working toward returning to Africa to continue working with great apes.
"I look forward to going back and educating Africans about the importance of trying to save their great apes, and empowering them," Dr. Talkington said. "My soul belongs there. It's my home."
https://www.sgu.edu/wp-content/uploads/2016/10/2012-news-monkey.jpg
450
300
jrichardsink
https://www.sgu.edu/wp-content/uploads/2020/02/sgu-logo-grenada.svg
jrichardsink
2012-06-01 19:52:09
2017-01-18 00:53:41
WINDREF Research Selective Opens World of Possibilities for St. George's DVM Graduate