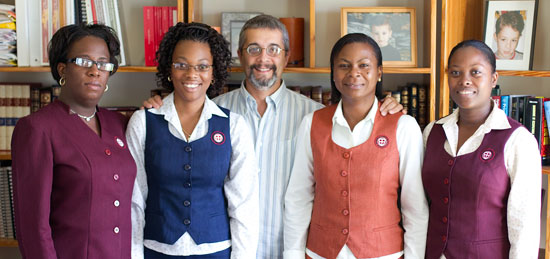 Dr. Omur Cinar Elci, Professor and Chair of the St. George's University Department of Public Health and Preventive Medicine, has been selected to join the World Health Organization (WHO) Network for the period 2012-2018 with the Occupational and Environmental Health Work Plan Priority Leadership Group. He is joined in this global initiative by Dr. Ivan Ivanov of WHO, as well as Dr. Ed Robinson of Health and Safety Laboratories in the United Kingdom. Dr. Elci will spearhead the group with the responsibility for identifying global concerns in occupational and environmental health, especially the adverse health effects of climate change.
"This kind of recognition cannot happen single-handedly; this is a success of our team here in the Department of Public Health and Preventive Medicine," Dr. Elci said. "To get recognition for our teamwork is very important to me. This wouldn't happen if I were standing somewhere alone. It feels really good that we brought this recognition to St. George's University."
Dr. Elci's appointment for this esteemed position is also a positive sign in St. George's University's application to establish a WHO Collaborating Center for Occupational and Environmental Health in Grenada. The center would become the first of its kind in the Caribbean region. The application process, which began in the fall of 2009, is at its culminating stage and is pending the final approval from WHO Headquarters.
"That would directly put us in a leadership role in the region," said Dr. Elci, also citing the University's presence at March's International Commission on Occupational Health (ICOH) at Cancun, Mexico. "It would be really significant for SGU and, of course, significant recognition comes with significant demands, which we understand and are ready to face." ICOH is the world's leading international scientific society in the field of occupational health and has close working relationships with the WHO, International Labour Organization (ILO), United Nations Environment Program (UNEP) and International Social Security Association (ISSA).
Dr. Elci was appointed professor and MPH epidemiology track director at Department of Public Health and Preventive Medicine in 2008. The following year, he was named chair of the Department. Dr. Elci and his team's efforts led the MPH program toward its first US Council on Education for Public Health accreditation granted on July 2012.
Dr. Elci has various responsibilities as adviser and public health expert for national international organizations. Among the accolades he has earned over 25 years in the fields of public health, epidemiology, and occupational health include the 2008 Bullard-Sherwood Research to Practice Award, presented by the Centers for Disease Control and Prevention (CDC), National Institute for Occupational Safety and Health. Through funding from National Institutes of Health (NIH) and the CDC, Dr. Elci has more than 15 years of research and teaching experience. In 2001, the US National Institutes of Health, National Cancer Institute, awarded him a Fogarty post-doctoral fellowship in occupational epidemiology.
https://www.sgu.edu/wp-content/uploads/2016/10/world-health-organization-selects-sguph-chair-leadership-group.jpg
259
550
jrichardsink
https://www.sgu.edu/wp-content/uploads/2020/02/sgu-logo-grenada.svg
jrichardsink
2012-02-02 19:53:23
2017-01-18 01:03:45
World Health Organization Selects SGU Public Health Chair To Join Leadership Group