Entering students at the St. George's University's School of Veterinary Medicine were encouraged to think beyond standard veterinary practice and to embrace a world view at the White Coat Ceremony on Monday, February 2, 2015.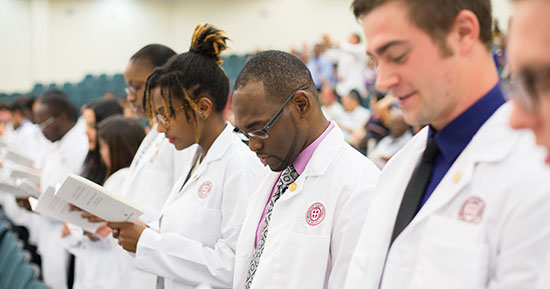 "Get to know things outside veterinary medicine. Think more broadly and go beyond your comfort zone," were the words of wisdom from keynote speaker Dr. Donald Smith. Professor of Surgery, and Austin O. Hooey Dean Emeritus at the College of Veterinary Medicine at Cornell University, Dr. Smith urged students to widen the scope of their learning and experience. "You will all become proficient in how to diagnose and treat animals, but the world is bigger than a single practice," he said. "What will distinguish you from other students is the degree to which you understand the broader world."
Dr. George Daniel, MD SGU '05, the evening's Master of Ceremonies, demonstrated the value of broad experiences by sharing highlights from his career as a veterinarian—from scuba diving Caribbean coral reefs and cataloging marine flora and fauna, to working at a rural mixed animal practice in Trinidad treating sheep, cattle and pigs, and working with pharmaceutical companies and delivering lectures on their products and best practices.
"This is the level of excitement that you can look forward to in your career," said Dr. Daniel. "As a student, you will make lifelong friendships and unforgettable memories, and after you graduate, you will accomplish incredible things in this awesome profession."
Just days prior to the White Coat, the students completed the Professional Attributes Workshop (PAWS), a two-day fun and interactive, team building, leadership exercise. Dean of the School of Veterinary Medicine, Dr. Timothy Ogilvie, emphasised these values in his welcoming remarks at the ceremony. "SGU provides an environment for you to be successful , not only in the classroom but in the development of leadership skills. We want you to be leaders not only in your profession, but in your lives."
Charles R. Modica, Chancellor of St. George's University also echoed the themes of leadership and teamwork in his address. "As students here, you will have a chance to interact and study with people from all cultures, all religions and all creeds," he said. "You will leave here with not just your veterinary degrees but with an understanding of the people of the earth and a respect for diversity. You will learn the beauty of people working together for a cause. You will be the leaders that will make the world a better place."
Since 1999, the School of Veterinary Medicine has provided its culturally diverse student body with an internationally based veterinary medical education designed to prepare them for the world of global health care. The School's DVM program was granted full accreditation by the American Veterinary Medical Association Council on Education (AVMA COE) for seven years in September of 2011. Graduates, who come from 27 countries, have been licensed to practice in 47 US states, and in 10 countries around the world including Canada, the UK, and South Africa.
https://www.sgu.edu/wp-content/uploads/2016/10/jan-2015-svm-wcc.jpg
289
550
VS
https://www.sgu.edu/wp-content/uploads/2020/02/sgu-logo-grenada.svg
VS
2015-02-06 20:30:51
2017-01-17 23:36:04
A World of Infinite Possibilities Opens to SVM Entering Class