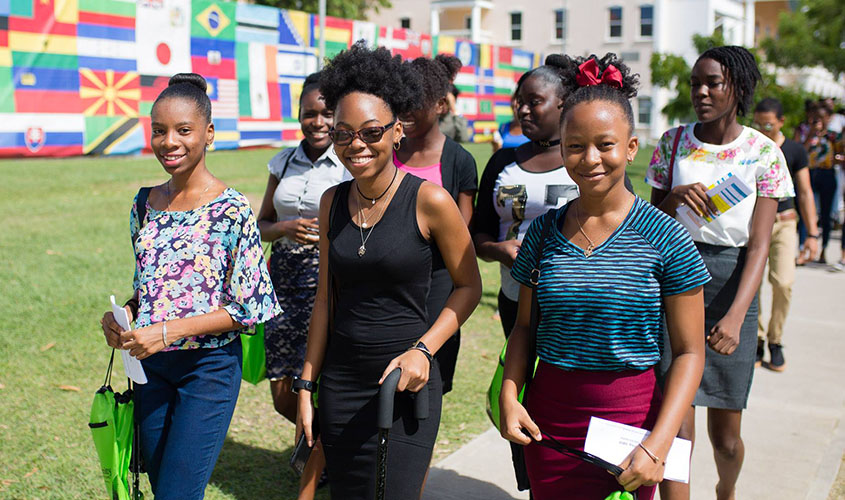 Ten years since its inception, the St. George's University and Rotaract Club of Grenada Career Day continues to be a success story, this year attracting more than 1,600 secondary school students and young adults from all over the country to the University's True Blue campus.
Offering more career presentations than ever before, Career Day shined a light on fields such as luxury yachting, architectural design, accounting and finance, culinary arts, environmental sciences, physiotherapy, and public relations. In addition, Career Day representatives provided guidance on how to finance higher education, how to prepare for interviews, and how to dress appropriately in the workplace.
"St. George's University provides an ideal venue to offer this kind of guidance to students in answering the oft-difficult question of what career to choose and empowering them to make that choice," said Colin Dowe, Associate Dean of Enrollment Planning at SGU. "It is critical for our young Grenadians to think beyond a secondary education and to seek careers that utilize both their interests and strengths as they continue to develop for themselves, their families, and their country."
In a continued effort to provide students the opportunity to experience more than the usual two presentations, this year's Career Day also implemented for the first time the Career Track System. Four different career tracks were set up in each of the major halls on campus and students would remain seated as they listened to presentations in subjects related to their chosen field. The new system was effective in cutting down on assembly time, as students didn't have to scour the entire campus to get to their different career listings. Another first was the introduction of the School of Arts and Sciences Alumni Interactive Session, which gave the students a break between each session and the chance to connect with SGU alumni.
Additional contributors to Career Day's success were the Radioactive Grenada youth group, who served as both support staff and recorded the event's welcome message. SGU's Psychological Services Center (PSC) were also on hand to conduct student surveys to assess which personality traits would lend themselves to different types of careers.
Mr. Dowe once again led the ever-popular informative and interactive session for parents, for which attendance more than doubled that of the 2016 session.
"The parents' session was very valuable, especially the 10 steps on helping your child choose a career path," shared Cecil Noel. The retired Cable and Wireless representative was integral in setting up most of SGU's telecommunications at the school's inception and admits his bias in gladly sending his daughter to SGU. "I've always longed for the day that the University would be offering more than just a degree in medicine, and now with the School of Arts and Sciences, when the time comes, my daughter can reap the benefits of that."
As the largest private employer in Grenada, the University continues to fulfill its mandate of being a good corporate citizen by taking the opportunity to expose these students to options beyond the traditional. With Career Day 2017, SGU hoped to assist students in making informed career choices and motivating them along their journey towards educational and career fulfillment.
https://www.sgu.edu/wp-content/uploads/2017/09/21740720_10154988076071461_2570737314287795884_o.jpg
500
845
bpmauser
https://www.sgu.edu/wp-content/uploads/2020/02/sgu-logo-grenada.svg
bpmauser
2017-09-27 21:04:19
2017-09-27 21:11:44
Young Grenadians Turn Out in Record Numbers for SGU's 2017 Career Day