Back to Blog
10 Student Support Services You Didn't Know SGU Offered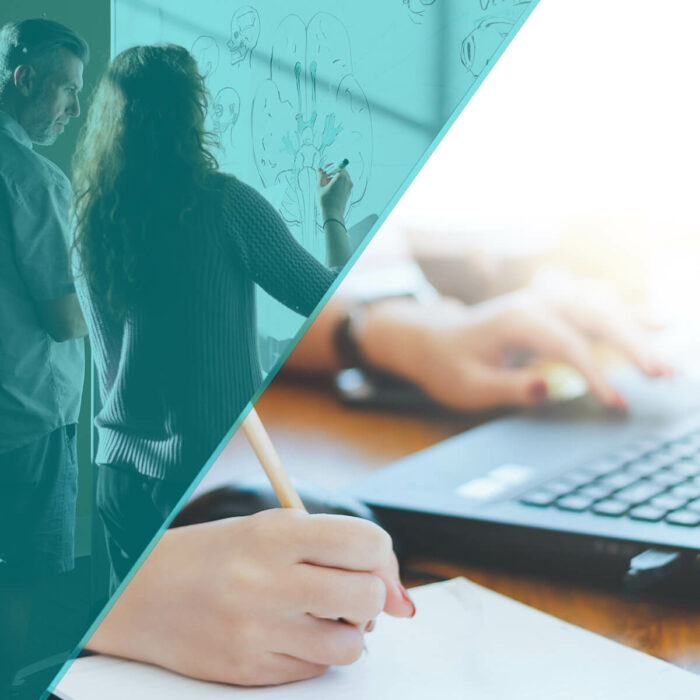 As the beginning of your medical school journey draws closer, St. George's University (SGU) provides an array of support resources to keep you healthy, happy, and on track.
"We immediately put mechanisms in place from even before students start their classes to help them be successful," says Dr. Glen Jacobs, provost at St. George's University.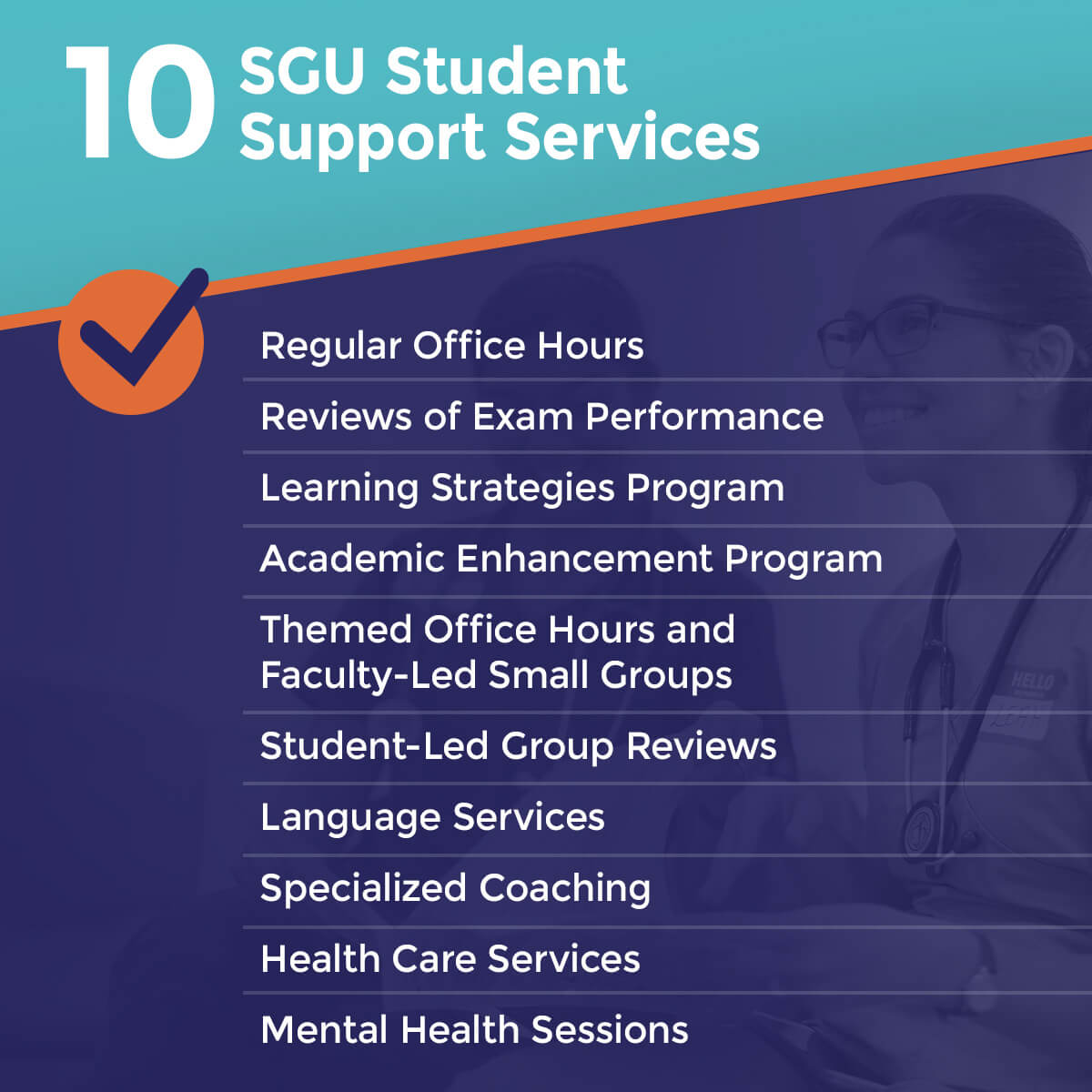 A closer look at how SGU supports students
Faculty advising is just the beginning of how SGU helps students succeed during their education and beyond.
1. Regular office hours
At SGU, every faculty member devotes at least 10 hours each week to office hours for supporting students and also participates in live chats to answer questions during online courses. Many of them take it a step further by making themselves available outside of regular hours as well.
Students in the Academic Enhancement Program (AEP) are assigned an AEP faculty advisor, who gets to know each student personally. Additionally, all medical students have access to a team of academic advisors who help students resolve any academic or administrative issues they may have.
2. Reviews of exam performance
Medical school is typically more rigorous than undergrad, so you might find you have to make some adjustments at the beginning of your journey. SGU understands this and proactively prepares students to tackle new challenges.
One way SGU's Department of Educational Services (DES) helps you get into the swing of things is regular performance reflections.
"We reach out to students in the School of Medicine after each of their exams in the first term."
"We reach out to students in the School of Medicine after each of their exams in the first term," explains Dr. Sara Rabie, chair of DES at SGU. SGU thoughtfully designed tests to simulate the kinds of questions students will encounter in United States Medical Licensing Examination (USMLE) Step 1—this helps students feel both confident and prepared when exam day arrives.
3. Learning Strategies Program
Everyone in medical school strives to further improve their performance in at least a few areas. Whether you're looking for some coaching on how to excel at multiple-choice exams or want to learn a few time-management tips, SGU's Learning Strategies Program can help meet your needs.
This program tailors strategies to individual students by gathering input from the diverse faculty. "This allows us to achieve a lot of really important innovations because we have different skill sets that we put toward solving the same problems," Dr. Rabie explains.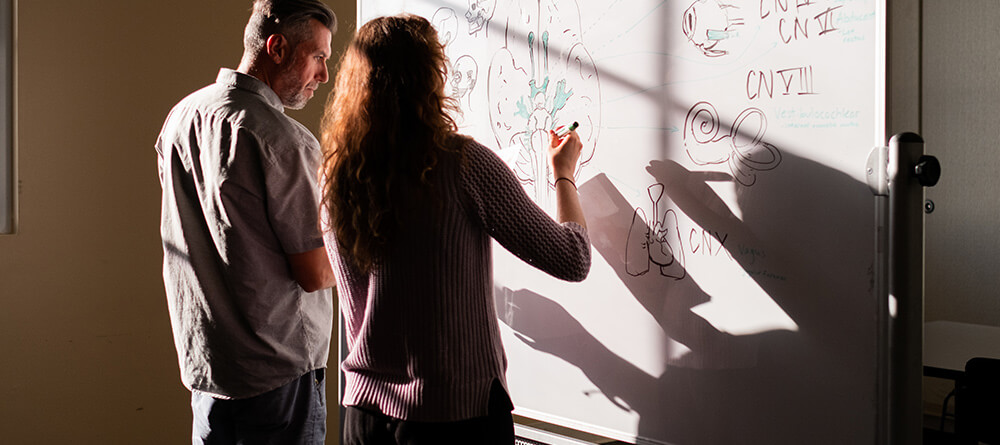 4. Academic Enhancement Program for nontraditional students
You're not alone if you took some time off between undergrad and medical school. You might even find the added maturity you've gained is an advantage, but it's possible you'll need some extra adjustment time at first.
SGU often places nontraditional students in the Academic Enhancement Program (AEP), which helps them stay on track by creating a community that students can contribute to and look to for support.
Dr. Jacobs says the AEP services promote a positive learning environment for these students. "We provide them with all that extra help from the start so they don't run into trouble," he explains.
5. Themed office hours and faculty-led small groups
While both these offerings are embedded into the curriculum rather than services provided by the DES, they're worth highlighting. The group sessions are led by physician instructors who guide students through a discussion and help them to work as a team. Small groups can be problem-based sessions, anatomy labs, practical sessions involving standardized patients, and more.
As for themed office hours, these are scheduled meetings that faculty host in addition to regular office hours. Faculty will focus on one topic or theme within the session—often an area students have struggled with in the past—to help students more fully grasp the material. Many faculty offer these to review material from previous terms as well, which can help students make connections that integrate their learning experiences.
These focused interactions help supplement SGU's robust med school curriculum that involves cadaveric and virtual specimens. It's also important to note that they're available to students even in an online learning environment.
6. Student-led group reviews
Peer learning groups, which leverage student-to-student interaction, are available to all SGU students—and they're quite popular. "We have an upper-term student who's done well in the course who meets with a group of students who have signed up for a session," Dr. Rabie explains. "We actually have up to 150 of these a week."
You stand to learn quite a bit from experienced students leading group reviews. Facilitators also benefit by reviewing previously covered material and learning to build their leadership skills.
"What do you do in a group when a student's not participating? If a student is overpowering?" Jacobs questions. "They have to learn all those skill sets as they continue running these small groups."
"They have to learn all those skill sets as they continue running these small groups."
7. Language services for international students
SGU has created a welcoming and diverse environment that attracts students from all around the globe. This inevitably means some students want to improve their English-speaking and -writing skills. Fortunately, SGU provides a variety of language services, like the English for Medicine Pathway, which is designed specifically for future doctors.
Language assistance is available for students who aren't studying medicine as well. Rabie says students who schedule these types of appointments receive coaching to help them determine how to structure their assignments.
Believe it or not, these are just a few of SGU's language service options.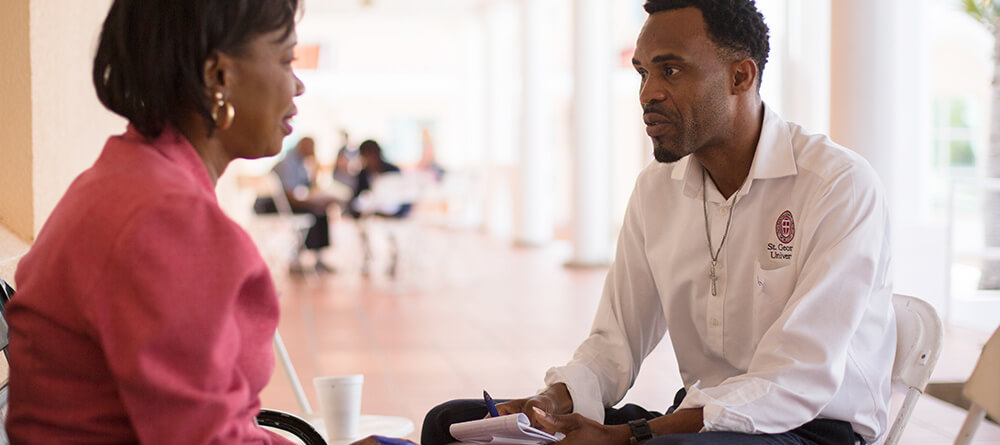 8. Specialized coaching
The Office of Career Guidance and Student Development  (OCGSD)helps you along your path to medical residency by offering advice on USMLE preparation, practicing interview skills, and helping you understand the residency match process. You will begin working with the OCGSD before clinical rotations begin.
9. Health care services
SGU focuses both on mind and body by providing convenient health care resources on campus. University Health Services (UHS) can take care of everything from routine bloodwork to urgent care late at night. Standard clinic hours are between 7 am and 7 pm during the week, which helps accommodate busy schedules.
10. Mental health sessions
The Psychological Services Center  (PSC) promotes student health and well-being through a wide range of convenient services. Whether you're interested in finding tips to help you thrive daily, attending a counseling session, participating in a training session, or seeking other assistance, rest assured these services are confidential.
See Humans of SGU
Set yourself up for success
It's important to choose an institution like the  School of Medicine at SGU that can guide you throughout your education.
If this type of nurturing environment matters to you, take the next step by visiting our request information page.
*This article was originally published in January 2018. It's since been updated to reflect information relevant to 2021.