Back to Blog
3 Inspiring Caribbean Vet School Success Stories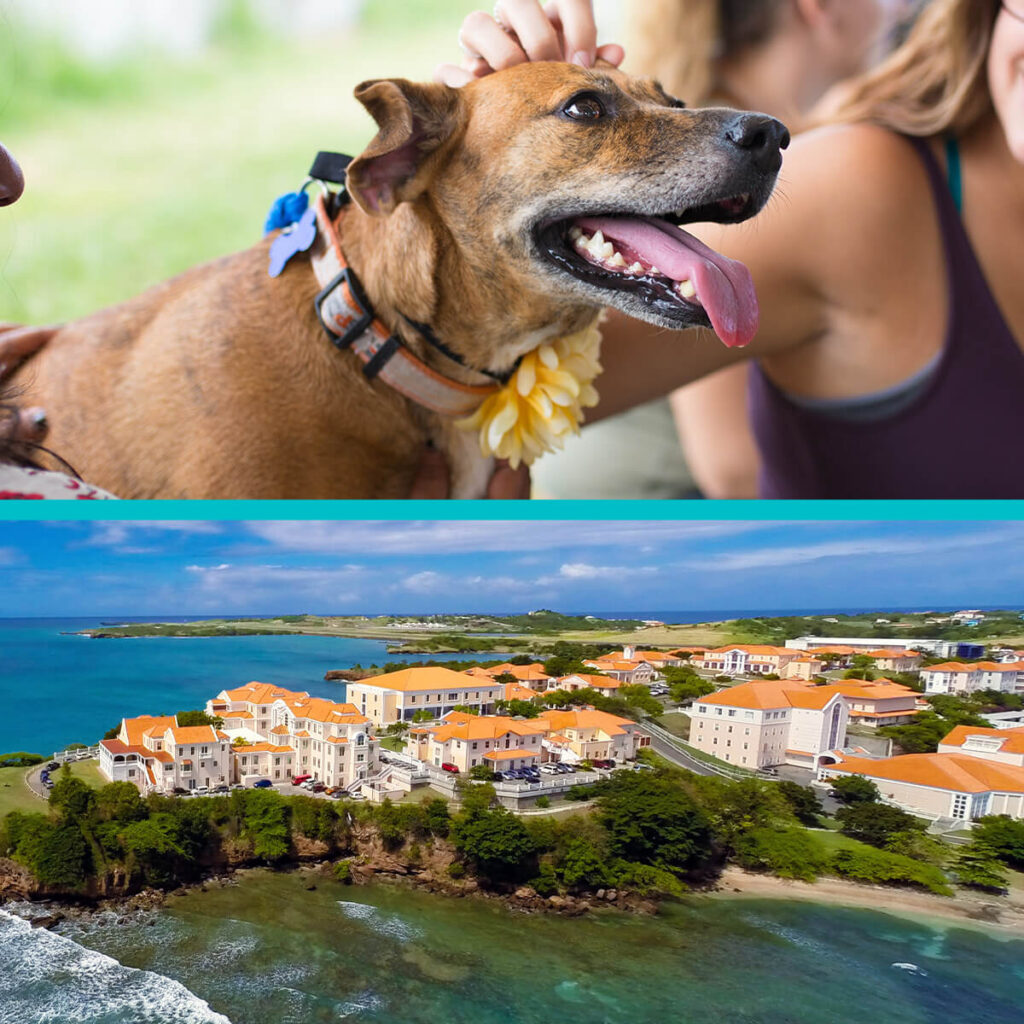 Now that you're sure you want to become a veterinarian, it's time to begin the process of choosing a veterinary school. In reviewing your options, you may have come across some Caribbean vet schools that have piqued your interest.
Attending veterinary school on an island in the Caribbean may not be what you initially expected, but when a school like the St. George's University (SGU) School of Veterinary Medicine comes onto your radar and it meets all the criteria on your list for top veterinary schools, it makes sense that you're compelled to learn more.
One of the best ways to get an accurate feel for a veterinary program is to hear from graduates who have experienced it firsthand. If you're hoping to learn more about what Caribbean vet school is like, read on to hear from SGU alumni.
SGU alumni share their Caribbean vet school stories
Graduates from SGU's School of Veterinary Medicine come from a range of different backgrounds. But they all agree that their time in Caribbean vet school was an experience like no other.
1. Crossing cultures with veterinary medicine
First-generation American Dr. Carolina Ortiz-Umpierre knew she was meant to be a veterinarian at a young age. While visiting family in Venezuela, a cat was choking on a chicken bone, and at just 10 years old, Dr. Ortiz-Umpierre immediately leapt to its rescue.
Her family was amazed by her quick reaction and ability to save the desperate cat. And with that, what had been a "little girl's fantasy of playing with puppies and kittens" revealed itself as Dr. Ortiz-Umpierre's true calling. After completing her undergraduate education, she found herself embarking upon her journey to become a veterinarian at SGU.
"It is so full of life," Dr. Ortiz-Umpierre says of the SGU campus in Grenada. "It is a great place to go to school because there are not too many distractions, but there are plenty of rewards." She received ample hands-on training and even met her future husband, a fellow veterinary student, while on the island.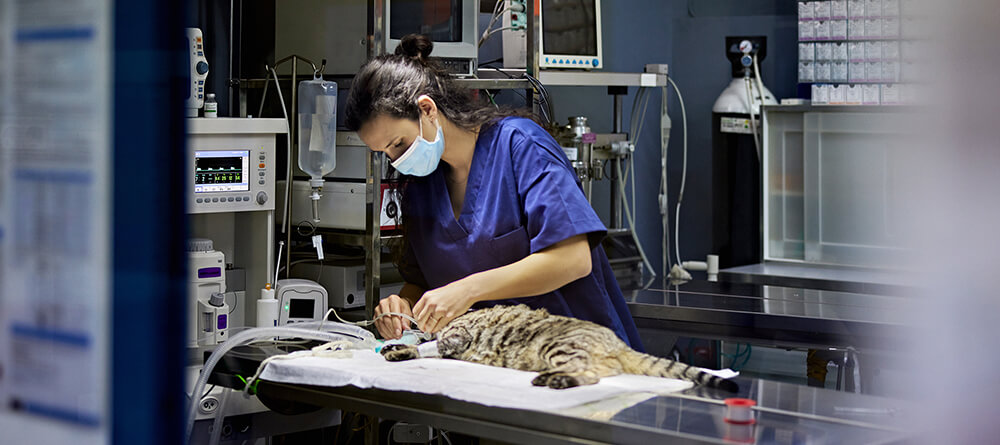 Upon graduation, Dr. Ortiz-Umpierre began an internship in acupuncture at the University of Florida—the only program of its kind in the US. It was there that she worked under Dr. Huisheng Xie, a pioneer of veterinary acupuncture, and became certified in Chinese herbal medicine and Tui Na, a form of Chinese massage.
Dr. Ortiz-Umpierre has since become a professor at the Chi Institute of Chinese Medicine, which is a school that teaches veterinarians the practice of Traditional Chinese Medicine. She has also worked as an associate veterinarian at a small animal practice where she was able to integrate Western and Eastern medicine. "I would perform surgery on a patient and then use acupuncture for post-operative pain management," she explains.
Looking back at her time in Caribbean vet school at SGU, Dr. Ortiz-Umpierre feels she was well prepared for her clinicals and board exams, and she's experienced all the same opportunities as graduates of US veterinary medical schools. She's "forever grateful" to SGU for giving her the chance to fulfill her lifelong dream of becoming a veterinarian.
2. Treating zoo animals through a global pandemic
Before even deciding to become a veterinarian, Dr. Shannon Cerveny knew she was destined for a career working at a zoo. She always had a passion for helping care for and conserve endangered species.
"I love knowing that the work zoos are doing is having such a positive impact on global biodiversity," she explains. "I also love to travel, and my career has taken me to some amazing places, including the Galapagos Islands to work with endangered Galapagos penguins."
But before she was able to make this dream a reality, Dr. Cerveny spent her childhood in the lake town of Port Huron, MI. She earned an undergraduate degree in zoology before ending up at SGU, where she would have several life-changing experiences, including the opportunity to work on a research project with wild lions in Uganda.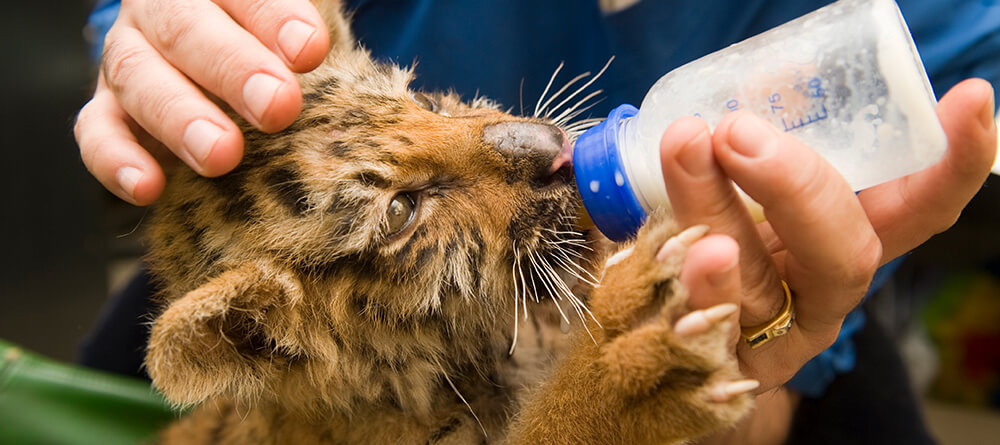 After earning her veterinary medical degree, Dr. Cerveny held positions as a veterinarian at the St. Louis Zoo and the San Antonio Zoo. Today, she serves as the first full-time veterinarian at the Saginaw Children's Zoo in Michigan. But her return to her home state of Michigan came just four months before the COVID-19 outbreak.
The discovery of a link between wildlife trafficking and the virus thrust veterinarians like Dr. Cerveny onto the frontlines of the global health crisis. In addition to caring for the animals within the zoo's collection, she's also been tasked with providing emergency medical and surgical care, developing preventative medicine protocols, evaluating animals in quarantine, and assessing potential research and conservation involvement.
While the reality of working as a zoological veterinarian might look a little different today than Dr. Cerveny expected it would as a young girl, she and her veterinary colleagues have been dedicated in answering the call to join the fight for the benefit of human and animal kind.
3. From a small-town farm to the Kentucky Derby
Growing up on a small farm in Bosco, LA, Dr. Heath Soignier always had an affinity for animals. He decided early on that he wanted to be a mixed animal veterinarian. But his career path would eventually lead him in a different direction—one that would take him nearly 700 miles from his hometown.
"During my third year at St. George's University, I visited Lexington with some classmates," Dr. Soignier recounts. "You hear of the Kentucky Derby and how it's the horse capital of the world, but it's so different to experience it. I had plans to go back home and work in a mixed animal practice there, but I came here for a week and kind of fell in love with the place."
Following graduation, Dr. Soignier accepted a one-year internship position at Rood and Riddle Equine Hospital in Lexington, KY; he was offered a permanent position thereafter. Today he is an ambulatory associate at Rood and Riddle, a hospital that treats all different breeds of equine, including racehorses, quarter horses, mini-ponies, and donkeys. "Our surgeons have even treated a baby giraffe," he notes. "It's not just thoroughbreds."
As an ambulatory associate, much of Dr. Soignier's time is spent on the road visiting local farms. "I handle a lot of reproductive cases, dentistry, even veterinary spinal manipulative therapy (chiropractic) for my patients," he says. "Horses can't tell you what hurts—it's our job to figure that out. You have to be patient, but horses can really teach you about life and themselves. It's very rewarding."
"If you had told me 10 years ago that this is where I would be, I would say you were crazy," Dr. Soignier adds. "But I worked hard to get where I am today. I wouldn't trade it for anything."
Start writing your own success story
Hearing how others with an interest in veterinary medicine were able to discover the keys to their career success by attending Caribbean vet school at SGU can serve as a reminder that passion, persistence, and the right educational partner can help turn your veterinary dreams into a reality.
As you continue your process of choosing a vet school, it's important to do some research to learn as much as you can about the programs you're considering. At St. George's University, we want to make it easy for you. To learn all the ins and outs of this Caribbean vet school, review our article "10 Things You May Not Know About the SGU School of Veterinary Medicine."