Back to Blog
What Does a Large Animal Vet Do? Examining This Livestock-Focused Role
careers, veterinarian advice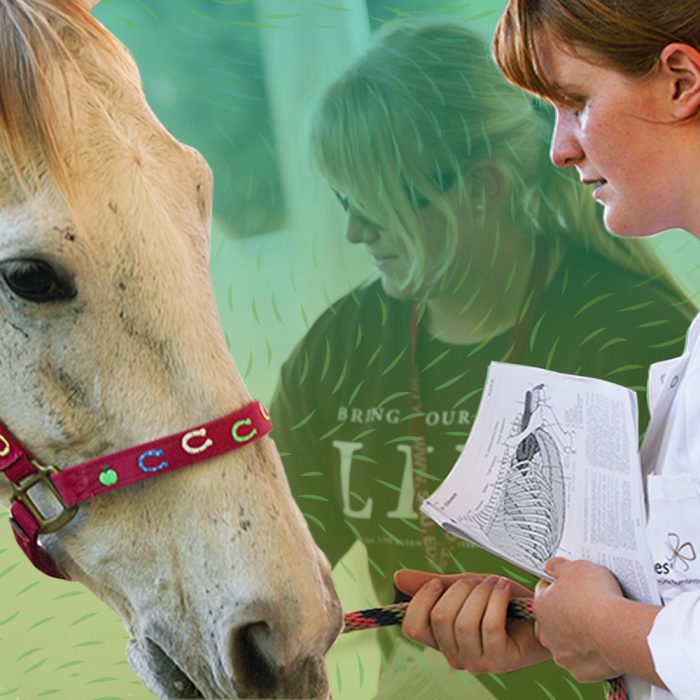 Animals have always been central in your life. It made perfect sense to everyone when you started mentioning a desire to become a veterinarian one day. But while most people assume you're pursuing a career working with companion animals, you're interested in other options.
Veterinary medicine is actually a great field for individuals who want choices. You can conduct research, further wildlife conservation, and more. You're especially curious about the role large animal vets play. You know they care for animals, but what exactly do large animal vets do?
Keep reading to learn more about this important role and whether it could be right for you.
What is a large animal vet?
There are obviously a lot of creatures in the animal kingdom that qualify as large. Elephants and giraffes might come to mind, but large animal vets actually work with livestock. Their patients may include cattle, sheep, pigs, horses, and more.
"My specialty is more in food animals, which, here in Wisconsin, is primarily dairy cattle."
"What we do at our practice is take care of farm animals and horses," explains Dr. BJ Jones, a Large Animal Veterinarian at Center Hill Veterinary Clinic in Darlington, Wisconsin. The clinic also sees small animals like cats and dogs. "My specialty is more in food animals, which, here in Wisconsin, is primarily dairy cattle."
Vets who work with food animals also play an important role in human health. Their patients might be animals, but keeping those creatures healthy ensures the resulting meat and milk is safe for people to consume.
What does a large animal vet do?
There is a lot of room for specialization even within large animal medicine. Some vets pursue research positions to better control disease. Others work with the government to ensure animal products meet food safety standards. Still more specialize in particular animals and areas of medicine. This is the case for Dr. Jones, who focuses on dairy herd management and advanced reproductive technology.
"I'm in charge of the health and welfare of food animals in our area," he explains. "And we work with dairy herds ranging from 25 cows to 2,500."
A typical day for Dr. Jones often includes scheduled visits for fertility and health management checks. He might use ultrasound imaging technology or perform surgeries. And there's always a chance that someone will call in with a sick animal needing immediate medical attention. Dr. Jones also participates in farm management meetings and helps educate farm personnel about how to perform some routine procedures.
"There are fewer food animal veterinarians available, so we're trying to do more teaching and less treating," he explains. Intravenous therapies to alleviate milk fever, a disease caused by low blood calcium in pregnant cows, and repositioning an unborn calf in the wrong position are a few examples of treatments Dr. Jones teaches farm personnel to perform.
"There are fewer food animal veterinarians available, so we're trying to do more teaching and less treating."
One thing about being a large animal vet that differs from many other areas of practice is the mobile nature of the job. They need to travel to farms and ranches to see patients, so a fair amount of time is spent on the road.
What skills are important for this role?
Great large animal vets draw from a vast skill set every day. Important qualities include compassion, manual dexterity, and the ability to swiftly make decisions. And while a love for animals is obviously crucial, you might be surprised to know it's equally important to work well with other humans.
"We deal with animals and need to know a lot about animals, but at the end of the day, it's a people-job," Dr. Jones says. "People skills are really important."
A background in business is also really helpful. Aspiring vets are often so excited to work with animals that they only think about the veterinary tasks they'll be performing. For many vets, that's only one part of the job.
"A lot of us in private practice end up going on to become a partner or involved in the practice," Dr. Jones notes. He says you could end up dabbling in everything from HR to accounting, so taking business courses can really help prepare you. You might even consider obtaining an MBA. Some veterinary medicine programs will even allow you to earn this degree in tandem with your DVM.
"A lot of us in private practice end up going on to become a partner or involved in the practice."
For large animal vets in particular, being adaptable is incredibly important. If you get called to a farm for an emergency, it's possible you won't have access to all your preferred equipment. And an animal's symptoms don't always align with diagnoses the way you would expect.
"That's one thing about veterinary medicine—two plus two isn't always four," Dr. Jones says.
How much do large animal vets make?
Exact salaries for food animal vets are a little tricky to pin down because it depends on the area as well as the focus. The US Bureau of Labor Statistics (BLS) reports the mean annual salary for all veterinarians in the US was $95,460 in 2019. Though the BLS doesn't provide specific wage information for large animal vets, some estimates indicate that's a pretty reasonable expectation for food animals vets.
What's the job outlook for large animal vets?
The outlook for veterinarians is bright in general. Employment for the occupation is expected to grow at a rate of 15 percent or higher through 2026. Large animal veterinarians are particularly well-poised for the future.
Many regions across the US are facing food animal veterinarian shortages. The USDA's National Institute of Food and Agriculture (NIFA) announces veterinarian shortage areas every year and designates each as moderate, severe, or critical. A quick glance through NIFA's current shortage list reveals many areas need more food animal veterinarians. The demand for these professionals is so great that they may be eligible for loan forgiveness through the Veterinary Medicine Loan Repayment Program (VMLPR). It requires a minimum commitment of three years.
"If someone wants to live in a rural area, there are some great opportunities out there," Dr. Jones acknowledges, adding that his area is pretty fortunate to have an adequate number of large animal vets.
Helping four-legged friends
Whether they're administering vaccines, inspecting production facilities, or performing an emergency surgery, large animal vets are invaluable for keeping livestock healthy. Their efforts even contribute to our own health. For the right person, being a large animal vet is a challenging career that's also incredibly rewarding.
If you're intrigued by the idea of pursuing large animal medicine, it may be time to start thinking about how you should proceed. Find out how to go from aspiring veterinarian to practicing professional by taking a look at our article "How to Become a Veterinarian: Your 8-Step Guide."
careers, veterinarian advice