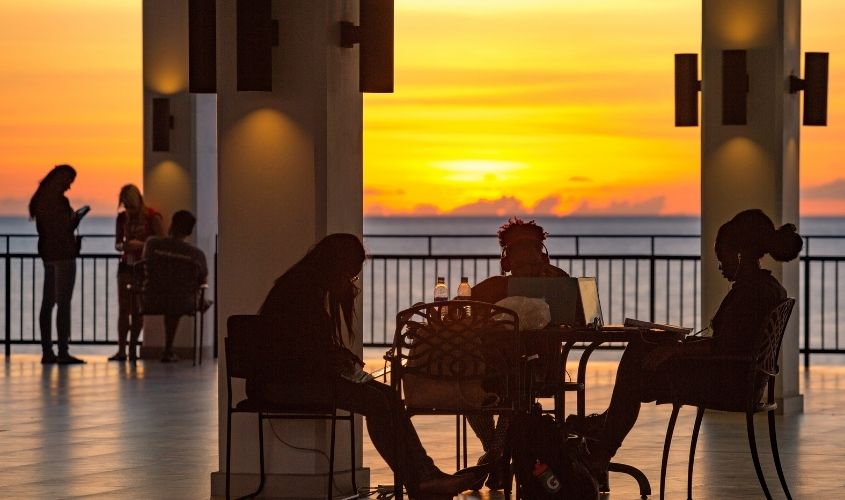 As the dean of students at St. George's University, Dr. Lucy Clunes and her team within the Office of the DOS work closely with all of SGU's schools, non-academic departments, the Student Government Association, and importantly, with individual students, to ensure that the unique needs of the university's student body are met.
"Our goal is to provide each student with a strong infrastructure that promotes student success," Dr. Clunes said. "We also encourage, guide, and expect that all students accept individual responsibility for their own personal, professional, and academic development."
Dr. Clunes shared how the DOS seeks to assist all students, including those studying virtually, and what advice she has for new students.
St. George's University: What are some aspects of student life that fall under the department's purview?  
Dr. Clunes: DOS has assistant deans that are dedicated to each school. This allows for these deans to have an intimate knowledge of the student manual as it pertains to each school, making sure that students can navigate all policies and procedures appropriately.
In addition:
We coordinate student orientation events each term for all new students throughout SGU's four schools.
Our International Students Office offers excellent support for our international students in everything from visa guidance to how to prepare local food.
DOS is responsible for the faculty advisor assignment in SAS and SVM and is now overseeing the SOM college system. This allows us to focus on how to support students not only in their academic ventures but how to optimize their student life and wellbeing.
In the School of Medicine, academic advising for both basic sciences and clinical students has recently been moved to under the DOS umbrella as well as the Office of Career Guidance.
Claire Purcell, SGU's director of student campus life, also works with the more than 60 different student organizations to ensure students' academic, spiritual, and cultural needs are all met.
SGU: How has COVID changed the way that DOS provides support to students?
Dr. Clunes: We recognize that students are under much more stress than in normal years. The COVID pandemic has caused personal, family, health, and financial challenges for our students. DOS is focused on making sure that students know where to find us and the support they need. My main priority is responsiveness—if a student reaches out for help, they should know that they can receive an answer within a short period of time.
Get in touch! 
For students in NU, email:
DOSNU@sgu.edu
For students in their clinical years, email:
dosclinical@sgu.edu
SGU: What are some examples of changes made to campus to help students during the pandemic?
Dr. Clunes: Assistant Dean David Twum-Barimah has worked to optimize the use of all study venues as well as develop a student-friendly app that will provide live updates on the availability of both individual and group study spaces. We hope this has decreased stress for students and increased their study time as they will not have to walk from venue to venue looking to see what is available.
Another example is related to use of the campus gym. Currently, the gym is open; however previous restrictions in Grenada had meant that the gym had to temporarily close. We worked to make sure that outdoor gym facilities were available and converted inside cardio and yoga classes to outside venues. We recognize the importance of exercise to our students and do all that we can during these challenging times to make sure that students have access to these amenities.
SGU: How do you ensure the needs of students studying online are met?
Dr. Clunes: The COVID pandemic has also led to us all being more familiar with online platforms such as Zoom; this has enhanced the level of support that DOS can offer. Reaching out to students across the world in all schools has never been so easy and felt more personal. A lot of students feel more relaxed during a virtual appointment which leads to them being more open about the challenges that they are facing and allows us to help more. This does not mean that in-person appointments are not occurring. We are happy to offer students phone, Zoom or in-person counseling.
SGU: What should students know about COVID for the January '22 term?
Dr. Clunes: While COVID is still providing us all with new challenges, we are here to listen and to advise. We are happy to work with a student's individual situation and advise on what the best course of action is. For example, if a student tested positive over the break, we can transfer them to online learning until they are able to return to Grenada and can be transitioned back into in-person learning.
SGU: With the Office of Career Guidance now under the DOS, what changes have been made to streamline support for SOM students?
Dr. Clunes: Together with the School of Medicine's Dean Loukas and dedicated faculty within the OCG, we have redesigned the department to further guide students toward residency starting their first day in medical school.
Our main goal is ensuring that the curriculum delivery and assessment is intertwined with preparing for residency applications and the matching process as early as possible. This will allow students to be even more competitive during the Match process.
For example, interview skills are not something that is developed the day before the interview but far earlier. One of our main goals is to enhance the interview skills of all our students early on.
In addition, SOM academic advisors in basic sciences as well ase clinical years now fall under the umbrella of DOS. This gives us a great opportunity to ensure our medical students have unfractured academic support from day one right up to graduation and beyond.
SGU: What advice would you give to students on campus for the first time?
Dr. Clunes: Don't be afraid of asking questions, no matter how minor you may think they may be. We are here to help and support you, and if there is something that would make your life more comfortable, and therefore help you to be more successful academically, don't hesitate to reach out.
SGU: You have been on island for over 13 years. Where is your favorite place for R&R on the island?
Dr. Clunes: Grenada is my home. My kids were born here and know more about Grenada than my home country—the UK. We are so lucky to have beautiful beaches, forests, wildlife, and beautiful sunsets which never fail to relax you after a long day. If you have not yet visited Carriacou, this is one of my favorite places. Life moves a little slower in Carriacou and a weekend away always manages to refresh me.
SGU: How can students get in touch with the DOS?
Dr. Clunes: Students can email DOS@sgu.edu or drop into the office at any time. They can also reach out to me directly at lclunes@sgu.edu.
– Laurie Chartorynsky
Related Reading
https://www.sgu.edu/wp-content/uploads/2022/01/campus_sunsetview-studentsstudying-845.jpg
500
845
lchartor
https://www.sgu.edu/wp-content/uploads/2020/02/sgu-logo-grenada.svg
lchartor
2022-01-07 12:09:01
2022-01-07 12:14:06
How the Dean of Students Office promotes student success