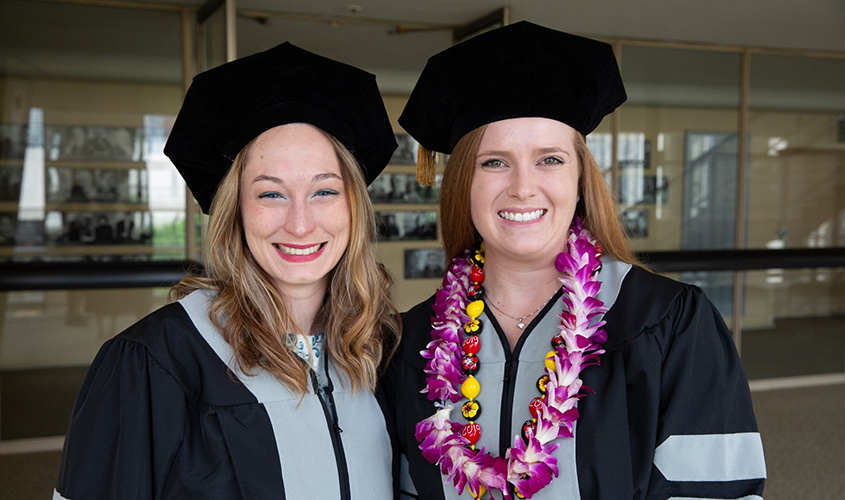 Animals of all shapes and sizes gained caretakers and advocates on Saturday morning as St. George's University School of Veterinary Medicine granted Doctor of Veterinary Medicine degrees to 83 new veterinarians in New York City.
By reaching this milestone, the Class of 2019 joins an alumni network of 1,670 veterinarians who built a foundation for their careers at SGU.
"One of the greatest honors I have each year is to be here at this ceremony honoring you, respecting you, and with family and friends in the room who have helped you get to where you are today, to tell you how proud we are of you," said Dr. Charles Modica, chancellor of St. George's University.
This year's graduates hailed from six countries—the United States, Canada, Chile, Mexico, Peru, and Trinidad and Tobago. Many new alums will go straight into practice while others have committed to residency programs across 22 United States in such fields ranging from small animal medicine and neurology to oncology and food animal ambulatory and production medicine.
Dr. Richard Liebowitz, vice chancellor of St. George's University, noted that this year marked the 20-year anniversary of SGU's School of Veterinary Medicine.
"Our graduates are recognized in the US, Caribbean, and around the world, and now you leave the university with the same clinical abilities as they did," Dr. Liebowitz said. "The question is 'where do you go from here?' With the training you have received, my only advice is to follow your passion, put no barriers in front of you, and shoot for the moon. I congratulate you all. I know you all will be extremely satisfied and successful in your careers."
One of those charter class members was Tara Paterson, DVM '03, who has gone on to become an associate professor of small animal medicine and surgery at her alma mater, while also serving as president of the School of Veterinary Medicine Alumni Association.
"On behalf of SGU faculty, I want you to know that we are very proud of you all," Dr. Paterson said. "I'm honored to welcome you to our fraternity of SGU alumni, and I'm proud to call you my colleagues."
St. George's University Provost Glen Jacobs emceed the ceremony, and implored the newest SGU alumni to pursue knowledge and training throughout their careers.
"This ceremony is a symbol of our confidence that you are now equipped for the world in which you are entering," Dr. Jacobs said. "You are equipped with the basic skills necessary for your profession. You must continue learning to keep learning in order to keep pace with the changing world around us."
https://www.sgu.edu/wp-content/uploads/2019/06/vet-845-x-500.jpg
500
845
bpmauser
https://www.sgu.edu/wp-content/uploads/2020/02/sgu-logo-grenada.svg
bpmauser
2019-06-07 20:16:10
2021-02-25 21:15:55
SGU Veterinarians Urged to "Shoot for the Moon" at Annual Commencement Ceremony