Quick Stats:
Hometown: Kings Park, NY
Expected graduation: May 2023
Career aspirations: Emergency medicine
Current hospital: O'Connor Hospital
St. George's University medical student Carley Greco is taking in all the opportunities that the University has to offer.
A third-year student with aspirations to go into emergency medicine, Ms. Greco, who is originally from New York, is currently completing her core clinical rotations in California. She has so far finished three clerkships—internal medicine, surgery, and OB/GYN—and is currently completing her pediatrics rotation at O'Connor Hospital in San Jose.
SGU News spoke with Ms. Greco about her experience in clinicals so far and how it is helping her to solidify her chosen specialty leading up to residency applications for the 2023 NRMP Match.
SGU: You are not from California, yet you requested to be placed there for your core rotations, why is that?
Carley Greco: I was interested in completing rotations in California to see hospitals in different parts of the country and with different patient populations. I also wanted to see if I enjoyed living and working in California prior to residency applications to determine if I would want to apply to positions on the West Coast.
SGU: How would you describe your experience at O'Connor Hospital?
Carley Greco: The experience has been positive. The hospital does not have residents in every specialty, only in family medicine, which gives students a chance to work directly with the attending physicians and see their clinical decision making firsthand. Throughout each rotation we switch doctors every three to four weeks, so I've gotten to see a mix of the sub-specialties within each specialty.
For example, during my IM rotation I rotated through nephrology, pulmonary, and interventional cardiology, in addition to seeing patients on the hospitalist service. It was very interesting for me to see all the different paths available to those who go into internal medicine.
SGU: What has been your favorite rotation so far and why?
Carley Greco: I'd have to say my favorite rotation thus far would be surgery! I worked with cardiothoracic surgery, vascular surgery, and orthopedic surgery, and was able to scrub in on multiple procedures including a lung resection, hip replacements, shoulder replacements, knee replacements, ACL and meniscus repairs, and multiple revascularization procedures! My favorite experience was learning hands on how to whip stitch an ACL allograft.
SGU: What did it feel like that first time you scrubbed in for a surgery?
Carley Greco: The first surgery I scrubbed in for was a partial lung resection on a young man with a lung nodule. I was both extremely excited and extremely nervous. I made sure to eat a good breakfast and drink plenty of water the night before, so I was ready to go. It was the coolest experience to be a part of the surgical team, scrubbing at the same sink with the surgeon, holding retractors, suctioning, and aiming the laparoscope camera so the surgeon could see.
The surgery ended up being more complicated than expected, she ended up converting to open surgery rather than laparoscopic, and it took over six hours! I was so impressed by the surgeon and her ability to remain totally focused on the task at hand for the entire surgery.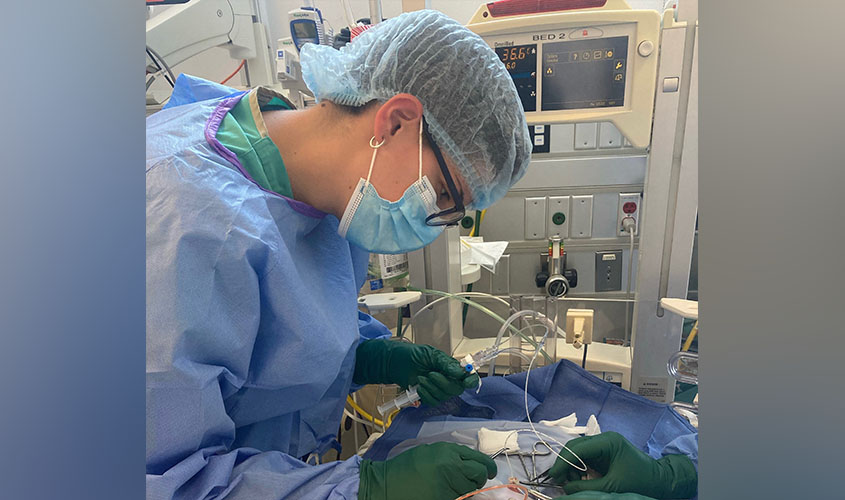 SGU: How would you describe the faculty as it pertains to your training?
Carley Greco: It is nice to be able to see the various styles and strengths of each physician, and to benefit from each of their teaching styles. All of the doctors enjoy teaching and giving us hands-on experience where applicable.
SGU: What are your career aspirations/Match specialty hopes?
Carley Greco: I plan on applying to both emergency medicine/internal medicine combo programs, as well as purely emergency medicine. I think EM/IM would give me excellent insight to all sides of patient care from the ER through to admission and help me provide better care for my patients on either the EM or IM side. This would also give me a path to the ICU if I chose to go that route.
I know I would be equally as happy in an EM residency. I love the fast-paced environment and variety of medical knowledge needed in the emergency room and think I will end up in the ER either way!
SGU: What topics/issues are you passionate about in medicine?
Carley Greco: I did my masters in compassionate care, medical ethics, and medical humanities. Something that I found myself very invested in was end-of-life care. We typically think that these end-of-life decisions are only relevant in the sick and elderly, however tragedies can happen at any age and leave people unable to make decision for themselves. As a physician I hope to encourage and empower patients to educate themselves on measures they may or may not want taken when their quality of life is no longer what they wish it were.
SGU: What piece of advice do you have for med students just beginning their clerkships?
Carley Greco: Take a deep breath and relax! It's okay if you feel like you know nothing and don't know what you're supposed to be doing. Everyone had to start somewhere, and the majority of doctors are very understanding that you are just starting out with clinical experience.
Listen to what you are being taught so you get it right next time.
Be on time, be flexible, and offer to help wherever and however you can, and they will see that you are eager to learn and be a part of the team.
— Laurie Chartorynsky
Related Reading
https://www.sgu.edu/wp-content/uploads/2022/05/carley-greco-845.jpg
500
845
lchartor
https://www.sgu.edu/wp-content/uploads/2020/02/sgu-logo-grenada.svg
lchartor
2022-05-13 10:10:25
2022-05-13 11:29:25
SOM Student Check-In: Carley Greco, Third-Year Clinical Student