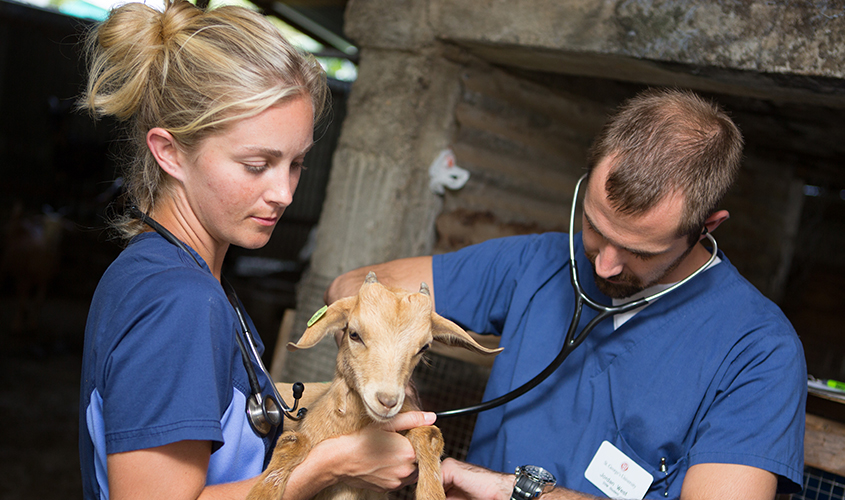 In Ontario, Canada, St. George's University School of Veterinary Medicine students can take a breathtaking hike, lounge by a Great Lake, and visit Niagara Falls while they complete their studies at Ontario Veterinary College.
As of August 2022, SGU is affiliated with Ontario Veterinary College at the University of Guelph, allowing fourth-year SVM students to complete their clinical training at the oldest veterinary school in Canada. This adds one more clinical affiliate to the existing list of over 30 universities across the US, Canada, Europe, and Australia where SVM students can continue their education.
"SGU and OVC have worked on a clinical partnership for several years, and we are thrilled to call our affiliation official," said Dr. Neil Olson, dean of the School of Veterinary Medicine. "Students who attend their clinical year there will receive a personalized experience at an institution whose reputation is among the best in veterinary education."
The program at OVC is diverse. Students can gain experience in all fields of veterinary medicine, with advantages for training in rural veterinary practice because of the school's location. The opportunities available at OVC provide flexibility to students who can tailor their training to their interests and career goals.
"Those of us at OVC who have been working with SGU to create this partnership are so excited to see it come to fruition," said Joanne Hewson, DVM, PhD, DACVIM, associate dean of students and academics at the Ontario Veterinary College. "We're confident SGU students will feel at home here while receiving outstanding clinical training that complements their experience in Grenada. We are truly looking forward to the collaborative exchange of ideas and perspectives as students originating from different programs work together in our clinical hospitals."
SGU students will benefit from clinical training in other countries like Canada as the experience exposes them to different veterinary cultures—ultimately enhancing the training they receive that they can apply to their careers.
"Every school that we affiliate with strengthens our program, and we aim to offer students a diverse group of programs to choose from," said Dr. Nicki Wise, associate dean of year four clinical training in the School of Veterinary Medicine at SGU. "In the first three years of their education, our goal is to ensure that our students can succeed in any of our 30-plus American Veterinary Medical Association-accredited programs worldwide. A partner like OVC drives us to keep our preparation rigorous."
If you are considering your clinical year at Ontario Veterinary College and have questions, contact Dr. Wise at LWise1@sgu.edu.
—Sarah Stoss
Related Reading   
https://www.sgu.edu/wp-content/uploads/2022/11/SVM-students-with-animal-845x500-1.jpg
500
845
sstoss
https://www.sgu.edu/wp-content/uploads/2020/02/sgu-logo-grenada.svg
sstoss
2022-11-01 10:09:46
2022-11-01 10:16:57
SVM clinical network expands to include Ontario Veterinary College