Back to Blog
6 SGU Students That Prove a Career Change to Medicine Is Possible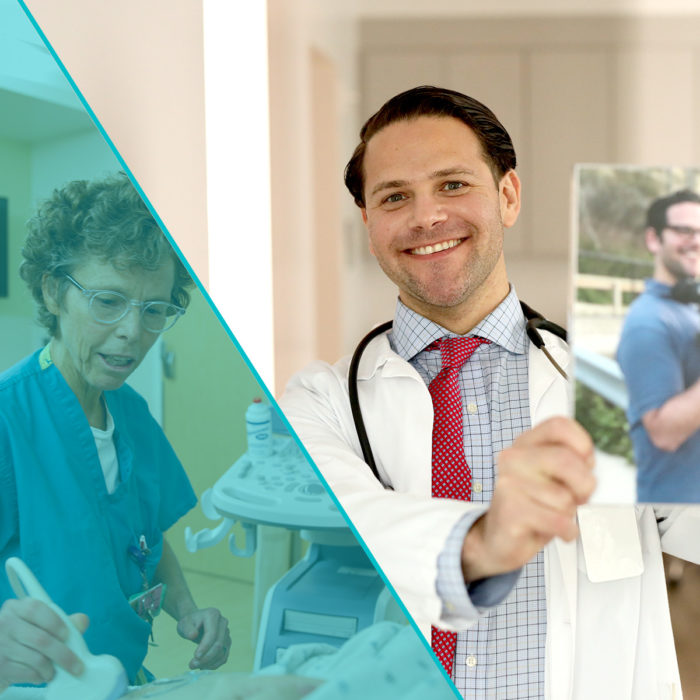 Joining the field of medicine is a calling, a challenge, and a commitment like few others. It shouldn't be surprising that there are people who take years or decades to make the decision to become a doctor. St. George's University School of Medicine (SGU) values inclusion and diversity, which makes these nontraditional medical school students right at home.
6 Inspiring physicians who made the career change to doctor
If you're considering making a career change to medicine, you'll likely find inspiration reading the following stories of SGU students who have done exactly that.
1. Finding a new way to serve her country
As an elite Air Force pilot, Dr. Cholene Espinoza had already achieved extraordinary things in her chosen career. After retiring from the Air Force, she worked as a commercial airline pilot. But in the aftermath of 9/11, she was moved to serve her country again as an embedded journalist covering the Iraq war.
It was this pivotal experience—seeing medics saving lives on the ground instead of observing from the sky—that convinced her to make the career change to medicine at the age of 46. Even with her steely nerves and experience staying calm in high-pressure situations, the road to becoming an OB/GYN wasn't a walk in the park.
"I would say that residency training and making this switch has been the biggest challenge of my lifetime but really the privilege of a lifetime," Dr. Espinoza says. "My life has a lot more meaning now." She says the level of excitement and unpredictability that comes with working in labor and delivery is similar to flying high-performance jets.
Dr. Espinoza feels fortunate to be in the position she is today, where she continues to learn new skills and knowledge every day that will help her develop in her new career.
"I feel like the best is yet to come," she says.
2. Fighting for his patients
Before he wore a white coat to work, Dr. Anthony McDonald spent his time competing for championship belts as a mixed martial arts fighter. A 2013 SGU graduate, he is now the director of cardiopulmonary medicine at San Angelo Community Medical Center in San Angelo, Texas.
The energy and dedication he used to succeed at MMA was an asset to him as a medical student. "When I went back to school, I went back with the same fervor and zeal I did with fighting," Dr. McDonald says. He also had positive role models in the medical field: his father is a doctor, and his mother is a nurse.
To make a career change to medicine though, it's not enough to be physically strong—you also must be mentally resilient. "Medical school is tough; there's no two ways about it," he admits. "But I was very fortunate to do it at St. George's University, where I felt that the entire island is set up to make you succeed."
3. Trading his camera for a white coat
Going from behind the camera to working face-to-face with patients may seem like a stretch for some, but for Dr. Benjamin Kahn, it was just a leap of faith. He left behind an Emmy Award-winning producing career to study medicine and has absolutely no regrets.
Dr. Kahn traces his turning point back to a surgery and subsequent hospital stay that triggered unexpected emotions. "I felt vulnerable. I had never really hurt myself before, and it was a very difficult recovery," he reflects. "My doctor was very integral in making a real difference in my life." He goes on to explain how he built a relationship with his physician, which led Dr. Kahn to ask if he could shadow him to see what being a doctor was really like.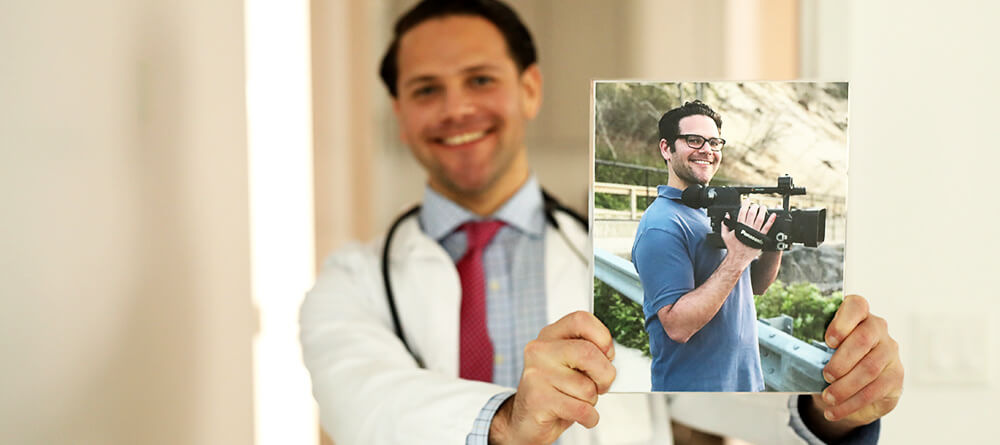 That experience ignited a passion in him, and despite having no background in science, Dr. Kahn threw himself into prerequisite courses and never looked back. At age 30, he enrolled in medical school.
"I made the decision that I was all in," Dr. Kahn reflectss. "I felt like I had closure at that point, and that all the experiences that I had in television had led me to medicine." He says his experience performing in high-pressure environments and working as a team made him well-prepared for life as a doctor.
"My background and my experience at SGU molded me into the person and the physician that I am today," Dr. Kahn adds.
4. From medical devices to medical practice
Growing up in rural Minnesota with a family of physicians, current SGU student David Townsend had plenty of exposure and understanding of the profession from a young age. But he still took a unique path into medicine, deciding to first immerse himself in the medical device technology field.
While working to implant cardiac pacemakers and defibrillators inside the heart, he realized he wanted to be able to treat the patient and help them make decisions about their health. Pursuing a career change to medicine led Townsend, along with his wife and kids, to the Caribbean for medical school.
"I would definitely recommend SGU to anybody who wants to pursue a career in medicine, especially for career changers like myself."
"I am so glad I made the career change to become a physician and attend SGU," Townsend says. "I would definitely recommend SGU to anybody who wants to pursue a career in medicine, especially for career changers like myself."
5. From the locker room to the operating room
As an offensive lineman on a full-ride scholarship to play football for the University of Maine, Dr. Justin Roberts' contact with medical personnel was mostly limited to the locker room patch-ups in between plays. But after sustaining injuries that prevented him from pursuing the professional football career he'd dreamed of, he was forced to rethink his life trajectory.
Dr. Roberts landed a job in pharmaceutical sales, where he interacted with many excellent physicians who had graduated from SGU. "I felt like they were really good representatives of the school," he recalls. "They really sold me on the program."
After being accepted into SGU's Charter Foundation Program to help him prepare for the rigors of med school, he was accepted into the School of Medicine. Dr. Roberts is now chief anesthesiology resident at Rutgers University's  Robert Wood Johnson Medical School.
"If medicine is what you truly want to do, then I suggest going into that field. You'll be very happy you made that change!"
To others who are considering a career change to medicine, he gives this advice: "If medicine is what you truly want to do, then I suggest going into that field. You'll be very happy you made that change!"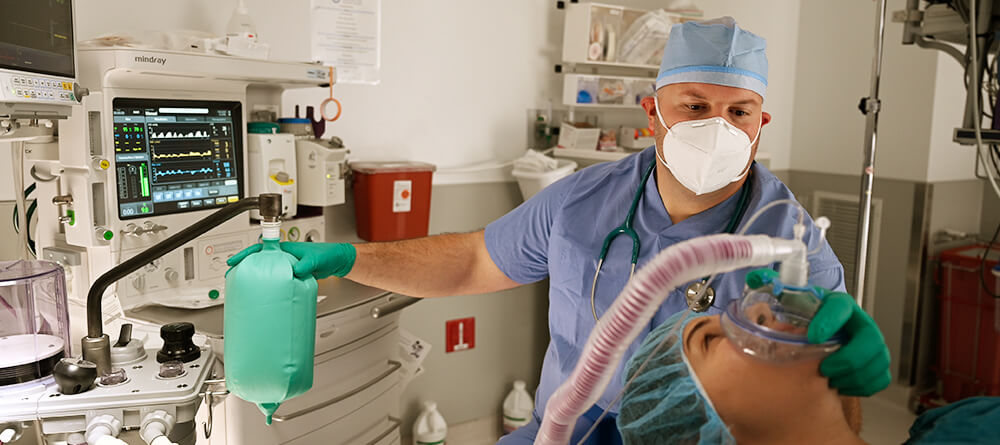 6. Putting her skills to new use
Dr. Margaret Russell had already worked for more than 20 years as a teacher before an avoidable tragedy in her neighborhood left her shaken. A neighbor's young child died of pneumonia, a highly treatable illness, due to lack of adequate health care in their rural community.
"I thought to myself, 'I am going to fix this situation. I am going to be a doctor in a rural town that needs me,'" Dr. Russell says. As a family physician, she puts her teaching skills to use educating her patients every day. She feels the diverse training she received in medical school helped set her up for success in her career.
"I depend on the skills I was taught at SGU, and those skills have never let me down," Dr. Russell says. "Students at St. George's University receive a phenomenal, well-rounded education."
Change your career, change your life
Being a doctor requires passion, empathy, teamwork, and critical thinking. However unrelated they may seem, you might be surprised how your past experiences can prepare you for a meaningful career change to medicine.
It's never too late to become the best version of yourself. And if you believe that the best version of you is a doctor, don't wait. Start planning your career change to medicine.