Back to Blog
How to Choose a Medical School: 8 Things to Evaluate Before Accepting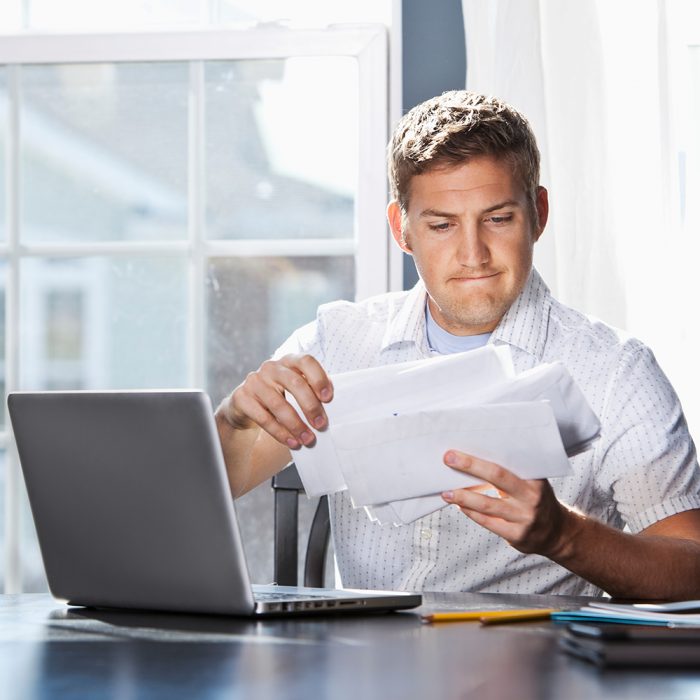 Most medical school applicants apply to a long list of programs. Consider, for instance, that aspiring physicians seeking acceptance to US schools for the 2020–21 academic year submitted an average of 17 applications. Eventually, each of these students will need to think more critically about how to choose a medical school. Having a list of questions intended to help illuminate differences among schools can help significantly.
8 Questions to help students determine how to choose a medical school
This comprehensive list of considerations can help in comparing medical schools throughout the application and enrollment process.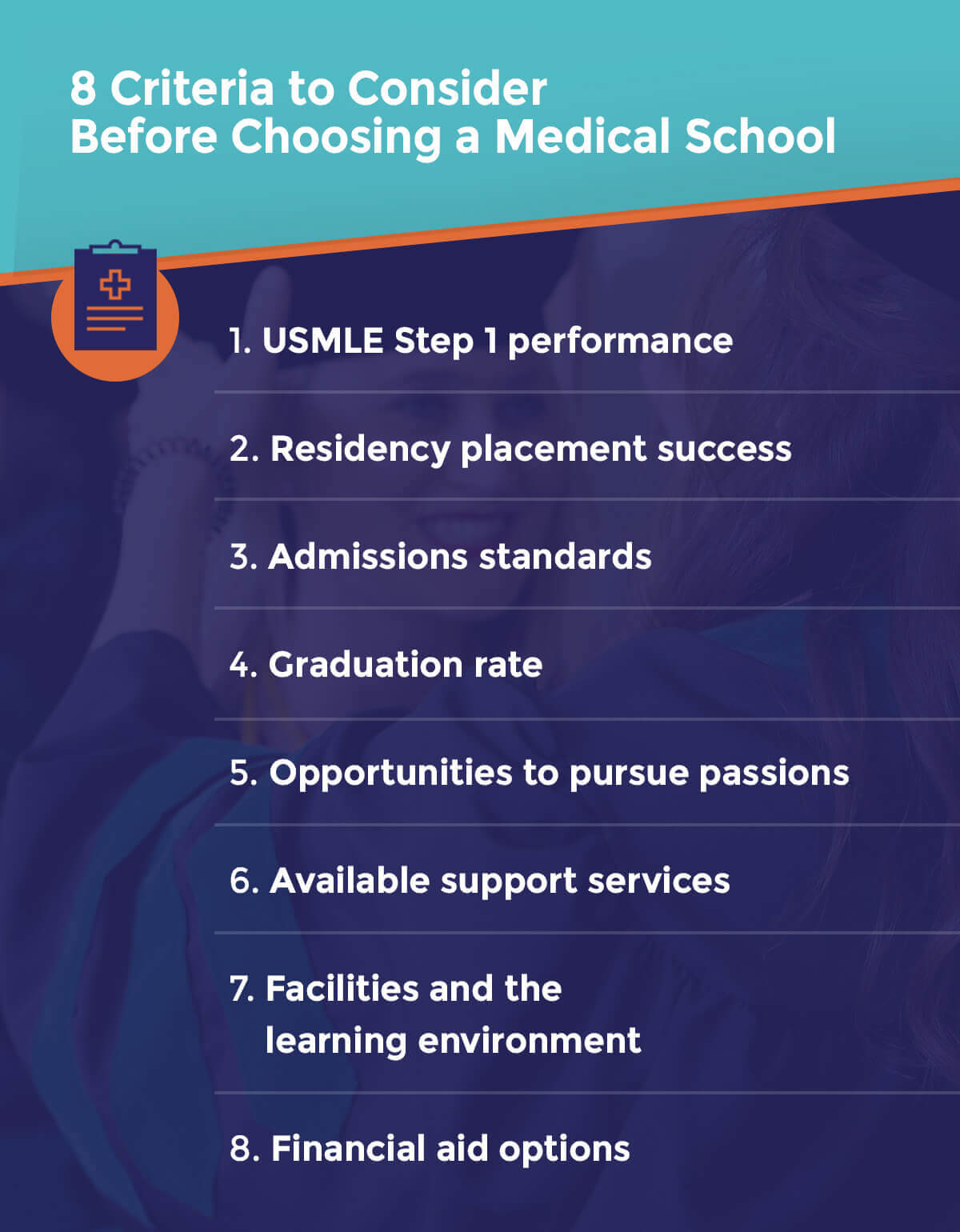 1. What percentage of students pass the USMLE Step 1?
Achieving passing scores on each of the three United States Medical Licensing Exam (USMLE) tests is essential for practicing medicine, and doing well on Step 1 is particularly important for securing a residency. According to Dr. David Norris, a cardiothoracic anesthesiologist and author of The Financially Intelligent Physician, applicants should look into how well a school's students perform on this test.
"This is a reflection of how well they prepare you for the exam and teach you the necessary material," he says.
You might consider comparing an individual institution's average score with the average score among all US and Canadian medical students taking the exam for the first time, which is 232. Just note that while specific scores on the USMLE Step 1 have historically been one of the most important criteria residency program directors consider, the exam is moving to a pass/fail model in the near future.
That said, pass rates are still incredibly informative. Be sure to ask individual programs not only what percentage of students pass the USMLE Step 1 but also how the curriculum prepares them for this all-important test. At St. George's University (SGU), for instance, routine exams are designed to mimic the USMLE format.
2. How many graduates match into a residency program?
Securing a residency is a crucial step on the path to becoming a doctor. When comparing medical schools, take a look at the number of students who've successfully matched into a residency program. This knowledge will give you a better sense of whether the school provides a quality education.
Additionally, be sure to identify what portion of graduates are successful in achieving residency positions. It's essential to attend a medical school where the vast majority of students successfully obtain postgraduate positions. At SGU 94 percent of eligible US 2020 graduates were placed into US residencies, according to data as of July 2020.
You might also look into which specialties graduates match into. If you're having trouble identifying this information on your own, reach out to the schools you're considering to inquire.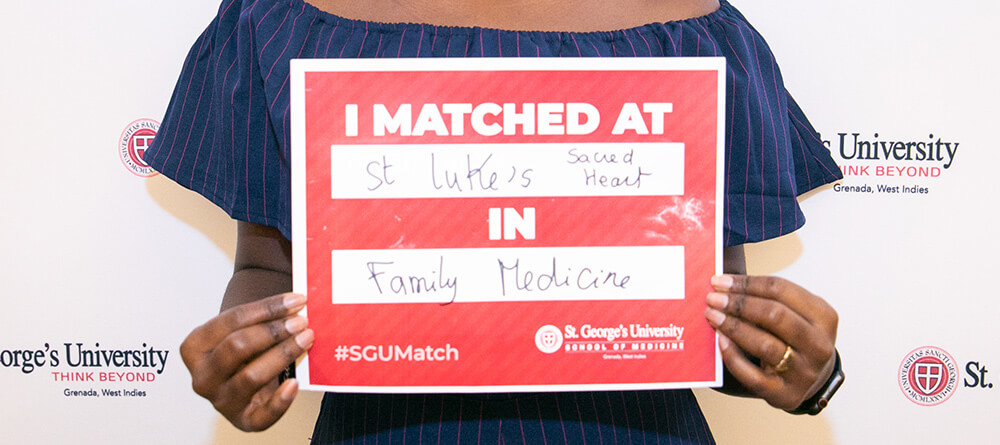 3. How strict are admission requirements?
Students typically use some sort of application service, such as the American Medical College Application Service (AMCAS), the American Association of Colleges of Osteopathic Medicine Application Service (AACOMAS), the Texas Medical and Dental Schools Application Service, or the Ontario Medical School Application Service (OMSAS), to apply to medical schools—and most programs' requirements are very similar.
The highest-quality institutions typically spell out a minimum number of credits they expect for biology, chemistry, organic chemistry, and English. The science requirements usually include lab experience, and schools also tend to have math expectations. Of course, each medical school has its own list of required and recommended coursework.
Though most schools do not have specific cutoffs for GPA needed for medical school and MCAT scores, it's still smart to research individual school averages for accepted students. The Association of American Medical Colleges (AAMC) releases the US average for both metrics every year, so consider using that information as a general benchmark.
4. What percentage of students graduate from the program?
While getting into medical school is a huge accomplishment, successfully graduating is even more important. Because of this, Dr. Norris suggests asking schools how many of their students finish the program. You can compare this value with the US average four-year graduation rate, which is typically between 82 percent and 84 percent. Conversely, you might inquire about the attrition rate—the portion of students who leave the program.
If you're considering international medical schools, looking into student outcomes is equally as important. You can find information on graduation rates by searching for specific schools on the Federal Student Aid website. This is a great way do a side-by-side comparison of multiple schools.
5. Are there opportunities to develop personal interests?
Not every school will offer the same types of research projects, leadership positions, or opportunities to gain public health experience. You should consider taking some time to think about the goals you would like to achieve and then see which schools offer options to help you pursue your interests.
"If you want to do research, I would suggest a school that provides you ample opportunity to experience the research side of medicine," Dr. Norris says. It's worth noting that students who attend SGU have the option of contributing to valuable work at the Windward Islands Research and Education Foundation (WINDREF).
When it comes to pursuing other interests, medical schools can really vary on what opportunities they provide to students. You might want to look into whether you could obtain a dual degree that captures all your passions. It's also a good idea to research what sorts of clubs and student organizations exist. You might even be able to participate in intramural sports.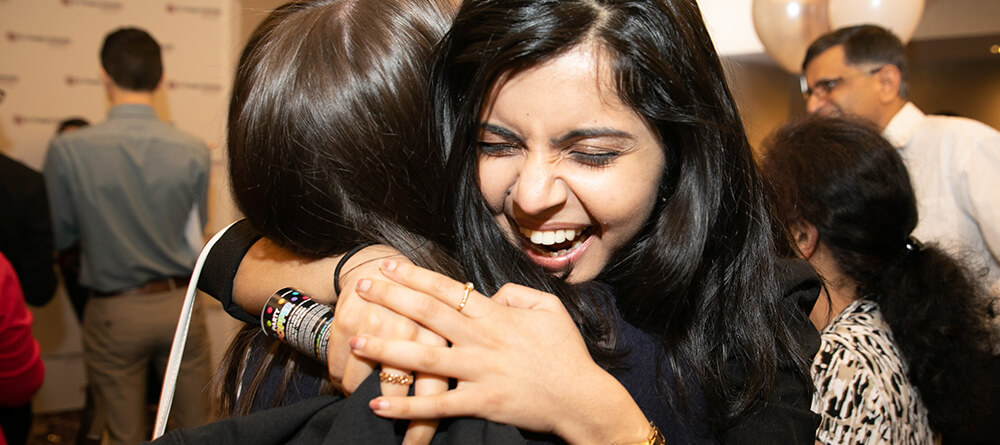 6. Does the program provide support services for students?
The coursework students manage during medical school demands a significant amount of time. Even those who are hungry for the challenge can face a few challenges. Student support services can make an enormous difference, so look into what different medical schools offer. You might want to look for resources like mental health services, peer-review sessions, topically focused office hours, and career guidance.
Given the importance of obtaining a postgraduate training position after medical school, pay particular attention to resources that are focused on preparing for the residency application process. Does the school provide assistance with writing personal statements and practicing interviews? Are students able to receive guidance on how to select a medical specialty?
7. What is the learning environment like?
Everyone has a different idea of what makes a great learning environment. The ideal makeup will be different for each student, but it matters whether you feel positively about your education setting. Research suggests that being satisfied with your learning environment promotes well-being and professional development.
Think about the types of elements that help you enjoy a positive learning experience. These could include technologically advanced facilities, supportive classmates, and access to extracurricular activities. For many medical students, clinical rotations are an essential element that contributes to a great experience.
"As a student, I was treated as a junior intern and expected to participate in the care of the patient."
"As a student, I was treated as a junior intern and expected to participate in the care of the patient," Dr. Norris shares. "They held the bar up high, and it was fun reaching it." When he compares his clinical learning experience to that of his peers, he feels fortunate to have had such a great learning environment.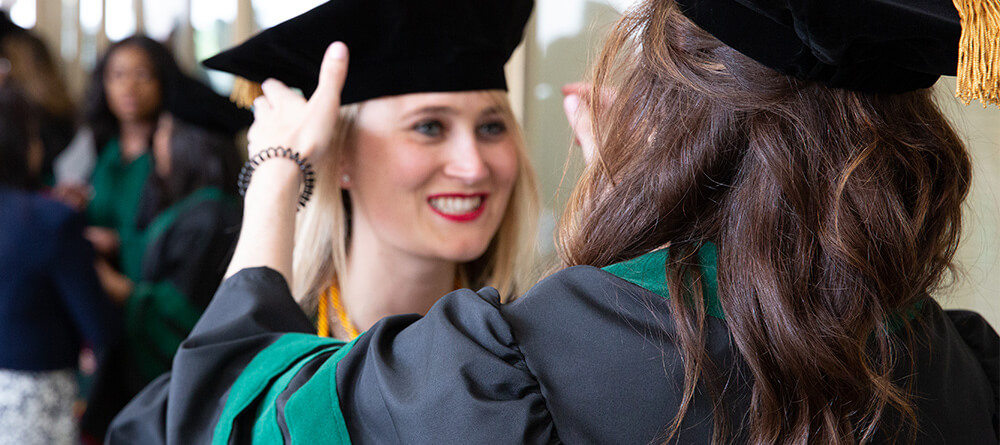 8. Is the program financially feasible?
While it's wise to think about your education as an investment rather than a purchase, it's still important to think about how to pay for medical school, so make sure you consider all the ways to finance your education.
Student loans are an obvious choice, but it's better to start out researching options that don't require repayment. Look into veteran benefits if you're eligible, as well as medical school scholarships. Some awards, such as the CityDoctors Scholarship Program at SGU, could pay up to the full cost of tuition for students who commit to serve as a primary care physician in a particular area. Additionally, consider what you or your family can contribute toward your education.
While more relevant after you graduate, you might also want to research various loan forgiveness programs. The Public Service Loan Forgiveness (PSLF) program, for instance, forgives the remaining balance on your loans if you make 10 years' worth of payments while working for a qualified employer.
Feel confident in choosing a medical school
Now that you have a better idea of how to choose a medical school, you can begin evaluating your options and narrowing your focus. It's also a good idea to start thinking about how you can stand out to admissions committees during the interview process.
Find out how to ready yourself for these conversations by reading "How to Prepare for Medical School Interviews: Steps for Success."
*This article was originally published in December 2017. It has since been updated to include information relevant to 2021.