Back to Blog
PA vs. MD: Which Medical Career Is Right for You?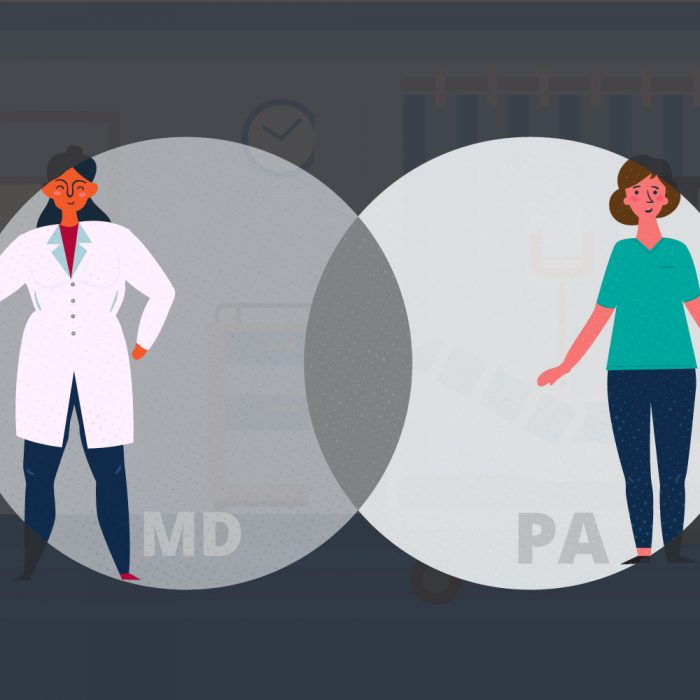 According to the US Bureau of Labor Statistics (BLS), health care employment as a whole is projected to grow 15 percent through 2029. Luckily, working in health care, and even more specifically working in clinical settings, allows you to choose from multiple career paths like physician assistant (PA) and medical doctor (MD).
If you're wondering how to choose between PA versus MD, this information could help you determine which career best aligns with your goals.
PA vs. MD: Different roles on the same team
Both physicians and physician assistants are intricately involved in patient care. They're part of the same team, working collaboratively. There's also considerable overlap for some of their duties, particularly in primary care settings.
"Where I work in family medicine, PAs and MDs see similar patients and do many of the same things, including conducting sick visits, physicals, and procedures," explains Ann Marie Strong, Family Medicine Physician Assistant in Minneapolis, Minnesota.
Differences between the careers emerge when patients have complex cases. MDs have more expertise treating less-common issues and are the only medical professionals licensed to perform surgeries (though PAs may be able to assist during procedures).
"The level of autonomy is a main difference and tends to differ based on the type of practice, the state, and the organizational structure," notes Dr. Sylvie Stacy, Preventive Medicine Physician in Bessemer, Alabama and founder of an online community dedicated to helping medical professionals create fulfilling careers.
"The level of autonomy is a main difference."
State laws actually play a huge part in the scope of a PA's job. The amount of supervision required, authority to write prescriptions, and specific ratio of PAs to MDs can all vary depending on where you live. Take a look at this outline on a PA's scope of practice from American Medical Association (AMA) to learn more about the requirements in each state.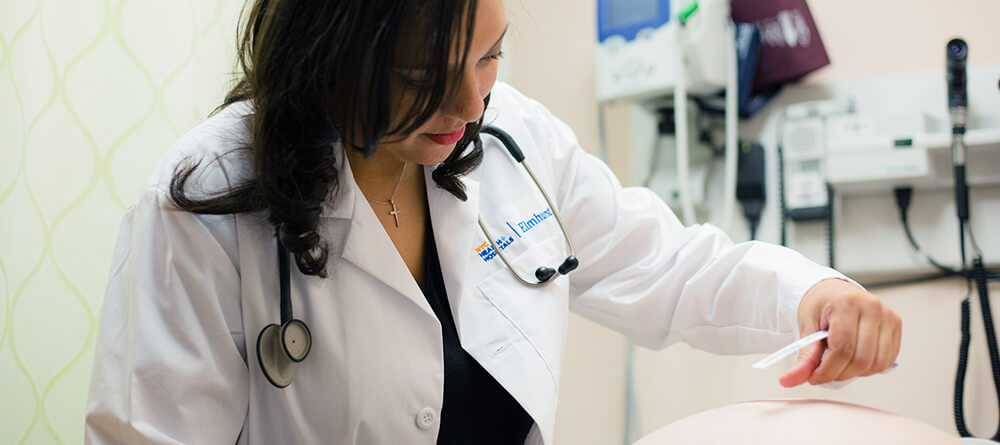 PA vs. MD: Education and training
The path to both health care roles begins with obtaining a four-year college degree. Aspiring physician assistants then attend a two- to three-year PA program, while aspiring doctors attend medical school for four years. Both routes require specific science prerequisites and relevant experience before applying. Both also focus heavily on clinical rotations during the latter portion of the curriculum.
Physician assistants can begin work soon after completing their education, provided they pass the Physician Assistant National Certifying Exam (PANCE) and acquire a state license. They may choose to pursue additional training, but it's not required.
"There are optional residencies," Strong explains. "But most PAs round out their skills with on-the-job training." That fast track is part of why she decided to pursue a career as a PA.
Physicians have a slightly longer medical education timeline. After medical school, doctors typically need to complete three to seven years of  postgraduate residency training. Those pursuing highly specialized areas of medicine may need to complete a fellowship as well. For many, the additional training after medical school can be an exciting opportunity.
"I really enjoyed the science of medicine and wanted the more in-depth training of medical school and residency."
"I really enjoyed the science of medicine and wanted the more in-depth training of medical school and residency," Dr. Stacy reflects.
MDs also have different examination requirements. They'll need to pass the three-part United States Medical Licensing Examination (USMLE) series and obtain the appropriate state license. MDs additionally have board certification as a key milestone—this isn't a requirements, but it does signify a high level of expertise. Both PAs and MDs are subject to continuing education and recertification requirements throughout their careers.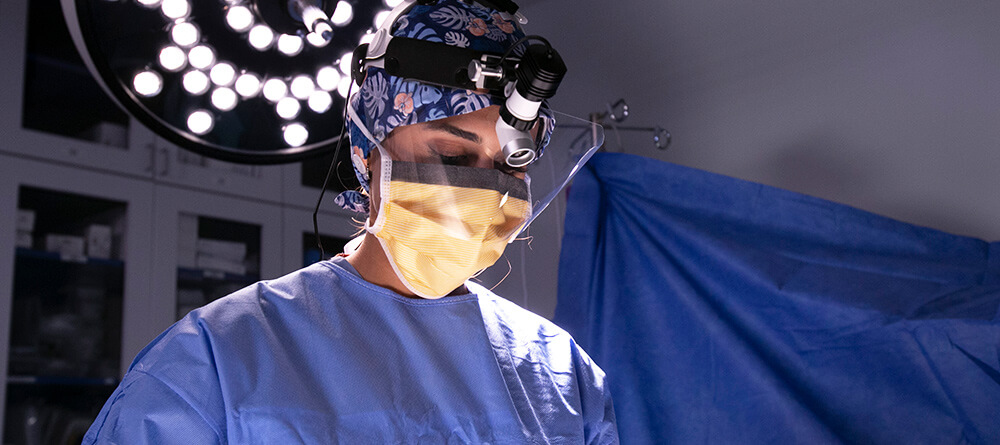 PA vs. MD: Career outlook
Given the demand for health care professionals in general, the career outlook is positive for PAs and MDs alike. While the US Bureau of Labor Statistics only estimates employment of physicians to grow 4 percent through 2029, growth projections for MDs vary by specialty. According to "The Complexities of Physician Supply and Demand: Projections From 2018 to 2033," a report from the Association of American Medical Colleges, there is a looming shortage of physicians that breaks down as follows:
Primary care physicians—21,400 to 55,200 practitioners.
Surgical specialty physicians—17,100 to 28,700 practitioners.
Medical specialty physicians—9,300 to 17,800 practitioners.
Other specialty physicians—17,100 to 41,900 practitioners.
As this demand remains unfilled for MDs, many health care facilities turn to PAs to assume many of the responsibilities traditionally held by physicians. As a result, employment for PAs is also projected to grow much faster than the average for all occupations. According to the BLS , employment of PAs is projected to grow 31 percent through 2029.
PA vs. MD: Determining which is right for you
There are clearly advantages to both career options. If you're feeling torn, then gaining some exposure can help. Strong recommends observing doctors and physician assistants in the workplace by setting up some job shadowing experiences.
Even arranging some conversations with practicing PAs and MDs can be helpful. It may be a feasible way to learn from professionals who don't accept requests to shadow, too. Dr. Stacy suggests speaking with professionals who work in a range of settings and types of organizations to get a well-rounded picture of both careers.
"See what resonates with your goals, both professionally and personally."
"See what resonates with your goals, both professionally and personally," she advises.
A great place to start is by listening to the Doctors on Call alumni panel events from St. George's University (SGU). It can also be beneficial to read accounts from graduates who have pursued fields like pediatrics, anesthesiology, and emergency medicine.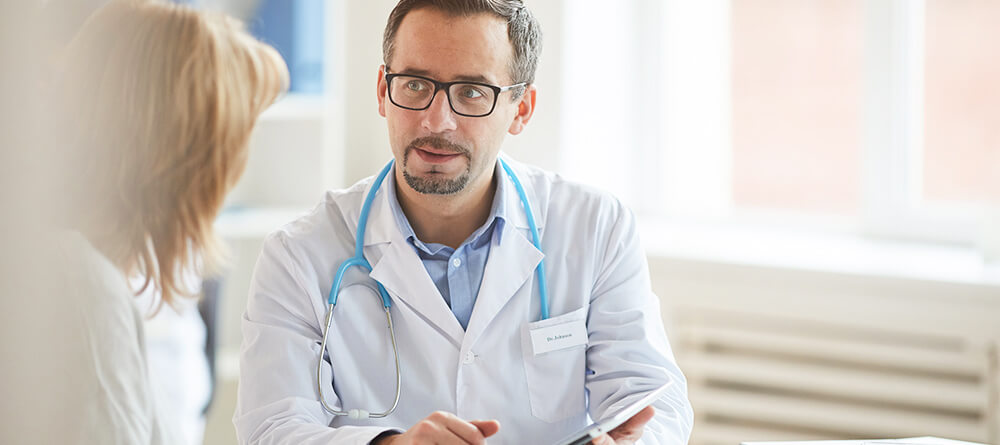 Find your fit on the health care team
The PA-versus-MD decision is a common one for many aspiring medical professionals. Ultimately, you have to decide which career path aligns closest with your aspirations. Now that you have a little more information about both of these roles, you might have a better sense of which path to follow.
Education is clearly an important part of the process for both careers. If you're thinking about becoming an MD, you'll want to learn more about medical school. Find out if it's right for you by checking out "Should I Go to Medical School? 7 Questions You Should Ask First."
* This article was originally published in January 2019. It has since been updated to include information relevant to 2021.