Back to Blog
12 Surprising Career Paths a DVM Degree Can Help You Pursue
careers, veterinary skills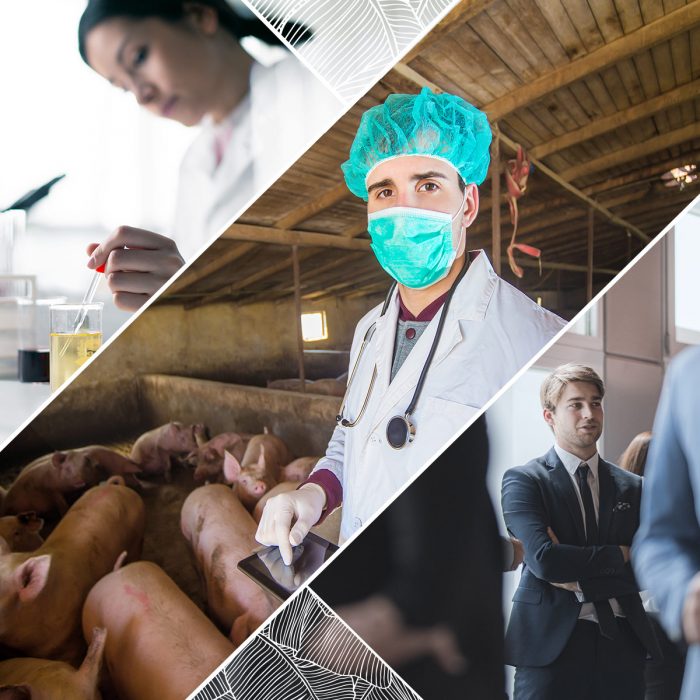 With an equal interest in both medicine and animals, you've always thought you'd eventually become a veterinarian. You're already planning to obtain a doctor of veterinary medicine (DVM) degree. After that, you're a little less sure of how to proceed. You aren't certain practicing in a small animal clinic is what you want to do for the rest of your life.
You're not alone. There are many people interested in becoming veterinarians, and they can have vastly different interests and strengths. It doesn't make much sense that they would all end up in general practice. If you want to treat exotic animals, for example, working in a pet clinic probably isn't a good fit.
There's no need to worry if you don't think you're meant for a traditional practice setting. The good news is a DVM degree can lead you down many different career paths. You'll soon see there are veterinarians working in just about every type of role and workplace setting.
12 Alternative career paths you can pursue with a DVM degree
You may be surprised at just how versatile a DVM degree is. While this is hardly an exhaustive list of the various veterinary careers, it can at least help you start to understand your options. Learn more about 12 paths you could pursue.
1. Animal health industry
Though only a small percentage of veterinarians work in industry, there are many opportunities available. DVMs employed by companies that offer products and services for pet owners and veterinarians may be involved in research, sales, technical services, and more. DVMs sometimes prefer industry to traditional practice, because it can allow for a better work-life balance. Some of these roles involve a fair amount of travel, which is definitely something to keep in mind.
2. Consulting
Veterinarians often turn to consulting roles after spending a substantial amount of time in practice, but this doesn't have to be the case. Any vet with a specialized area of expertise can be a consultant. A veterinarian with advanced toxicology training may help general practitioners determine how to treat a poisoned pet, for example. A former practice owner might help a new clinic streamline their hiring process.
3. Management
Business-minded veterinarians can be great practice managers. Some take on this type of leadership role early in their careers, perhaps by obtaining an MBA in addition to a DVM degree. Others transition to management after gaining experience as a practicing vet. Managing could also be a good option if you enjoy educating in an informal setting, because you may spend a fair amount of time working with new veterinarians.
4. Military service
There are multiple roles for DVMs in the US military. Army veterinarians may treat soldiers' pets, go on missions to combat diseases, develop vaccines, or care for government-owned animals. DVMs in the US Air Force serve as public health officers. These professionals work to prevent and control the spread of disease. Vets interested in making a global impact may want to consider military service.
5. Mobile practice
Mobile operations are different enough from brick-and-mortar clinics that they're worth mentioning. Being able to receive at-home treatment can mean less stress for both animals and owners, according to PetMD. Veterinarians may even be able to develop closer relationships with their clients, which is a plus if you're a people-person. Some veterinarians have even switched to mobile operations after finding it was a better fit for them than a traditional practice.
6. Public health
Obtaining education and training in veterinary medicine can help you develop the unique qualifications required to work in public health. Public health veterinarians may monitor vaccine development or respond to various disease outbreaks, many of which are zoonotic. You can find public health veterinarians within the US Public Health Service, state governments, and the Centers for Disease Control and Prevention (CDC).
7. Public policy
Who better to represent the needs of animals and veterinary professionals than DVMs? Veterinarians may opt to work with the American Veterinary Medical Association (AVMA) or other organizations to advance advocacy efforts at the federal and local levels. As a veterinarian focused on public policy, you could work to secure research and education funding, ensure animal welfare, and more.
8. Regulatory medicine
Regulatory veterinary medicine involves protecting certain animals and the people who consume animal products by inspecting animals and facilities, engaging in disease surveillance, and enforcing humane treatment laws. Many veterinarians in these roles work for the US Department of Agriculture's (USDA's) Food Safety and Inspection Service and the US Food and Drug Administration's (FDA's) Center for Veterinary medicine.
9. Research
Research opportunities obviously exist in university settings, but there are numerous other options. There are many biomedical research positions for veterinarians with additional training in a specific field, such as virology or parasitology. Veterinarians in research may also work with lab animals, so they're responsible for ensuring those creatures' health and well-being.
10. Shelter medicine
While shelter veterinarians work with companion animals, their role is significantly different than that of a vet working in a traditional clinic. One major difference is they don't work with pet owners. Shelter vets also tend to encounter animals that don't have any available medical history, so you need to be comfortable navigating the unknown in this particular position.
11. Teaching
Tomorrow's veterinarians and vet technicians need quality instructors—DVMs have the education and expertise those educational roles require. If you thrive in an academic setting, this could be a good fit for you. Formal classroom teaching isn't the only option, either. There are also opportunities for qualified vets to speak at conferences, educate clients, and develop tests and assessments.
12. Veterinary specialty medicine
It's also worth remembering that there are many different avenues veterinarians can take within clinical practice. There's no need to become a generalist if you're much more interested in a focused area of medicine like radiology or orthopaedic surgery. Veterinarians can also choose to work exclusively with wild animals, zoo animals, or even one specific species.
What could you do with a DVM degree?
It's easy to see there are veterinary occupations for nearly every interest. A DVM degree can help you pursue employment options that range from public health to equine dentistry. In veterinary medicine, your career is truly what you make of it.
Before you get too caught up in determining your future occupation, it's worth thinking about what steps you should take next. You may want to start thinking about applying to veterinary schools. You'll want to give yourself plenty of time to gather all the materials you'll need.
Need some guidance? Learn more about how to put together a well-rounded application by reading our article, "The Vet School Requirements All Aspiring Animal Doctors Need to Know About."
careers, veterinary skills