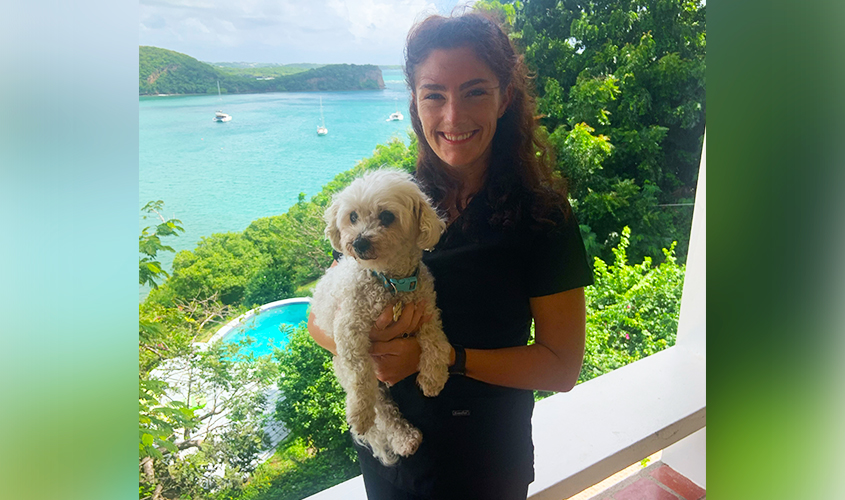 Research opportunities in the School of Veterinary Medicine at St. George's University are not hard to find, with multiple programs dedicated to helping students gain the skills they need to understand and conduct research. Participating in these opportunities, no matter what career path the student plans to take, can ultimately bolster student success throughout their education and future career in veterinary medicine.
Just ask Adrian Jones, a Term 5 SVM student and a participant in Boehringer Ingelheim's Veterinary Scholars Program. Ms. Jones credits her involvement in several research programs at SGU, with allowing her to stand out from the crowd of competitors, hailing from schools across the United States and the Caribbean, to be selected for the scholarship.
The Boehringer Ingelheim's Veterinary Scholars Program is in partnership with the Agricultural Research Service of the United States Department of Agriculture. It is competitive and pairs recipients with one of the USDA's leading scientists. The latter serves as a mentor throughout the recipient's summer as a research student on-site at the USDA. The scholarship includes research experience, a stipend to cover travel and living expenses, and the opportunity to attend the National Veterinary Scholar's Symposium (NVSS).
"There are so many opportunities available at SGU, and research skills will only help strengthen your veterinary experience. Sometimes showing interest is all it takes to get started."
"Overall, the research experiences I participated in have helped me greatly as a student and future veterinarian," said Ms. Jones. She plans to pursue pathology as her focus in veterinary medicine. "It is important to stay up-to-date on the latest research and provide well-rounded, evidence-based advice and medicine to your patients and their owners."
Ms. Jones completed two research projects as part of the Island Veterinary Scholars program at SGU, which helps students with little to no research experience gain foundational skills. Her research project as part of the SGU Veterinary Student Research Initiative (VSRI), a mentorship program that concludes with a formal research presentation, has been in progress since the spring of 2021. The subjects of her research projects are diverse, with one focused on pyometra in the Grenadian canine population, another on Porcine Reproductive and Respiratory Syndrome virus infections in pigs, and the last on using nanoparticles as antibiotics against several strains of bacteria.
"Adrian is an extraordinary student, which I saw firsthand when I mentored her in the Island Veterinary Scholars Program," said Dr. Firdous Khan, associate professor of theriogenology and chair of the Large Animal Medicine and Surgery Graduate Affairs Committee. "I hope her story inspires students and increases awareness of research programs at SGU. Adrian proves what's possible when you get involved in these opportunities."
Ms. Jones recognizes the great benefits of the research experiences she has pursued while at SGU.
"I heard about the scholarship through Professor Dr. Sonia Cheetham-Brow, after I participated in the SGU Island Veterinary Scholars Program in the summer of 2021," said Ms. Jones. "I knew it was a great learning opportunity, and I am proud that I was selected from such a large pool of competitive candidates. I think the research project I presented with Dr. Firdous Khan through the IVSP helped my application significantly."
As for what students interested in following the same path as Ms. Jones can do to ensure their success, her advice is simple: apply.
"I know many friends who didn't apply because they didn't think they'd get the position and regretted it," she said. "There are so many opportunities available at SGU, and research skills will only help strengthen your veterinary experience. Sometimes showing interest is all it takes to get started."
—Sarah Stoss
Related Reading   
https://www.sgu.edu/wp-content/uploads/2022/11/Adrian-Jones-845x500-1.jpg
500
845
sstoss
https://www.sgu.edu/wp-content/uploads/2020/02/sgu-logo-grenada.svg
sstoss
2022-11-15 16:00:52
2022-11-16 15:42:28
Research experience leads to prestigious scholarship for SVM student