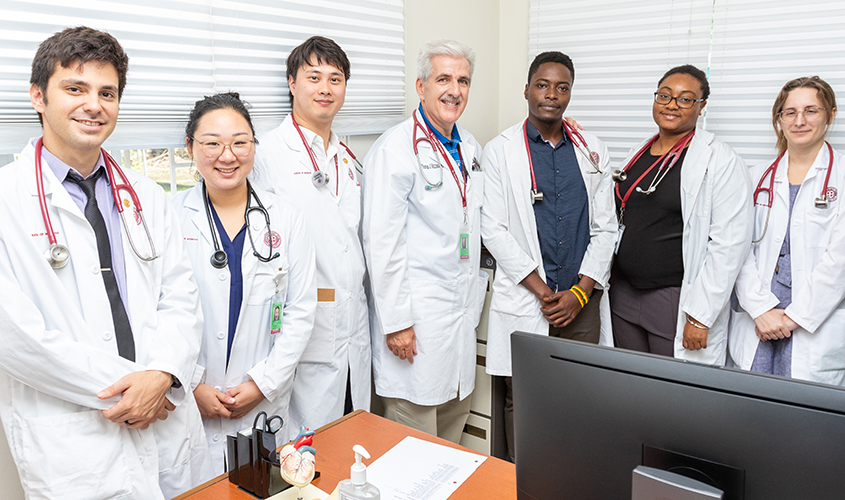 Many SGU graduates feel a strong desire to give back to a nation that they credit as playing a major part in successfully achieving their dreams. Now in its 12th year, the St. George's University Physician Humanitarian Network (SGU-PHuN) continues to allow them to do just that.
Over the years, the program's visiting specialists have donated their time and expertise to providing much-needed healthcare services, pharmaceuticals, supplies, and other medical equipment to the Ministry of Health and Government of Grenada in efforts to facilitate substantial improvements to the island's healthcare infrastructure. This year was no different.
"2019 has been another productive and impactful year for the SGU-PHuN in physician participation by our graduates and associates," said Brendon La Grenade, vice provost for institutional advancement. "SGU-PHuN captures the community spirit of SGU in a very direct way. Our graduates continue to return to the island to deliver a vast array of voluntary specialty medical care including ophthalmology, cardiology, endocrinology, and neurology to name a few. The value in these programs is not measured in the millions of dollars in donations and services delivered but more so in the lives of the individuals we impact in a positive way."
"For 2020, St. George's University will continue to collaborate with the Government of Grenada and the Ministry of Health in tackling the most critical issues on our priority list," added Dr. G. Richard Olds, president of SGU. "Working with our alumni and growing network of support, SGU-PHuN will continue assisting with the improvement of healthcare with the goal of ensuring that Grenada and our St. George's family are given the level of healthcare that everyone expects, and everyone needs."
With more than 25 visiting physicians, this year cardiology and ophthalmology continued to flourish as the flagship programs, benefitting more than 1,000 patients with 113 surgeries performed. Other specialty visits included OB/GYN, neurology, endocrinology, podiatry, and a first-time otolaryngology visit during which 81 patients were screened. These are all procedures that were once unavailable to the people of Grenada due to lack of access to specialists and the funds to attain these required surgeries.
Particularly noteworthy this year was the new collaboration with Surgical Eye Expeditions (SEE) International, a non-profit organization that treats a variety of sight-impairing conditions around the world. The partnership spearheaded by the father-daughter duo of Orazio Giliberti, MD '82, and Francesca Giliberti, MD '10, performed a two-week clinic with six visiting surgeons who evaluated approximately 250 patients and performed 49 surgical procedures, including cataract surgery. Considerably the largest eye care event in Grenada's history, the overall donation provided free of charge to the clinic, including airfare, shipping costs, patient visits, and ophthalmic surgeries, totaled over $750,000 USD.
"In an amazing outpouring of philanthropy, our team and SGU's Division of Ophthalmology secured an additional operating scope, slit lamp, phaco machinery, and microinstruments, as well as, pharmaceutical donations to the SGU-PHuN clinic," said Orazio Giliberti, MD '82, FACS. "These machines and materials mimic a US-style operating room, which will allow future graduates, physicians, and SGU friends and guests to provide essential ophthalmic services."
Interventional cardiologist, Mark Lanzieri, MD '85, was also recognized this year for his 20 years of service, receiving an honorary Doctorate of Humane Letters for his selfless contributions of cardiology services free of charge to Grenadian citizens. As the founder of SGU-PHuN's interventional cardiology program, Dr. Lanzieri and his team, which includes his wife, Annie; an X-ray technologist; and cardiovascular specialist, have seen a wide variety of patients since the program's inception. The value of their time and the equipment donated has exceeded $1 million and resulted in countless lives saved.
"For many people, this is life changing, whether it is a single-chamber pacemaker, a stent, or simply something that allows them to go back to work or keeps them out of the hospital," said Dr. Lanzieri, staff cardiologist, Steward Health Care in Massachusetts. "This work is important because there are immediate benefits conferred to patients who do not need to leave their family and social support networks. It is pure humanitarian medicine at its best and I love what I do."
Highlights from this year also included, visits from two top-tier Grenadian-born physicians, endocrinologist Dwight Matthias, MD '92 and Diego Humphrey, MD '84. The program also hosted a number of legacy visits, as several graduates returned with their children to participate in giving back to Grenada, such as interventional cardiologist Thomas Vazzana, MD '85 and his daughter Virginia Vazzana, MD '17, OB/GYN Philip Lahrmann, MD '81 and his son Jeffrey Lahrmann, MD '15, and ophthalmologist Dr. Fred Lambrou, whose stepson is currently a student in SGU's School of Medicine.
According to Mr. La Grenade, 2019 saw tremendous growth both of the program and the University as a whole. With SGU grads now participating alongside their children, this highlights SGU-PHuN as an incredibly worthwhile venture and showcases the reach of SGU and the value it places on the Grenadian community. Continuing to build on the past 12 years of achievements, the program is poised to provide even greater improvements in the future, further strengthening its connection to Grenada's medical community and reinforcing the bond between the University and its host country.
"SGU, through SGU-PHuN, is all about working with the Grenadian community toward improving access and expanding the range of available healthcare to its citizens," Mr. La Grenade said.
–Ray-Donna Peters
https://www.sgu.edu/wp-content/uploads/2019/10/Vazzana-main-845-x-500.jpg
500
845
lchartor
https://www.sgu.edu/wp-content/uploads/2020/02/sgu-logo-grenada.svg
lchartor
2019-12-23 14:58:52
2023-10-23 16:42:09
SGU Physician Humanitarian Network Gives Back to Host Nation