Back to Blog
5 SGU Grads Who Are Back Home Practicing Medicine in Canada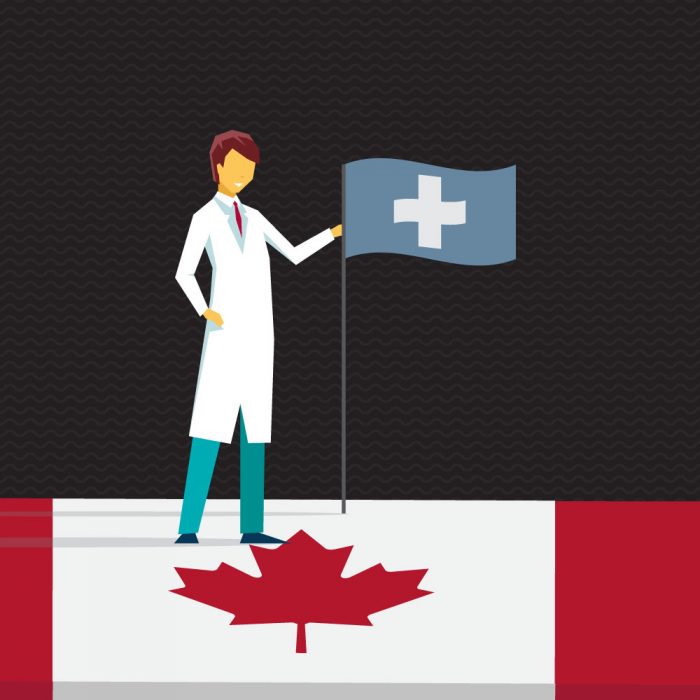 Naysayers will tell you the only way to become a doctor in Canada is to go to school there. But studying abroad and practicing medicine in Canada do not have to be mutually exclusive—especially not for motivated students who attend a quality institution.
Those who attend the School of Medicine at St. George's University (SGU), for example, must meet the same qualifications as any other medical student. This means upon graduating and passing exams, international students are on a level playing field with those who studied medicine in Canada. Plenty have gone on to complete residencies and ultimately practice medicine in Canada.
Canadian SGU Grads Share Their Experiences
You may wonder what it's like to return home after studying abroad for medical school. To give you a better understanding of the journey, we spoke with five SGU alumni who chose to return to Canada after completing their education. Keep reading to learn more about their stories.
1. Practicing close to home
Many doctors dream of practicing medicine in the community where they grew up. For Sara Shahram, MD, CCFP, her work in two outpatient clinics in Surrey, BC, and as medical director at the Village in Langley, allows her to practice within a 10-15 km radius of where she grew up.
"The goal the entire way through medical school was to come back to Canada," Dr. Shahram says. "I knew it was going to be difficult, but whether it was finding rotations in Canada, doing research, or working on ways to improve my resume for when it came time to apply to match, I was so determined for it to happen."

After submitting applications to Canadian schools, Dr. Shahram didn't want to wait for another application cycle. This determination eventually led her to apply at SGU in the Caribbean. Upon gaining acceptance and being offered a scholarship, she joined the 2009 class.
Dr. Shahram believes the ability to practice medicine in Canada is possible for anyone who puts in the work. "If you're determined and have the goal of becoming a physician, you will be able to reach it by going to St. George's University," Dr. Shahram says. "It has anything and everything you'd need to do it, as long as you're willing to put in the work."
2. Taking an unexpected journey
Sometimes the path to your end goal doesn't go the way you planned. Being flexible and having perseverance can make a huge difference. Just ask Dr. Ivan Kamikovski, SGU grad and orthopedic surgery resident physician at the  University of Ottawa. Though he didn't initially secure his current residency, Dr. Kamikovski successfully matched after completing a one-year preliminary position in Detroit, Michigan.
Dr. Kamikovski believes forging relationships with residents and physicians while he was still in school played a big part in his success. "It's really important to get an elective as a fourth-year medical student in a Canadian school, just so they can get to know you," he explains.
He also stresses the importance of putting your best foot forward during elective rotations. "If they get a sense that they can trust you and they can work with you on a team, then you have a pretty good shot at coming back to Canada," he adds.
Dr. Kamikovski quickly realized one of the keys to becoming a strong medical resident was being open to learning. You still have plenty to pick up after completing medical school. "You have to work on your professionalism as well as your medical knowledge—it's not just medical knowledge," he explains.
3. Pursuing a lifelong passion
A lot of doctors knew they were destined for a  career in medicine early in life. This was certainly the case for Dr. Jeffrey Ho, family medicine resident at the  University of Toronto.
"I always had a passion to become a physician, but I felt like Canada wasn't giving me a chance," Dr. Ho says. "I knew beyond a doubt that becoming a physician was the only profession I could ever find joy in."
Attending St. George's University was a big step for Dr. Ho, but SGU's track record for  residency placements  and robust  clinical training programs convinced him it was the right move forward. "My decision to go to St. George's University was one of the hardest, yet among the best decisions I have made in my life," he reflects.

Dr. Ho knew matching for a residency in Canada was his goal, so he did everything he could to make himself a competitive candidate. That included focusing on achieving top test scores,  securing an elective rotation in Canada, and putting extra effort into preparing for residency interviews. Dr. Ho thinks a lot of medical students overlook the importance of practicing for interviews. "I practiced extensively with current residents and attending physicians who were willing to give me constructive feedback," Dr. Ho explains.
Dr. Ho is grateful to be where he is today. "It has been a dream come true for both my wife and me," he says. "I was actually born at the hospital I'm currently doing residency at, so being able to serve the community that raised me provides me with an extra sense of fulfillment."
4. Overcoming obstacles
It's a bittersweet moment when your identical twin brother gets accepted to a Canadian medical school, but things don't work out for you the same way. Dr. Paul Howatt, SGU alumnus and family medicine resident at  Western University, refused to let this exact scenario hold him back. He even obtained a master's degree in anatomy. "I think it was four or five years that I spent applying for medical school in Canada," he explains.
With the support of his spouse, Dr. Howatt eventually set his sights on St. George's University. "My wife is actually an engineer, and she decided to give up her job and come with me," he says. "Traveling is quite an interest for both of us."
Together, they set out for England so Dr. Howatt could begin his SGU journey with the  SGU School Of Medicine/Northumbria University Four-Year MD Program. After a year learning in the UK, they spent their next year living on the Caribbean island of Grenada, and then things fell into place when it came time for clinical rotations. Dr. Howatt secured a clinical position in Detroit, Michigan, which made the move to Ontario, Canada, an easy one.
After graduating, Dr. Howatt matched into his current residency position. Unlike Drs. Ho and Kamikovski, he did so even without completing an elective rotation in Canada. Dr. Howatt thinks focusing on exam performance and maintaining focus were both important factors in helping him succeed.
"The thing is, I never wavered," he says. "I was always on the pathway to Canada, and I think that was something that helped me."
As for his residency? Dr. Howatt is happy that his role offers the kind of diversity he craves. Working in the hospital, heading to the clinic, and covering an emergency room shift are all on the table. "It shows how much of a full-spectrum practice you can have in Canada as a family physician," he says.
5. Focusing on Family
For those who want a high degree of personal interaction with patients and a variety of work, family medicine is a perfect match. This was the case for Leanne Baumgartner, MD, SGU alumna and family medicine practitioner at the University of Saskatchewan.
"I wanted to go into a field that included all topics in medicine and allows you to sit down with patients to talk about their life, their health, and their plans," Dr. Baumgartner says. "Family medicine is by far the best place to do that."
Dr. Baumgartner graduated from the University of Alberta in 2010 with a Bachelor of Science in molecular genetics. During that time, she worked as a unit clerk at Alberta Health Services, which is where an attending whose son attended SGU encouraged her to apply. Dr. Baumgartner visited with University representatives at an information session in Edmonton and, with strong marks and extensive work experience to her credit, she was offered an  International Peace Scholarship.

After enrolling in January 2011, she delved into her studies and made valuable connections. "All the students are taking the same type of journey and we all wanted to help each other out," she said. "I met the smartest people I'll ever meet in Grenada, and I believe that the experience with them and on the island taught me more than I ever would have learned in Alberta."
Following her studies at SGU, Dr. Baumgartner spent her third year in clinical rotations between two institutions in Newark, New Jersey, and her fourth between Newark, Chicago, Vancouver, and Edmonton. Through it all, she credits SGU for providing a solid foundation.
"Being an SGU student, you learn a lot about medicine but also a lot about life," she reflects. "You learn about more than just the basic sciences. It's a life-altering experience."
Follow your dream
You can see that the SGU School of Medicine can offer a path back home for students interested in practicing medicine in Canada. With hard work and determination, following in these grads' footsteps is achievable.
Get more information about SGU Medical School for students in Canada.