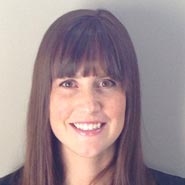 Leanne Baumgartner, MD
Graduation Date: 2015
Canada
Her husband, her mom, her friends, her attendings, her nursing staff—Leanne Baumgartner, MD SGU '15, contacted just about everyone she knew. Upon learning she had matched in family medicine at the University of Saskatchewan, she had to call to tell—and thank—all those who were part of her journey back home.
"The email came at noon, and I just burst into tears. I just stared at the screen in awe," Dr. Baumgartner said of matching with her top-choice program. "I was so ecstatic. It was an incredible feeling."
Her intern year at Saskatchewan will have a unique twist to it. She and her husband will welcome their first child this summer, and the program will allow her to take six months of maternity leave, pushing her start date to January 1. Dr. Baumgartner is excited to launch her career in Canada, not far from where she grew up. Even better, she will practice family medicine, for which she has always had an affinity.
"I wanted to go into a field that included all topics in medicine and allows you to sit down with patients to talk about their life, their health, and their plans," Dr. Baumgartner said. "Family medicine is by far the best place to do that."
Dr. Baumgartner graduated from the University of Alberta in 2010 with a Bachelor of Science in molecular genetics. During that time, she worked as a unit clerk at Alberta Health Services, which is where an attending whose son attended St. George's University encouraged her to apply. Dr. Baumgartner visited with University representatives at an information session in Edmonton and, with strong marks and extensive work experience to her credit, she was offered an International Peace Scholarship.
Enrolling in January 2011, she immediately enjoyed her new surroundings, joining a highly diverse and highly driven class of medical students.
"All the students are taking the same type of journey and we all wanted to help each other out," she said. "I met the smartest people I'll ever meet in Grenada, and I believe that the experience with them and on the island taught me more than I ever would have learned in Alberta."
Dr. Baumgartner was elected president of the Canadian Students Association, one of more than 50 student organizations on campus. CanSA hosted regular events involving SGU's Canadian alumni as well as decision makers in Canada, including Sandra Banner, chief executive officer of the Canadian Resident Matching Service (CaRMS) who now serves as director of admissions for Canada at SGU. In addition, Dr. Baumgartner helped make her fellow Canadians feel right at home, brewing Tim Hortons coffee at CanSA events, organizing hockey tournaments, and coordinating Terry Fox Runs.
For her clinical rotations, Dr. Baumgartner spent her third year between two institutions in Newark, New Jersey, and her fourth between Newark, Chicago, Vancouver, and Edmonton. She appreciates the foundation that her basic science and clinical experience at SGU has given her as she starts a new chapter in her medical career.
"Being an SGU student, you learn a lot about medicine but also a lot about life," she said. "You learn about more than just the basic sciences. It's a life-altering experience."
Published May 2015
Find out if St. George's University is right for you.
https://www.sgu.edu/wp-content/uploads/2020/02/sgu-logo-grenada.svg
0
0
dbriggs
https://www.sgu.edu/wp-content/uploads/2020/02/sgu-logo-grenada.svg
dbriggs
2016-07-13 16:19:38
2021-01-20 20:32:51
Leanne Baumgartner, MD