Back to Blog
The Grenada Medical School That's Defying Expectations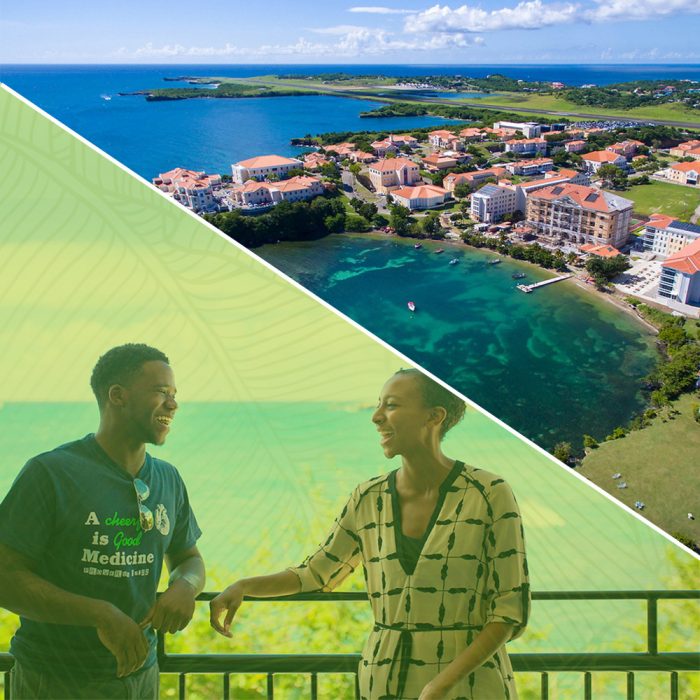 It isn't always easy to keep an open mind. Personal biases can be hard to shake, particularly when you're considering medical schools. Different program rankings and medical student forums are pretty rigid about the schools they deem worthy of your time. Unfortunately, those resources often fail to give credit to international programs that might be a great fit for you.
You've researched some schools outside of the US, and you've learned a little bit about St. George's University (SGU). Since you're still not terribly familiar with the program, you likely have many questions and perhaps a few reservations. The thought of going to a Caribbean medical school might make you a little nervous.
But SGU isn't just any Caribbean MD program. This Grenada medical school might surprise you in more ways than one.
5 ways this Grenada medical school is making waves
Putting students first is a big part of what makes St. George's University stand out, but there's also more to the story. Keep reading to find out exactly how the SGU School of Medicine exceeds expectations.
1. SGU sets students on the path to postgraduate success
Medical school is just the beginning of any future physician's journey. Completing your postgraduate training is arguably more important than just the school itself, so securing a residency is critical. St. George's University students continue to prove they're ready for this next stage of their education. In fact, SGU placed over 980 graduates into US residencies in 2022.1
Achievement after completing the program doesn't happen by accident. In addition to providing a great overall education, SGU finds ways to help students stand out to residency program directors. One of the ways the school does this is by laying the groundwork to help students earn a medical journal byline.
2. SGU is addressing the primary care shortage
Perhaps you've read articles or seen news segments about the impending physician shortage. While it might sound dramatic, there's evidence suggesting the demand for primary care doctors will far surpass the supply over the next few decades. The Association of American Medical Colleges (AAMC) predicts the US could be short 55,200 primary care physicians by 2033.
SGU is doing its part to help close the gap. In fact, about 75 percent of its US residency placements in 2021 were in primary care specialties.2
"One of the missions of St. George's University is that we're here to help train doctors to alleviate the shortage in the United States," says Bob Ryan, Dean Emeritus of admissions at SGU. That said, students are free to pursue any specialty. Many graduates have successfully matched into competitive fields, such as emergency medicine and surgery.
3. SGU is making global contributions
There's been a stigma surrounding Caribbean medical schools for decades. Naysayers use a few students' negative experiences to fuel rumors that leaving the US for medical school means you aren't good enough or smart enough to become a doctor. SGU is changing that perception. Students are beginning to recognize that gaining a diverse cultural experience is actually an advantage.
"Nowadays, some students who get into US schools end up choosing St. George's University for the facilities, the outcomes, and for the international aspect of the University," Ryan says.
Students clearly value gaining international experience. In addition to maintaining a robust presence across the US, SGU graduates have gone on to practice in more than 50 countries around the world. Part of that has to do with the versatility of an MD.
"If you want to leave the country, that degree is recognized worldwide," Ryan reminds.
4. SGU students are provided all the resources they need
While some medical schools have maintained a pretty rigid process for evaluating applications, SGU champions holistic reviews. This means each applicant is reviewed in a way that considers their academic metrics, life experiences, and personal attributes. This is important, because some research suggests relying too heavily on grades and test scores could mean discounting students who would be great physicians.
SGU strives to admit students who have potential, and then gives them the tools they need to succeed. One strategy is to place students with a few academic blemishes or those who've been out of school for a while into the Academic Enhancement Program (AEP). The program offers another layer of support as students are getting used to rigors of medical school.
The suite of support services has shown to be effective in preparing students for success on important exams. SGU has tallied a 92 percent USMLE Step 1 pass rate for first-time test-takers over the last three years.3
5. SGU fosters an incredible learning environment
Don't let the secluded island location fool you. SGU's campus is as technologically advanced as any in the US. There's even a simulation center that incorporates standardized patients to help you understand what it's like to work with patients. You'll also be introduced to different techniques and instruments.
"It's giving our students hands-on clinical experience before they actually enter their clinical rotations," Ryan explains.
The rest of the campus is just as impressive. There are lecture halls, libraries, restaurants, and a new state-of-the-art fitness facility, which rivals many US health clubs in the services offered. The picturesque setting is just an added perk.
Of course, education quality really comes down to having great educators. All of the instructors at SGU, whether in the basic sciences or clinical department, are respected experts in their fields. Ryan adds people are sometimes surprised at how lengthy faculty tenure at SGU tends to be.
Ready to go above and beyond?
You now have a better sense of how St. George's University supports students and the medical community as a whole. There's clearly more to this Grenada medical school than you may have first thought. If you need any more convincing, just reach out to some graduates or current students. They're happy to tell you what their experiences were like.
If you feel like SGU could be the right medical school for you, take the next step. Continue your research by visiting our request information page.
1As the medical school graduating the largest number of students annually, SGU places the largest number of graduates into residency programs each year, based on internal SGU graduate and residency placement data (as of May 2022).
2According to 2021 SGU residency placement data.
3Average of 2019, 2020, 2021 scores. First-time pass rate is defined as the number of students passing USMLE Step 1 on their first attempt divided by the total number of students taking USMLE Step 1 for the first time. In order to be certified to take USMLE Step 1, students are required to pass all basic sciences courses.
This article has been updated from a previous version to include current facts and figures.