Welcome from InVeST and SGU
Chair's Welcome, InVeST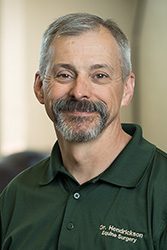 Welcome to the InVeST Conference at St. George's University School of Veterinary Medicine! We are excited for the seventh InVeST meeting, and the eighth time that the veterinary simulation consortium has gathered together. It was clear from the very first meeting that there was a group of educators using simulation that could benefit from this regular gathering. We have had the opportunity to visit several wonderful programs since the first simulation strategy meeting at Colorado State University in 2011, and I'm happy to report that veterinary simulation industry is quickly catching up to the human simulation marketplace.
The use of simulation in teaching continues to grow and improve, thanks to innovative educators throughout the world. Many more companies that have entered the simulation space since 2011, and there are more programs with skills labs and simulation centers than ever before.
The simulation world is a collaborative space, with programs sharing their insights and physical designs for the benefit of all learners. I'm excited to see the growing body of research validating the use of simulation in veterinary education. All-in-all, it is a very exciting time to be a veterinary educator and a veterinary student. Virtual and augmented reality, along with models that combine computer programs and mannikins, will take us into the next decade and beyond. I hope that you'll join us in Grenada for a close look at the advancements in veterinary simulation.
Dr. Dean Hendrickson
College of Veterinary Medicine and Biomedical Sciences
Colorado State University
Dean's Welcome, SGU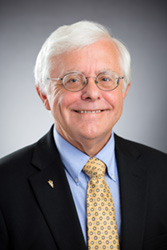 We are happy that St. George's University School of Veterinary Medicine has been selected as the venue for the 7th International Veterinary Simulation in Teaching (InVeST) Conference. This conference is offered every 18 months as an "international forum for learning and networking between researchers, developers and educational institutions on the rapidly growing use of simulation in veterinary education". However, due to the coronavirus pandemic, this conference had to be postponed from 2020 to 2023. In addition to the US, previous InVeST conferences were held in South Africa, Germany, St. Kitts and Canada.
With SGU designated as the 2023 host, this provides an opportunity to highlight our ability to display animal and human simulation. Furthermore, this provides an outstanding opportunity to showcase SGU worldwide. We are outfitted with the facilities and personnel to educate conference participants. Our scenic university also provides and atmosphere of relaxation while earning continuing education credits.
Ultimately, InVeST 2023 will provide an avenue for veterinary medical personnel to thrive and build on their professional knowledge while networking with peers. SGU is truly an institution of higher learning and advancement!
Neil Olson, DVM
Dean of the School of Veterinary Medicine
St. George's University
Daniel Fletcher, DVM, PhD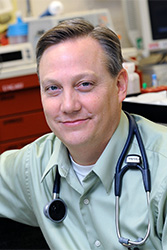 Dr. Daniel Fletcher has been on the faculty of the Cornell University College of Veterinary Medicine since 2006. After receiving a BS in Electrical Engineering from Drexel University and a PhD in Bioengineering from the University of California Berkeley/San Francisco, he obtained his DVM from the University of California at Davis. He then completed a rotating internship and emergency and critical care residency at the University of Pennsylvania.
Dr. Fletcher has received multiple teaching awards, and is co-chair of the RECOVER Initiative, which published the first evidence-based veterinary CPR guidelines. He is past-president of the American College of Veterinary Emergency and Critical Care and is the Associate Chair for Teaching and Clinical Service of the Department of Clinical Sciences at Cornell.
Dr. Fletcher's research interests include disorders of fibrinolysis, epilepsy, and the use of immersive simulation in teaching. He has been building simulators for veterinary education since 2009 and is the primary developer of Open VetSim, an open source veterinary simulation platform. He opened the Tetlow and Roy Park Innovation Lab, an immersive simulation center at Cornell in the fall of 2015.
David Killpack, BA-BPMI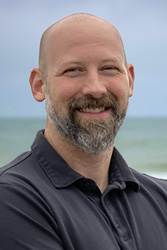 David Killpack is an artist, author, educator, inventor, and entrepreneur. He received his BA in biological/preclinical illustration at Iowa State University and later founded Illumination Studios; a company specializing in enlightening visualization for scientific communication.
David's work has appeared in a variety of media including books, periodicals, websites, software and exhibit graphics and has been recognized by the National Science Foundation, Association of Medical Illustrators and the Guild of Natural Science Illustrators among others.
Growing up on a farm in southwest Iowa at the intersection of nature and technology, his unbridled curiosity for seemingly incongruous subjects has been the theme of his life. Much of his work over the last decade involves 3D modeling and animation of veterinary subjects such as award-winning visualizations of equine anatomy. As a continuation of the blend of technology and nature, he co-founded Acumen Agronomics, a company focused on data visualization for agriculture. He continues to develop new methods for visual communication across the life sciences.
Jenny Moffett, BVetMed, MSc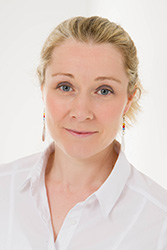 Jenny Moffett is a graduate of the Royal Veterinary College, UK, and has held academic roles such as Director of Communication Skills at Ross University School of Veterinary Medicine, St. Kitts, and BVSci Programme Director at the School of Veterinary Medicine, Surrey, UK.
Currently, she is an educationalist and faculty developer at the Royal College of Surgeons in Ireland (RCSI) Health Professions' Education Centre (HPEC). Jenny also owns and operates SkillsTree, an online personal and professional development provider. In her spare time, Jenny either runs after her two boys, or runs with her triathlon club – she's not sure which consumes more energy.
Abstract Submission is closed
The deadline for the abstract submission was November 15, 2022.
All abstracts will be reviewed, accepted submissions will be presented during the conference.
Acceptance of abstracts will be communicated to the author(s) before November 30, 2022.
Abstract Submission Overview
The InVeST 2020 Committee invites the submission of abstracts to be presented as a poster presentation, short communication, or conference workshop. Abstracts will be reviewed by the scientific committee and accepted submissions will be invited to be presented during the conference. Presenters (posters and short communications) and workshop leaders need to register before the early bird registration deadline to ensure their abstract is included in the final program.
Presentation Types
Poster
Focus on sharing best practices in simulation teaching. Abstract maximum of 250 words.
Short Communication/Presentation
Focus on sharing results of original research. Abstract maximum of 250 words
Conference Workshop (90 Minutes)
Focus on active participation. Abstract maximum of 250 words.
General Format and Typing Instructions
Please read all instructions carefully before completing the online submission. Failure to comply may eliminate your paper from the evaluation process. Please complete all requested fields and tick the relevant boxes. The abstract must not exceed a maximum of 250 words (excluding Title, Authors & References). Tables, figures and charts are accepted. The abstract must be submitted online and the text typed in the respective form provided.
The name of the Word document should be constructed as follows: "presenter's first name-family name-title of the abstract.docx".
Format
Use US Letter (21.6cm x 27.9cm) size with standard margins. The abstracts must be typed in Arial Western type font size 10. Use single spaced type and uniform spacing between the lines. Do not squeeze lines together. The use of standard abbreviations without definition is acceptable. Other abbreviations should be defined by placing them in parentheses after the full word is used in the text for the first time. Use numerals (e.g. 1, 2, 3) to indicate numbers except when beginning sentences, which must commence with the written number (e.g. One, Two, Three). Use special font for Greek / mathematical symbols.
Abstracts must be written in English and must be checked for grammatical and spelling errors BEFORE submission. The editors reserve the right to refuse abstracts that have not been properly checked and which require extensive editing.
Title
The title of the abstract should be brief and accurately reflect the content of the abstract. Abbreviations should not be used.
Authors
List last name and initials of each author. Authors should be listed in the order preferred for publication, should your abstract be accepted. It will not be possible to change this order following submission.
Line one: Title of Abstract
Line two: Name of the authors (first name, middle initial, last name of each author, qualifications)
Line three: Affiliation (name and address of Department of author responsible for correspondence only)
Line four: Country
Line five: E-mail address
Abstract Body
Abstract Body: Poster
Must include the subtitles: Background (stating the aim of the study), Summary of work, Results and Take Home Message.
Abstract Body: Short Communication
Must include the subtitles: Introduction (stating the aim of the study), Material and Methods, Results and Discussion/Conclusion.
Abstract Body: Workshop
Must include the subtitles: Background (stating the aim of the study), Structure of the workshop, Intended outcomes, Who Should Attend and Level.
Reference Formatting
Vancouver reference style (max 3 references). Identify references in text, tables and legends by Arabic numerals (in parentheses). List references according to appearance in the text.
Standard journal article:
Yousoupov CH, Lee KYL, Chey W, Menguy R. Study of patients with unexplained nausea and vomiting. Br Med J 1981;283:628-9
Books and other monographs:
Weinstein L, Scwartz MN. Pathogenic properties of microorganisms. In: Sodaman WA, Janssen W. eds. Pathologic physiology. Philadelphia: WB Saunders, 1975; 457-89.
Conference Registration and Venue Information
This CE offers 14 RACE approved credits
Early Bird Special: USD $275
Early Bird Registration ends on December 15, 2022

Standard Registration: USD $300 
Early Bird and Standard registration includes welcome package, conference materials, coffee and lunch breaks, dinner for delegates, and a sunset barbecue.
InVeST welcomes SGU educators and SGU students with discounted rates. Discounted registration includes welcome package, conference materials, coffee and lunch breaks. SGU participants will need to present their SGU IDs when retrieving their registration credentials.
| | | |
| --- | --- | --- |
| | SGU Students | SGU Faculty |
| Registration | US $50 | US $100 |
| BBQ | US $45 | US $45 |
| Dinner | US $50 | US $50 |
SGU's policy of being fully vaccinated and boosted remains in effect.
Additional Activities
Arts & Craft Shopping Trip: US$25
Explore the town of St. George and enjoy a guided shopping tour and light lunch.
Heritage Tour: US$25
Visit Grenada's historical sites and highlights of the island's natural beauty. Minimum 10 participants, maximum 25.

Venue Information
This year's conference will be hosted on the beautiful True Blue Campus of St. George's University in Grenada. Take a virtual tour!
Founded as an independent School of Medicine in 1976, St. George's University opened its doors to students beginning in January 1977. It has evolved into a top center of international education, drawing students and faculty from 140 countries to the Caribbean island of Grenada, in the West Indies. Students attending SGU enjoy the benefits of a thriving multicultural environment, offering all the amenities and technologically advanced facilities of a world-class institution.
The University's more than 20,000 graduates include physicians, veterinarians, scientists, and public health and business professionals across the world.
InVeST 2023 Conference Schedule
February 3 – 5, 2023
St. George's University School of Veterinary Medicine
Thank You to our 2023 Conference Sponsors!
Accommodations
Conference guests have several high-quality lodging options to choose from during their visit. When booking your reservation at any of these highlighted hotels, be sure to use the discount code mentioned under each accommodation. Hotels shown here are within a short, 10-minute drive of the conference venue and accessible by regular university bus routes.
Conference guests are welcome to use university buses at no cost.
Travel
Several international airlines provide regular service to Grenada. Use airport code GND when searching for flights on your preferred booking service.
Airlines
American Airlines provides daily direct service from Miami.
Jet Blue provides direct service from New York JFK to Grenada five days per week.
Delta provides seasonal service departing from New York JFK and Atlanta ATL.
Caribbean Airlines (formerly BWIA) flies from the US to Barbados and Trinidad with connecting flights to Grenada. There are also seasonal direct flights with Caribbean Airlines from Toronto.
Air Canada also provides seasonal direct service to Grenada from Toronto. Flights to Barbados are available year round via Toronto and Montreal, with connections to Grenada via regional carriers.
British Airways service is twice-weekly from London to Grenada, and more frequent schedules to Barbados. Further connection via LIAT from Bridgetown, Barbados is available in a single booking.
Virgin Atlantic also offers twice-weekly service from London to Grenada, and more frequent schedules to Barbados.
Several airlines fly to airports near Grenada, where connecting flights to Grenada can be arranged. Leeward Islands Air Transportation (LIAT) is a regional airline offering connecting services to Grenada from Barbados, Trinidad and other Caribbean islands.
Stay an extra day and explore Pure Grenada! In addition to traditional Caribbean activities like snorkeling, hiking the rain forest, and fishing, there are many must see attractions on the island of Grenada, including the Grenada National Museum, Fort George, Fort Frederick, Seven Sisters Falls, Grenada Chocolate Company, Rhum Runner, River Antoine Rum Distillery, and Annandale Falls.  Visit puregrenada.com for details on these and other attractions.
Who can attend the InVeST Conference in Grenada?
The conference is open to scholars, educators, students and business leaders to come together to share research and novel ideas involving simulation in veterinary medicine to advance training future generations of veterinarian.
Is a passport required?
Yes, a valid passport is required of all visitors when entering the independent island-nation of Grenada.
What is the dress code for the conference?
Despite our tropical location, most of our attendees will be comfortable in business casual attire. All of the conference venues are fully air conditioned. Presenters will likely choose traditional professional attire.
How do I get to campus?
SGU's True Blue Campus is a 10-minute taxi ride from Grenada's international airport and the scenic hotel belt of Grand Anse. Area hotels will be able to provide you with reliable taxi service recommendations.
In addition to taxis, conference attendees are welcome to use ordinary university bus routes. Departure times and bus routes are available at the main campus bus terminal in True Blue.
What is SGU's vaccination policy for entering campus?
All visitors to the True Blue campus are required to be fully vaccinated against COVID-19 (full/complete vaccine and booster dosage). You are considered fully vaccinated two weeks after your second dose in a two-dose series, such as the Pfizer-BioNTech and Moderna vaccines, or two weeks after the single-dose Johnson & Johnson/Janssen vaccine.
The CDC currently recommends a COVID-19 booster vaccination five months after the second dose for those who received the Pfizer or Moderna vaccine, and two months after the Johnson & Johnson vaccine, for non-immunocompromised individuals. SGU will continue to follow, at a minimum, the CDC guidelines.
How do I get from my hotel to the congress venue?
SGU will provide buses to and from, Radisson Grenada Resort and Mount Cinnamon Hotel. Buses will also be available to and from the dinner locations. 
When will I get the confirmation of my registration?
Your registration confirmation is immediate, following completion of the online registration form and payment. Bring a printed or electronic copy of your confirmation to the registration desk. Have further questions? Send us an email – invest2020@sgu.edu.
Is campus accessible?
St. George's University makes every effort to accommodate individuals with disabilities. If you require disability accommodations to attend an event at, please contact us in advance of the event.
Is there an ATM on campus?
Yes! There are 3 ATMs on campus: one at Charter Hall (lower campus, adjacent to the Welcome Centre) and two at David Brown Hall (upper campus, near to the clock tower).
I don't see my question here, who should I contact?
Drop us an email! The conference organizers monitor and respond to conference mailbox all year long: invest2020@sgu.edu.