Dr. G. Richard Olds, MD, MACP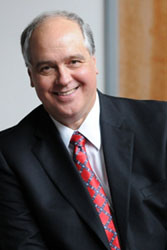 An educator, physician, and administrator during a distinguished career spanning more than 30 years, Dr. G. Richard Olds became president of St. George's University in Grenada, West Indies on August 28, 2015. Prior to joining SGU, he was the vice chancellor for Health Affairs and the founding dean of the School of Medicine at the University of California, Riverside (UCR). In 2010, Dr. G. Richard Olds joined UCR to lead the creation of a new school of medicine – the first LCME-accredited medical school in California in more than four decades.
Dr. G. Richard Olds is a graduate of Case Western Reserve University School of Medicine and trained in internal medicine at the Massachusetts General Hospital in Boston. He was an infectious disease fellow and one of the nation's first geographic medicine fellows at University Hospitals of Cleveland, where he also served as medical chief resident and faculty member. He served as a full professor of medicine, pediatrics, molecular, cell, and development biology at Brown University.  He was also the founding director of Brown's International Health Institute. He was professor and chairman of medicine at the MetroHealth Campus of Case Western Reserve University in the 1990s. His role at UCR was preceded by a decade long stint as professor and chair of medicine at the Medical College of Wisconsin. In addition to his academic background, Dr. G. Richard Olds is a tropical disease specialist with extensive experience working in Asia and Africa. He has over 100 peer-reviewed articles and book chapters primarily on international health topics. He was the foreign principal investigator of an NIH funded Tropical Disease Research Center in the Philippines. He currently serves on a WHO expert panel and was chairman of the board of a large Gates Foundation project to deworm children in Sub Saharan Africa.
Dr. Julietta Rodriguez-Guzman, MD SOH MSc OH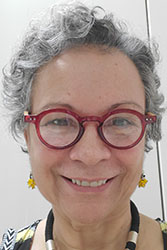 Coming from Colombia, she received an MD degree from the Pontific Xaveriana University, a specialty degree in occupational health from El Bosque University, and a Master of Science (MSc) applied degree in occupational health sciences from McGill University in Canada. Holding several diplomas in social security, occupational epidemiology, distance education, and labor medicine and rehabilitation, she was awarded a policy research fellowship from the McGill University Institute of Health and Social Policy.
Her work during the past 32 years focused on assessing occupational health and workers' compensation systems, policies, and programs. Her international research focused on working populations in Colombia and Latin America and she is the author of multiple articles, book chapters, and has edited several books.
Since 2011, she has been the regional advisor in Workers' and Consumers' Health for the Americas, at the Pan-American Health Organization/World Health Organization (PAHO/WHO), where she leads the implementation of the Plan of Action on Workers' Health 2015–2025 for the Americas. Her flagship projects are the surveys on work, equity, and health in LAC, the initiative to prevent occupational cancer, prevention of the epidemics of Non-Traditional Chronic Kidney Disease (CKDnT), enforcement of workers' health promotion and wellbeing, and strengthening diagnosis of occupational diseases.
Dr. Joy St. John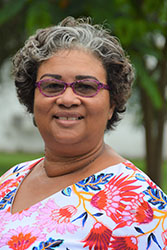 Dr. Joy St. John is dedicated and reliable, with a track record of achievements in public health systems management and development and health diplomacy. Her firm but fair style has assured her a place in networks of practise across the world.
Since July 2019, she has been the executive director of the Caribbean Public Health Agency (CARPHA), providing leadership and direction to CARPHA in executing the functions laid out in the Inter-Governmental Agreement.
Along with the CARPHA team, Dr. St John has led the public health response in the CARICOM region.
From October 2017 to April 2019, Dr. St. John was the assistant director-general of the World Health Organization (WHO), with direct responsibility at the WHO for Climate and other Determinants of Health (CED). She was the first Barbadian to be the assistant director-general.
Dr. St. John was the former chief medical officer of Barbados for more than 12 years–the first Barbadian to hold that office. She was also the top public health advisor to the Minister of Health and responsible for the oversight of the management of the health sector. From 2012–2013, she was also the first Caribbean person to become the chairman of the executive board of the WHO.
Carlene Radix, MD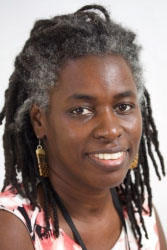 Dr. Carlene Radix is the head of health and the head of the Human and Social Division at the Organization of Eastern Caribbean States (OECS). The Human and Social Cluster encompasses health, education, social protection, and procurement of essential medicines and medical supplies for the region. As head of health, she provides strategic oversight of the OECS Health Agenda in keeping with the Fort de France Declaration on Health.
Dr. Carlene Radix is a public health physician and health administration leader in the Caribbean. She previously held the position of medical director at St. Jude Hospital in St. Lucia. She completed medical school at St George's University in Grenada and completed a combined internal medicine and pediatric residency at Brookdale Hospital in Brooklyn and Overlook Hospital in Summit, NJ. This was followed by an Occupational Medicine and Environmental Health Fellowship at Environmental and Occupational Health Science Institute (EOHSI) in Piscataway, NJ, during which she completed her master's degree in public health. She was board certified in the three specialties of internal medicine, pediatrics, and occupational medicine by the respective boards.
Dr. Radix is a dual citizen of Grenada and Trinidad and Tobago. She returned to the Caribbean and has held various positions in clinical medicine, academia, public health, and administration while continuing some aspect of volunteer practice. She has been an assistant dean and an associate professor at St George's University, as well as served as the chief medical officer of Grenada and the county medical officer of Tobago. She has consulted for regional and international public health agencies including the Caribbean Public Health Agency (CARPHA) and the Pan American Health Organization (PAHO).
Ahmad Firas Khalid, MD, PhD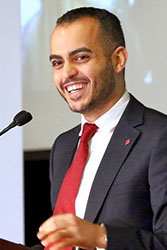 Ahmad Firas Khalid is a medical doctor, a health policy researcher, and a lecturer on health systems and policy. He completed his Ph.D. in health policy at McMaster University with a focus on supporting the use of research evidence to inform decision-making in crisis zones. Previously, Dr. Khalid worked as a health policy researcher at the Research Unit on Humanitarian Stakes and Practices (UREPH) at Médecins Sans Frontières (MSF) in Geneva, Switzerland. He also worked in the Department of Child and Maternal Health at the World Health Organization (WHO) in Geneva, Switzerland. Dr. Khalid has expertise in medicine, education, health policy, knowledge translation, and health emergencies working with relief and intergovernmental organizations.
Dr. Khalid attended St. George's University School of Medicine in 2005 where he graduated with an MD with research distinction. He also holds a Master of Management (IMHL) from McGill University (2014), and both a Master of Health in professions education (2014) and a Graduate Certificate in population health risk assessment and management (2012) from the University of Ottawa.
Shanti Singh-Anthony MD, MPH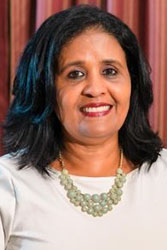 Dr. Shanti Singh-Anthony worked with the Guyana Health Care system for 20 years. As a medical doctor, she delivered clinical management to patients at the Georgetown Public Hospital Corporation–Guyana's only tertiary hospital and provided primary health care services in rural communities along Guyana's coastland. After completing her studies in public health in 2004, she took up leadership positions at the national level. She served as the director of the National Tuberculosis Control Program and program manager for the National Elimination of Lymphatic Filariasis in Guyana.
In 2006, she was assigned to Guyana's HIV Program as the director of the country's largest HIV treatment, and provided comprehensive treatment to people living with HIV. One year later, in 2007, as the head of Guyana's National HIV response, she coordinated multiple partners–US President Emergency Plan for AIDS Relief (PEPFAR), the World Bank, the Global Fund to Fight AIDS, Tuberculosis and Malaria, Pan American Health Organization, United Nations Program on HIV and AIDS (UNAIDS) and other UN agencies. She successfully led policy initiatives, mobilized donor resources, and established guidelines and protocols for the delivery of quality HIV services. She represented Guyana and participated in policy formulation at the regional (Executive Board of the Pan Caribbean Partnership Against HIV and AIDS) and international levels (UNAIDS Program Coordinating Board and the Board of the Global Fund). Dr. Singh-Anthony also served as a member of the planning committee of the 19th International AIDS Conference held in Washington, DC.
In 2016, Dr. Singh-Anthony joined the Caribbean's HIV response. Funded by USAID, she commenced working as the knowledge management coordinator for the Pan Caribbean Partnership against HIV and AIDS. Collaboratively with Johns Hopkins University, Centers for Communication Programs, she created synthesized, repurposed, and shared up-to-date local and international knowledge and experiences with national HIV responses across the Caribbean. To date, she continues to lead knowledge management for HIV in the Caribbean.
Brian Phillip Butler, DVM, MPH, PhD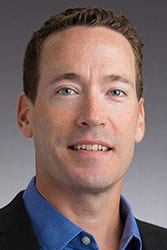 Dr. Butler is an associate professor in the Department of Pathobiology at St. George's University in Grenada, West Indies. After graduating from SGU in 2005, Dr. Butler entered small animal practice for two years and then completed a PhD in comparative pathology at UC-Davis. He is currently teaching pathology in the DVM curriculum at SGU and serving as a mentor to graduate students. In addition to teaching, Dr. Butler is the director of the diagnostic anatomic pathology service and participates in collaborative research.
Prior to his current position at SGU, he received his residency training in veterinary anatomic pathology at Cornell University, School of Veterinary Medicine. In 2015, Dr.Butler obtained board certification by the American College of Veterinary Pathologists (Diplomate ACVP). During that time he worked at the New York State Animal Health Diagnostic Laboratory, which is a regional full-service multidisciplinary animal disease diagnostic facility that fosters relationships between research scientists and diagnostic pathologists.
Laurie Moïse Sears, MPH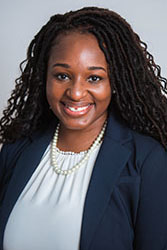 Laurie Moïse Sears is the director of Community Health Integration at ONE Neighborhood Builders in Providence, Rhode Island. Her primary focus is expanding the impact of the Central Providence Health Equity Zone and other community-building efforts aimed at eliminating barriers set by social determinants of health.
Prior to joining ONE Neighborhood Builders, Ms. Sears worked for the Boston Public Health Commission's (BPHC) Homeless Services Bureau as the Serving Ourselves Career Center manager. She has also held management positions at the Recovery Services Bureau at BPHC and Massachusetts General Hospital's Addiction Recovery Management Services Program (ARMS), as well as served as an adjunct professor of health economics at various colleges in Boston.
She holds a bachelor's degree in health policy and management from Providence College and a master's in public health from St. George's University in Grenada, West Indies.
As a woman of Haitian descent, Ms. Sears has a history of advocacy. She continues to establish relationships with local organizations dedicated to serving those who have immigrated to the United States.
Rozena Maart PhD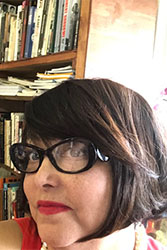 Professor Rozena Maart was born in Cape Town, South Africa. At 24, she was nominated for the Woman of the Year award in South Africa for her work in the area of gender-based violence and for co-founding the first Black feminist organization in South Africa: Women Against Repression [W.A.R.]. Prof. Maart completed her undergraduate education at the University of the Western Cape, her master's degree at the University of York in the UK, and her Ph.D. at the Centre for Contemporary Cultural Studies at the University of Birmingham, UK. Her work examines the intersections among political philosophy, Black consciousness, Derridean deconstruction, and psychoanalysis, all of which address questions of race, gender, and identity.
Prof. Maart is a member of the Caribbean Philosophy Association, having completed a five-year term as Black Consciousness and Psychoanalysis Secretary; Philosophy Born of Struggle, and the International Assembly of Women in Philosophy [UNESCO]. She also wrote the race chapter for South Africa's first sociology textbook. She has supervised students in fine arts, sociology, philosophy, English, politics, international relations, law, and gender studies. In 2016, she received the William R. Jones lifetime achievement award from Philosophy Born of Struggle for her work in philosophy, especially her groundbreaking work in Philosophy Born of Massacres. In 2017, Prof. Maart won an award for research excellence from UKZN and a student mentorship award. In January 2019, she was appointed as an International Research Ambassador to the University of Bremen in Germany.
Chris Oura, DVM, PhD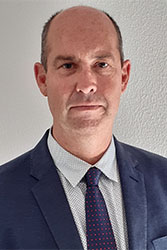 Dr. Chris Oura is currently a professor in veterinary virology in the School of Veterinary Medicine at the University of the West Indies (UWI). He is a qualified veterinary surgeon, has a Ph.D. in viral immunopathology, and has many years of research experience working predominantly on vector-borne viral and protozoal diseases. Dr. Oura has worked in many countries around the world including Mexico, Uganda, and Zimbabwe.
He took up his post at UWI in Trinidad and Tobago in early 2012 and is currently running a One Health-based research program. Dr. Oura is presently supervising 7 Ph.D. and MPhil students and received the UWI Vice Chancellor award for research in 2017. He is also a member of the UWI Covid-19 taskforce.
Joseph Spadaro, PhD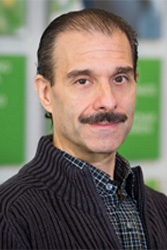 An environmental research scientist (PhD École Nationale Supérieure des Mines de Paris, France), Dr Spadaro specializes in software development for integrated health and economic impact assessment models. His work contributes to research use and policy analysis for the World Health Organization (WHO) offices in Europe as well as the WHO headquarters in Geneva, Switzerland. Previously, he worked at Princeton University, NJ, Argonne National Labs, Chicago, ILand various research centers in Europe for the International Atomic Energy Agency (IAEA), where he carried out basic research on energy analysis, pollutant transport modeling and assessments on health risks, heatwave mortality and carbon emissions and interventions.
Dr Spadaro has contributed to development of the AirQ+ model on health impact assessment of air quality in collaboration with the Global Burden of Disease Community. He is also a co-author of several books and major technical works such as "How Much is Clean Air Worth? Calculating the Benefits of Pollution Control", Cambridge University Press, 2014.
Jonathan Drewry, MPH, RS, DrPH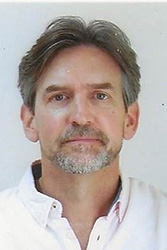 Dr. Jonathan Drewry is a regional climate change and health advisor with the Pan American Health Organization, based in Barbados. Dr Drewry provides technical cooperation to address the environmental determinants of health and supports the implementation of the EU/CARIFORUM Project to strengthen climate-resilient health systems in the Caribbean.
Prior to this position, he was a director for the US Peace Corps in Colombia and Regional Health Impact Assessment Advisor with PAHO/WHO based in Peru. He worked in public health leadership, programming, and training for more than 25 years throughout the Americas. He has a master's degree in public health and environmental health as well as a doctorate in public health with a focus on maternal and child health. He has been a registered environmental health specialist through the National Environmental Health Association since 2004.
Dr. Daniel Buss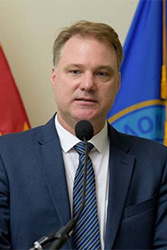 Advisor on Climate Change and Health of the Pan American Health Organization – Regional office of the World Health Organization – based in Washington DC. Dr Buss coordinates PAHO's technical cooperation to 35 countries and 18 territories of the Americas on topics related to climate change, green spaces, biodiversity, public health and environmental health.
E. Francis Martin, MD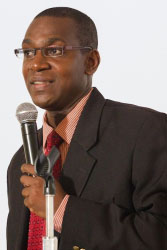 Dr. E. Francis Martin has worked as an emergency medicine physician at the General Hospital in Grenada for 10 years. He is a graduate of St. George's University, School of Medicine in Grenada, West Indies, and also holds a master's degree in health policy and management. He is the current permanent secretary and former chief medical officer of the Ministry of Health, Grenada. Dr. Martin was the past president of the Junior Doctors Association, the Grenada Medical Association, and the SGU School of Medicine Alumni Association – Grenada Chapter. He is also a guest lecturer at the Department of Public Health and Preventive Medicine at SGU and the T.A. Marryshow Community College.
Dr. Martin has co-authored several publications including, Prevalence of sickle cell disease among Grenadian Newborns (The Journal of Medical Screening), Public Health Response and Lessons Learn from the 2014 Chickungunya Epidemic – Grenada and Sahara dust, Climate variability, Asthma in Grenada, the Caribbean (International Journal of Biometeorology).
Calum Macpherson, PhD, DIC, MEVPC, FRSPH, FRSB, FRSTMH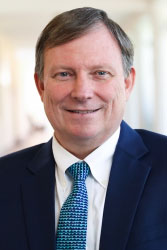 Dr. Calum Macpherson completed his PhD at Imperial College, London, joined the African Medical Research and Education Foundation (AMREF) in Nairobi, and then moved to the Swiss Tropical Institute in Tanzania. He then spent a year at the Liverpool School of Tropical Medicine, before moving to Trinidad to serve as professor of veterinary parasitology at the University of the West Indies.
He joined St George's University in 1993 as professor of parasitology and director of research in the School of Medicine. He assisted with the creation of the Schools of Veterinary Medicine and Graduate Studies. Today he lectures in all four schools at SGU and has been an invited speaker and conducted research in more than 50 countries. He serves on many internal and international committees and is the founding director and vice president of the Windward Islands Research and Education Foundation (WINDREF), a 501 c 3 charitable trust registered in New York, the UK, and as an NGO in Grenada.
Over the course of his career, he has supervised more than 80 master's degree and Ph.D. students in Kenya, Tanzania, India, the UK, Nevis, Trinidad and Tobago, and Grenada. In 2014, he was appointed to the Research Advisory Committee of the Caribbean Public Health Agency (CARPHA) and elected as a Global Football Ambassador by the Grenada Football Association.  He has served on many World Health Organization and Pan American Health Organization advisory committees published more than140 peer-reviewed international journal articles and written or edited five books and more than 30 book chapters.  He has a wide diversity of research interests but focuses on zoonoses and vector-borne diseases.
Conference Registration Information
Conference is FREE!
Continuing education credits can be obtained for a fee.
Improving Lives Around the World
The vision of SGU's Master of Public Health (MPH) program is "to be a dynamic regional and international centre of excellence in Public Health education, service, research and scholarly activities; attracting students, faculty and partners of diverse background who contribute to the strengthening and empowerment of communities, in an ever-changing environment."
SGU's MPH degree produces leading public health practitioners and researchers on a global scale
The MPH program was accredited by the Council on Education for Public Health (CEPH) in 2010 and was awarded an additional 7-year accreditation by CEPH in 2015.
Make a Global Impact With a Masters of Public Health Degree 
Become a Global Health Professional in the field of Public Health and Preventive Medicine. Train for your calling in public policy and global health with our innovative, world-class MPH program. Available 100% online and on-campus.
Apply for the MPH Program Today
Take a Second to Learn About Our MPH Program
How much does it cost?
The conference is FREE to attend, and attendees have access to all sessions and content. Attendees who wish to receive continuing education CEPH credit may elect to pay a nominal fee.
Who can attend the Virtual MPH Conference?
Anyone can attend the conference. Public Health professionals, educators, recent grads, students, and prospective students are all welcome.
Do I need a laptop?
A laptop is recommended but
not required. 
All content can be accessed from an iOS or Android device.
Is Internet required?
Yes, internet is required to view the conference content. We recommend consistent speeds of at least 2.5 Mbps upload/download.
Where can I download the App?
The app will be available in the Apple and Google Play app stores starting in mid-October. Search for and download the 'SGU Public Health Conference' app.
When will I get the confirmation of my registration?
You should receive confirmation instantly via email.
Will continuing education credits be offered?
Yes.
Four (4) continuing education credits will be offered by CEPH (Council for Education for Public Health). Participants who elect to receive continuing education credits will have their attendance verified and be required to pay a nominal fee.
Where can I pay?
You can indicate interest in receiving continuing education credits when you register. After the conference, attendees who opted into credit will have their attendance verified and be billed.
If I have any technical issues, whom do I contact?
Before the meeting, you can email any questions to phconference@sgu.edu.
During the meeting, chat support will be available on the website and the app.
I don't see my question, who should I contact?
Will the conference be recorded for future reference?
Yes, sessions will be recorded and available to attendees after the conference is over. You must register to attend the conference in order to view recorded content.