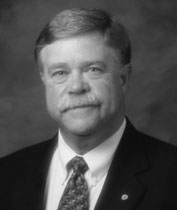 Gregory Hammer, DVM
School of Veterinary Medicine Keynote Speaker – January 15, 2009
---
Read Speech
Good afternoon. It is my privilege to be here celebrating with you today. I am Greg Hammer, and this past year I had the honor of being President of the American Veterinary Medical Association. The AVMA represents more than 78,000 veterinarians working in private and corporate practice, government, industry, academic and the uniformed services. The AVMA acts as the collective voice for its membership and for the profession to the public and government. With every new member, our voice becomes stronger and more effective.
I'm glad to be here, this may be as close to paradise as I ever get. I left 20-degree weather a couple of days ago to get here. Delaware does not usually get that cold, so I'm glad to he here. I practice in Delaware. Our practice is about 70% small animal and 30% equine. It is my hope that when you finish here, that whatever type of practice you enter, you have as much fun as I do. Never lose the enthusiasm that you have right now. Never lose that compassion for and desire to help those animals that we serve.
I want to first of all, congratulate you and your parents. You are among the select few that have joined the greatest profession on earth. I look forward to the day that you will be my colleagues. That day will be here sooner than you think.
I think these types of speeches are supposed to be filled and with advice…so the next paragraph or two are my words of wisdom:
All of you are type "A" personalities and extremely competitive. That is how you got here. Each and every one of you had to compete against many others for the seat you now occupy in your class. Well, you made it into veterinary school and it's time to stop competing against each other. It's now time to start challenging yourself to become the best doctor you can be. Take advantage and soak up every bit of information that you can. When the information becomes tedious and overwhelming…remember you can do it. Your clients, your patients will need you. Remember your ultimate goal…DOCTOR!!! Be the best, don't settle for less.
In addition to challenging yourself, help your classmates. This is your family for the next four years. You will spend more time with them than anyone else. Mentor each other. I had the good fortune of being selected for the class of '73' at Kansas State University. We helped each other. We learned from each other. We pushed each other. Get to know your classmates, help them through the next four years and they will help you. Tell them how much you appreciate their help. You will grow closer to some of your classmates. They will be life long friends. Be sure you let them know before you graduate, because unfortunately some you will never see again. Again this is your academic family-help each other and you will all benefit.
I want to turn the page a little now, and ask you to do something for your chosen profession in the future. You will be Doctors of Veterinary Medicine in less than four years. With that title and respect, comes a great deal of responsibility. No matter what type of practice you enter, or where you go, you will be a respected member of your community. You must advocate on behalf of your profession and the animals we serve. The public and government rely on us to educate them on animal well being and public health. If you don't do it, others will and you may not like the results. You can start now by joining and participating in your student AVMA. You should have 100% membership. The student AVMA is your voice to the profession. We have many positions on AVMA councils and committees that are only open to students. They don't require that much time and are a good way to get involved in national veterinary medicine. There are externships that are only open to first and second year students at AVMA headquarters and the Washington DC office. Remember if you don't get involved in shaping the future of veterinary medicine, someone will shape it for you.
The future of veterinary medicine is bright. There has never been a better time to be a veterinarian. The demand in all fields of veterinary medicine is high and the supply has never been lower. We are at a crisis in our work force. You will be asked to do more, but you will have the freedom to get involved in any facet of veterinary medicine. Be sure and look beyond the traditional careers of veterinarians. Your future is unlimited in public health, food safety and bio-security. You are our future and I think we are in great hands. Welcome to the greatest profession…Veterinary Medicine.
https://www.sgu.edu/wp-content/uploads/2017/01/gregory-hammer.jpg
210
177
VS
https://www.sgu.edu/wp-content/uploads/2020/02/sgu-logo-grenada.svg
VS
2017-01-26 16:25:50
2017-01-26 16:40:46
Gregory Hammer, January 2009