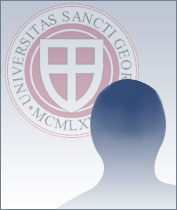 Jack O. Walther, DVM
School of Veterinary Medicine Keynote Speaker – August 19, 2003
---
Speaker Profile
Dr. Jack Walther was born and raised on a small ranch near Reno, Nevada. He received his DVM degree at the University of California – Davis in 1963 and began an equine practice in Reno. He was drafted and spent 1965-1966 in the Army Veterinary Corps stationed at Aberdeen Proving Ground, Maryland. Over the next 35 years he practiced small animal medicine and built three AAHA (American Animal Hospital Association) hospitals in the Reno area.
In 1973, Dr. Walther was elected as President of the Nevada State Veterinary Association. The following year he was selected to chair the Legislative committee. For the next 25 years, he was responsible for all legislation involving veterinary issues to come before the Nevada Legislature. In 1978, he authored a complete revision of the Veterinary Practice Act, most of which is still in effect today. He was responsible for the formation of the Nevada Political Action Committee and has served as chairman since its inception. He was appointed to the State Board of Veterinary Examiners in 1977 and served as chairman for 10 years. He was named Veterinarian of the Year in Nevada in 1983, one of only four veterinarians to have ever received this award.
Dr. Walther has been involved in several major community events. He served as President of Reno Rodeo in 1981 at a time that the Reno Rodeo was a small, financially troubled event. He was named Man of the Decade in 1990, at which time Reno Rodeo was listed in the top five rodeos in North America. He was appointed to the Airport Authority of Washoe County in 1987 and served two years as Chairman. He chaired the Reno/Tahoe Air Service Task Force from 1989 to 1995. During his term as Chairman, eight new airlines were encouraged to begin air service to Reno. In 1996 he received the Community Gold Service Award in recognition of his work in promotion of the Reno/Sparks area.
In 1997, Dr. Walther was asked to chair the board of the financially troubled National Championship Air Races. He served as chairman in 1997, 1998 and 1999. At the completion of the 1999 show, the Air Races were again financially stable and had regained national prominence as a major national event. The Air Race Association named him Man of the Year in 2001.
Dr. Walther was selected as Nevada's delegate to AVMA in 1992 and that year he successfully bid the 1997 AVMA convention for Reno. He was appointed to the AVMA Political Action Committee and served as chairman in 1999. He was elected Vice President of AVMA in 2001 and, as such, spent a year working with veterinary students throughout the United States, Canada and the Caribbean. He has recently been awarded the Distinguished Service Award by the University of California School of Veterinary Medicine. He was elected to the Board of Directors of the Western Veterinary Conference in 1999 and currently serves as Vice President.
In 2000, Dr. Walther sold his practice in Reno and moved to his ranch in Lamoille, Nevada. He is semi-retired and practices part time in a mixed practice in Elko, Nevada. At the 2002 AVMA Convention in Nashville, Tennessee, Dr. Walther was elected President-Elect for 2002-2003. At the 2003 AVMA Convention in Denver, Colorado, Dr. Walther was elected AVMA President for 2003-2004. Dr. Walther and his wife, Karen, have five children, Kathi, John, Jim, Reed and Paige.
https://www.sgu.edu/wp-content/uploads/2017/01/no-image.jpg
210
177
VS
https://www.sgu.edu/wp-content/uploads/2020/02/sgu-logo-grenada.svg
VS
2017-01-26 17:16:31
2021-01-12 16:10:11
Jack O. Walther, August 2003