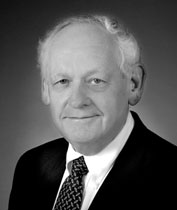 Leon H. Russell, DVM, MPH, PhD
School of Veterinary Medicine Keynote Speaker – August 15, 2006
---
Speaker Profile
Dr. Leon Russell knows the importance of thinking globally. In 45 years of service to the State of Texas, Dr. Russell's contribution to public health extends far beyond the borders of the Lone Star State. Dr. Russell is currently a professor of epidemiology, biostatistics, toxicology, veterinary anatomy, public health, food science, medical microbiology and immunology at Texas A&M University.
Dr. Russell received his veterinary training at the University of Missouri's College of Veterinary Medicine and in 1956 received his DVM. He received his MPH from Tulane University in 1958 and his PhD from Texas A&M University in 1965. With his professional interests in epidemiology, food toxicology, and mycology, Dr. Russell entered academia as a teacher and researcher in veterinary public health, medical microbiology and immunology as well as food science and technology.
His academic training and professional interests prepared him for leadership roles in the Texas Veterinary Medical Association and the American Veterinary Medical Association (AVMA). Dr. Russell held multiple positions in these organizations culminating with the Presidency from 1984-1985 and 1993-1994. Having served in veterinary leadership positions at the state and national levels, he was encouraged to represent his profession internationally. He was chosen by the AVMA Board to represent the United States at the World Veterinary Association (WVA), where he was elected WVA Vice President in September 2002 and became the WVA's Liaison Officer to the World Health Organization (WHO). In 2005, he was elected President of the WVA at the 28th World Veterinary Congress in Minneapolis, Minnesota.
https://www.sgu.edu/wp-content/uploads/2017/01/leon-russell.jpg
210
177
VS
https://www.sgu.edu/wp-content/uploads/2020/02/sgu-logo-grenada.svg
VS
2017-01-26 17:02:03
2017-01-26 17:02:22
Leon H. Russell, August 2006