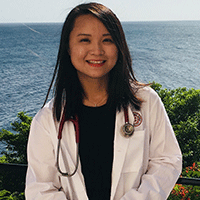 Dr. Julia Hweyryoung Cho
Graduation Date: 2022
South Korea
MetroHealth
Internal Medicine
Born in South Korea, Dr. Julia Hweyryoung Cho moved frequently as an international student since she was 11 years old. Her desire to pursue medicine first occurred when she was very young while watching her elderly grandparents struggle with age-related health issues. She simply wanted to find a way to cure them. Throughout her academic career, Dr. Cho was drawn to both biology and philosophy. Combining her childhood motivation with her intellectual curiosity made becoming a physician the natural choice.
Dr. Cho recently matched and will start her internal medicine residency at MetroHealth in Cleveland, Ohio. She chose to pursue internal medicine because she enjoys the diverse and challenging clinical scenarios it offers and the constant need to handle complex cases requiring a multidisciplinary approach. Internal medicine also provides a path to sub-specialization—an added bonus. Although Dr. Cho hasn't decided whether to pursue a fellowship in geriatrics or endocrinology yet, she believes the decision will solidify by meeting mentors and exploring available resources within the program.
We spoke with Dr. Cho about her experiences at SGU and her advice for medical students.
St. George's University: How did you feel about Grenada as a study destination for the basic sciences?
Dr. Cho: Grenada is a beautiful island, and I'm glad I made the right choice to study there. Since most of my colleagues and I were far away from home, we formed a special bond with each other. In addition to creating study groups, we also went grocery shopping together on the bus to IGA—the supermarket located outside of the campus—and even explored the wilderness to visit one of the waterfalls. Studying in Grenada provides a unique setting that leads to unforgettable memories I will carry for the rest of my life. Studying in Grenada also made taking care of my mental and physical health easier, thanks to the ability to visit the gym every morning and run on the treadmill while facing the ocean and watching the sunrise.
SGU: Were you involved in any clubs while in Grenada?
Dr. Cho: Yes, I was a part of Iota Epsilon Alpha (IEA) and the Christian Student Association (CSA). During my time in IEA, I participated in the diabetic clinic outreach program and tutored Term 1 and 2 students. In CSA, beyond attending the beautiful and vibrant worship services run by students on Sunday mornings, I participated in multiple community service projects. These included visiting the Home for the Aged and the Bel Air Children's Home.
SGU: How did SGU help with your academic achievements and USMLE preparation?
Dr. Cho: SGU was ideal for me because it prepared me for board exams. While everyone has different learning styles, I found multiple choice question (MCQ) sessions to be especially helpful. These sessions allowed me to discuss my thought process with colleagues while also assessing my own level of understanding compared to others. Additionally, SGU was helpful for me because the exams reflect the style of board exams. This is achieved by utilizing computer-based multiple-choice questions that are given within a strict time limit.
SGU: What advice would you give to students (especially international students) who are coming to Grenada for the first time to study at SGU?
Dr. Cho: My advice would be to embrace the culture and enjoy the experience. Grenada is a beautiful island with a rich culture and friendly people. Take the time to explore the island and its many attractions, such as the beautiful beaches and hiking trails. It's also important to balance your studies with other activities and hobbies to avoid burnout. Lastly, my advice would be to reach out to the SGU community for support and guidance.
SGU: Why was SGU the right fit for you?
Dr. Cho: For me, SGU provided a comprehensive medical education that prepared me to be successful in the US healthcare system. During my clinical rotations in the US, I was provided hands-on experience and exposure to the American healthcare system, making my transition to residency, and practicing medicine in the US smoother.
Find out if St. George's University is right for you.
https://www.sgu.edu/wp-content/uploads/2020/02/sgu-logo-grenada.svg
0
0
sstoss
https://www.sgu.edu/wp-content/uploads/2020/02/sgu-logo-grenada.svg
sstoss
2023-06-22 10:28:50
2023-06-23 09:12:56
Dr. Julia Hweyryoung Cho