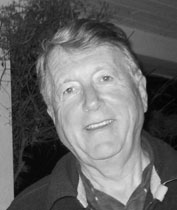 Alan M. Kelly, BSc, BVSc, PhD
School of Veterinary Medicine Keynote Speaker – August 15, 2009
---
Speaker Profile
Dr. Alan M. Kelly received his veterinary medical education at The Bristol School of Veterinary Science at Bristol University that is located in Bristol, in the South West of England. Upon graduation in 1962, he began his work toward a PhD in the University of Pennsylvania School of Veterinary Medicine. After receiving his PhD, he was appointed to their faculty in 1968 as an Assistant Professor of Pathology, was promoted to Full Professor in 1979, and became Chair of the Department of Pathology in their School of Veterinary Medicine in 1990.
During these years at the University, Dr. Kelly pursued basic research on neuromuscular development of the rat and on a mouse model of Duchenne muscular dystrophy. In 1994 he became Acting Dean and then Dean of the School. He retired from the deanship in 2005 after twelve years of active service. During his tenure as Dean, the School's annual appropriation from the Commonwealth of Pennsylvania increased from $14 million to $38.7 million. In the year 2000, he initiated a capital campaign that raised $128 million in five years and provided the funds for a new teaching and research building that was direly needed.
Dr. Kelly now leads a program in veterinary public health at Penn Vet and is the chair of a National Academy of Science study on future workforce needs in veterinary medicine. He also chairs the unique World Award and Inspiration Awards programs at the University of Pennsylvania that distribute $100,000 annually to each of three award winners. These are the largest monetary awards in veterinary medicine. Two of the awards are designated for Penn Vet students at the University of Pennsylvania who demonstrate a unique, inspired vision of how they will use their veterinary medical education. The third award, The World Award, goes to a distinguished veterinarian who has opened new fields and influenced the direction of the veterinary medical profession anywhere in the world.
https://www.sgu.edu/wp-content/uploads/2017/01/alan-kelly.jpg
210
177
VS
https://www.sgu.edu/wp-content/uploads/2020/02/sgu-logo-grenada.svg
VS
2017-01-26 16:22:26
2017-01-26 16:22:50
Alan M. Kelly, August 2009