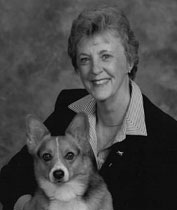 B V. Beaver, BS, DVM, MS
School of Veterinary Medicine Keynote Speaker – January 15, 2010
---
Speaker Profile
A professor in the Department of Small Animal Clinical Sciences at Texas A & M University, Dr. Bonnie V. Beaver is a Diplomat of the American College of Veterinary Behaviorists and is internationally recognized for her work in the normal and abnormal behaviors of animals. She has given over 250 scientific presentations to veterinarian and veterinary student audiences on subjects of animal behavior, animal welfare, and the human-animal bond, as well as discussed many areas of veterinary medicine for the public media. In addition, she has authored over 150 scientific articles and nine published books, including The Veterinarian's Encyclopedia of Animal Behavior (Blackwell Press), Feline Behavior: A Guide for Veterinarians (Saunders), and the newly released second edition of Canine Behavior: Insights and Answers (Saunders).
Dr. Beaver has served as president or chair of several, professional organizations including the American Veterinary Society for Animal Behavior, the American College of Veterinary Behaviorists, Phi Zeta, and the Texas Veterinary Medical Association. She currently serves as the Executive Director of the American College of Veterinary Behaviorists and is president of the Organizing Committee of the American College of Animal Welfare. Dr. Beaver is a past president of the American Veterinary Medical Association and has served as Chair of the AVMA Executive Board. She has also served on several AVMA committees. In addition, she chaired the AVMA's Canine Aggression and Human-Canine Interactions Task Force and the Panel on Euthanasia.
Professionally, Dr. Beaver has been honored by being elected as a Distinguished Practitioner of the National Academies of Practice, named as the recipient of the 1996 AVMA Animal Welfare Award, awarded the 2001 Friskies PetCare Award in Animal Behavior, and received the 2001 Leo K. Bustad Companion Animal Veterinarian of the Year Award. Dr. Beaver's has been named to special advisory committees for the U.S. Department of Health, Education, and Welfare, the National Research Council, and the PEW National Veterinary Education Program. She has been recognized for outstanding professional achievement in more than 150 editions of over 50 publications including Who's Who in America, The World Who's Who of Women, Who's Who in the World, and American Men and Women of Science.
https://www.sgu.edu/wp-content/uploads/2017/01/beaver-large.jpg
210
177
VS
https://www.sgu.edu/wp-content/uploads/2020/02/sgu-logo-grenada.svg
VS
2017-01-26 16:13:47
2017-01-26 16:14:33
B V. Beaver, 2010