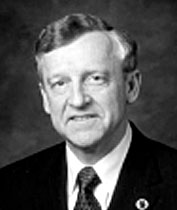 Roger K. Mahr, DVM
School of Veterinary Medicine Keynote Speaker – August 15, 2007
---
Speaker Profile
Dr. Roger Mahr, a small animal practitioner for more than 34 years was unanimously elected as the 2005-2006 President-Elect of the American Veterinary Medical Association (AVMA). Born and raised on a dairy farm in south-central Iowa, Dr. Mahr received his veterinary medical degree in 1971 from Iowa State University and understands firsthand the need for veterinarians in food animal medicine.
Following graduation, he was employed as an associate veterinarian in the Chicago suburbs of Morton Grove and Evanston for three years. Dr. Mahr established, owned and directed the Meadow View Veterinary Clinic in Geneva, Illinois, an accredited hospital member of the American Animal Hospital Association from 1974 to 2004.
Dr. Mahr has been active in organized veterinary medicine his entire career. A "career-long" member of the Chicago Veterinary Medical Association (CVMA), he served on numerous committees prior to being elected to the CVMA Board of Directors and then their president in 1981. A member of the Illinois State Veterinary Medical Association (ISVMA) since 1971, Dr. Mahr was a member of the Board of Directors 1988-1994 and served as ISVMA president in 1999. He has also served as President of the Humane Society of North Central Illinois and chaired the Illinois Veterinary Licensing and Disciplinary Board for two years. At the national level, Dr. Mahr has furthered the goals of the AVMA as a member of its Executive Board representing veterinarians in Illinois, Indiana and Wisconsin (District VI) from 1999 to 2005. He chaired the AVMA Executive Board in 2004-2005 and served a three-year term on the Board of Directors of the American Veterinary Medical Foundation. Dr. Mahr is also a member of the American Association of Bovine Practitioners, the American Association of Food Hygiene Veterinarians, and the AVMA PAC Presidential Club.
Well known for his community and civic activities, Dr. Mahr is a member of the Delnor Community Hospital Foundation; Geneva Lions Club, serving as president in 1987; the Geneva Chamber of Commerce; the St. Charles Community School District, where he held positions on the Strategic Planning and Facilities Advisory Committees; and as a member of the Board of Education where he held the offices of vice president and president. A long-time member of the United Methodist Church of Geneva, Dr. Mahr served on the Administrative Board from 1978 to 1990.
He tirelessly works to educate the public regarding the vital role of veterinary medicine in securing the health and welfare of both people and animals.
https://www.sgu.edu/wp-content/uploads/2017/01/roger-mahr.jpg
210
177
VS
https://www.sgu.edu/wp-content/uploads/2020/02/sgu-logo-grenada.svg
VS
2017-01-26 16:53:46
2021-01-12 15:43:40
Roger K. Mahr, August 2007