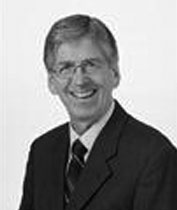 Tim Ogilvie, DVM, MS, Dipl. ACVIM
School of Veterinary Medicine Keynote Speaker – January 15, 2012
---
Speaker Profile
Dr. Tim Ogilvie is Immediate Past Dean of the Atlantic Veterinary College (AVC) at the University of Prince Edward Island. A faculty member at AVC for more than a quarter century, Ogilvie teaches in the college's Large Animal Medicine program.
He joined AVC as a founding faculty member in 1985 following his appointment as the director of the animal industry services branch within the Prince Edward Island Department of Agriculture and Forestry. Since then, he has served as Chair of the University's Department of Health Management (1990-1998) and Acting Dean (1998-1999), while also co-directing AVC's Veterinary Teaching Hospital. The AVC Vet Camp was renamed the Dr. Tim Ogilvie AVC Vet Camp in 2009 and recently was acknowledged by the Canadian Council for the Advancement of Education as the best community outreach program in the country.
Dr. Ogilvie is also a board-certified diplomate of the American College of Veterinary Internal Medicine, focusing on large animals. Dr. Ogilvie presently serves as the Canadian Veterinary Colleges Deans' representative on the Canadian Foresight project (FORECan) for Animal Health Emergency Management planning. As well, he is the Canadian academic representative for the World Organization for Animal Health's 'ad hoc' committee on global veterinary education, a member of the Canadian Veterinary Reserve, the PEI Lobster Industry Roundtable, and the Wind Energy Institute of Canada.
Past appointments have also included president of the Canadian Veterinary Medical Association, board member and vice-president of AquaNet, director and chair of the Board for Genome Atlantic, chair of the Genome Atlantic Executive Committee, and board member of the Life Sciences Development Association, among others.
Dr. Tim Ogilvie earned his Doctor of Veterinary Medicine and Master of Science degrees from the University of Guelph. He and his wife, Lola, who is a lifelong PEI resident, have two sons, Thomas and Adam, each of whom is pursuing a career in veterinary medicine after graduating from AVC in 2010.
https://www.sgu.edu/wp-content/uploads/2017/01/tim-ogilvie.jpg
210
177
VS
https://www.sgu.edu/wp-content/uploads/2020/02/sgu-logo-grenada.svg
VS
2017-01-26 15:49:35
2017-01-26 15:50:31
Tim Ogilvie, January 2012