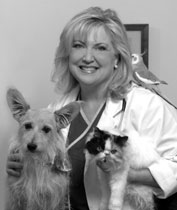 Jan K. Strother, DVM
School of Veterinary Medicine Keynote Speaker – August 15, 2012
---
Speaker Profile
A member of the American Medical Veterinary Association (AVMA) since 1986, Dr. Jan K. Strother currently serves as the organization's vice president.
She received her Doctorate of Veterinary Medicine from the Tuskegee University College of Veterinary Medicine in 1986, and after graduation she opened the North Alabama Cat and Bird Veterinary Clinic in Hartselle, AL, in June of 1987. She opened and operated a second clinic in Huntsville, AL, from 1991-1996. In 1999, Dr. Strother had a new clinic constructed in Hartselle and moved her practice into the new facilities in 2000. She is currently the founder and hospital director for the four-doctor clinic where she cares for companion animals, birds, and a wide variety of exotic pets.
Since graduation, she has also been actively engaged in leadership roles with the AVMA and the Alabama Veterinary Medical Association (ALVMA). Dr. Strother has served in the House of Delegates (HOD) as an alternate delegate from Alabama. She was also elected to the Council on Public Relations in 1994 serving a six-year term and she was the chair of this committee in 1999. In addition, she is a member of the Association of Avian Veterinarians, the American Association of Feline Practitioners, the Association for Veterinary Family Practice, the North Alabama Veterinary Medical Association, and the Madison County Veterinary Medical Association. She was elected a member of the National Academics of Practice in 2010.
Dr. Strother has also won a number of professional awards. She was the ALVMA Veterinarian of the Year in 2002, won the ALVMA Service Award in 1991 and 1993, and received the ALVMA Auxiliary Service Award in 1993.
Dr. Strother is a frequent speaker on veterinary health care topics and has been a guest on Good Morning America, the Today Show, FOX Pet News, and many other radio and television shows to discuss pet health issues.
She is married, and her husband, Dr. Michael Newman, is also a veterinarian. They reside on a small farm with nine cats, two dogs, two horses, and a donkey named Milton.
https://www.sgu.edu/wp-content/uploads/2017/01/jan-strother-main.jpg
210
177
VS
https://www.sgu.edu/wp-content/uploads/2020/02/sgu-logo-grenada.svg
VS
2017-01-26 15:43:11
2021-01-12 15:17:56
Jan K. Strother, August 2012