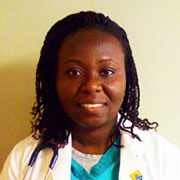 Gifty-Maria Ntim, MD, MPH
Graduation Date: 2007
Ghana
Dr. Gifty-Maria Ntim is a double-boarded pediatrician and internist at Antelope Valley Community Clinic in Palmdale, California. She was born and raised in Ghana, but moved to Canada to complete her undergraduate degree in biochemistry at McGill University in Montreal. She found it very competitive to apply to Canadian medical schools as an international student. When she heard about St. George's University through a professor, she decided it was the perfect opportunity to pursue her dreams.
Grenada was a breath of fresh air for Dr. Ntim—"It reminded me of home on many levels. The people were very welcoming and warm." Additionally, she was very impressed with the diversity in the student body and actively participated with the African Student Association.
After her first year at SGU, Dr. Ntim worked at the University of Ghana during her summer break on a project funded by the World Health Organization (WHO). "The experience I had in Ghana made me realize the importance of serving communities and not just individuals," she said. "Hence, after my second term at St. George's University, I switched from the straight MD program to the MD/Master of Public Health (MPH) dual degree program. The fact that I could get practical hands-on training in a developing country was very appealing to me as well." In year two, she completed a WHO internship in Geneva, Switzerland.
Dr. Ntim went on to become chief resident of the Tulane University School of Medicine combined internal medicine/pediatrics residency program and the principal investigator of the NO-POP (New Orleans Pediatric Obesity Prevention) Project. "I feel my training at SGU is on par with other students and physicians that I have come into contact with. If anything, my training at SGU put me at a slight advantage when it came to infectious disease—which being from Ghana is very handy."
Dr. Ntim ultimately hopes to develop programs for underserved communities and developing countries. "I am laying the groundwork to be involved in Ghana­­—mainly in the medical education and public health arena. I would love to teach and be involved in program development and sustainable health projects in Ghana."
Dr. Gifty-Maria Ntim advises future medical students, "I would highly recommend SGU without hesitation. It allowed me to realize my dreams. It's added to my growth as a person and as a physician, and I would not have it any other way if I could rewrite my life story."
https://www.sgu.edu/wp-content/uploads/2020/02/sgu-logo-grenada.svg
0
0
Erin Shaw
https://www.sgu.edu/wp-content/uploads/2020/02/sgu-logo-grenada.svg
Erin Shaw
2016-12-16 21:53:04
2017-01-30 21:32:10
Gifty-Maria Ntim, MD, MPH