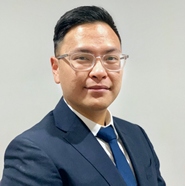 Tanathun Kajornsakchai, MD
Graduation Date: 2019
Thailand
Icahn School of Medicine at Mount Sinai (Elmhurst Hospital)
Psychiatry
All physicians have to go to great lengths to clear each hurdle that presents itself in medical school. However, perhaps no one traveled a greater distance to achieve his dream than Tanathun "Bas" Kajornsakchai.
At just 16 years old, the Thai native joined the preclinical program at St. George's University. During his seven-year mission, he aimed to become a practicing physician in New York City. He accepted a psychiatry residency position at Elmhurst Hospital in Queens.
"I love the area and the diversity around Elmhurst," he said. "When I was offered the position, I didn't hesitate to accept it. I look forward to serving in the community that I'm a part of."
Dr. Kajornsakchai graduated from St. Stephen's International School in Bangkok before setting off for Grenada. He adapted "pretty quickly" to his new surroundings and used his preclinical experience as a springboard to success in the four-year MD program. He also took advantage SGU's Department of Educational Services, which provides services ranging from English as a Second Language classes to psychological services and tutoring.
He made quick friends from around the world, and also became president of the Asian Pacific Islander Student Association, which raised funds for the Grenada Heart Foundation and Grenada Kidney Foundation by selling bubble tea. "It always brought out a crowd," he said.
Just months away from graduation, Dr. Kajornsakchai has now reached the finish line, and is on the precipice of officially joining the US healthcare system.
"Seven years ago, I don't think I could even see the finish line," he said. "I just did the best I could every day, and looking back, it was a very good experience. Everything has worked out in my favor. I'll always remember where I'm from and how lucky I am to be in this position."
Published April 2020
Find out if St. George's University is right for you.
https://www.sgu.edu/wp-content/uploads/2020/02/sgu-logo-grenada.svg
0
0
lchartor
https://www.sgu.edu/wp-content/uploads/2020/02/sgu-logo-grenada.svg
lchartor
2020-04-28 20:34:18
2021-02-04 16:03:05
Tanathun Kajornsakchai, MD