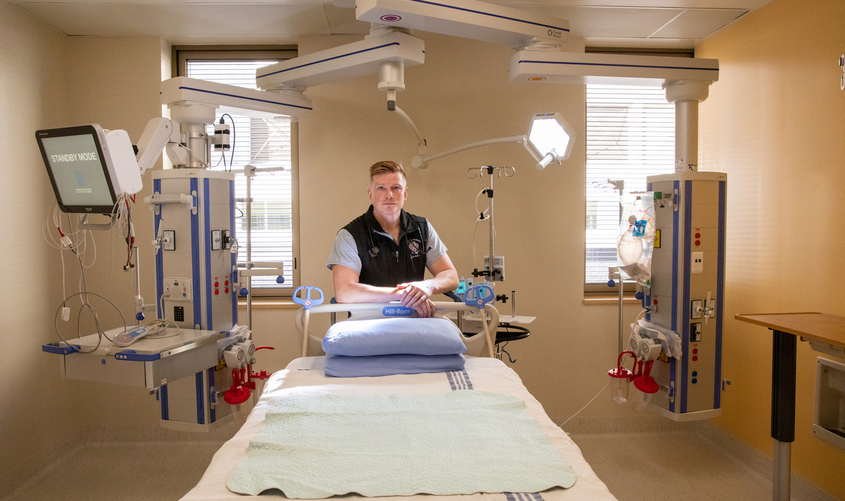 Aspiring physicians from Canada have long used St. George's University School of Medicine as a springboard to a career in medicine, and for SGU graduate Daniel Devlin, MD '19, his journey was no exception. Now a first-year family medicine resident at the Kelowna General Hospital, in rural British Columbia, Dr. Devlin serves one of the largest medical centers between Calgary and Vancouver, Canada.
Now more than ever with the ongoing coronavirus disease (COVID-19) pandemic, physicians like Dr. Devlin are being called to the frontlines to help fight against the virus. His vacation plans along with him competing in his first-ever triathlon this spring and summer have all been put on hold with the uncertainty surrounding the pandemic.
"Everyone at our hospital—from housekeeping and maintenance to nurses and physicians—has all been working very hard to face this challenge head-on," said Dr. Devlin. "Things like vacation plans are inconsequential when you look at the bigger picture. I feel like we all got into this job to help people in need, and we will continue to do that now and for the rest of our careers."
His path back to Canada began when he enrolled in the St. George's University of Grenada School of Medicine/Northumbria University Four- and Five-Year Program, for which students spend the first year of basic sciences in the United Kingdom. He called the program "a perfect fit."
"Since I knew I was going to be a mature student, and didn't want to waste any time in getting started, this program allowed me to begin in January, learn a new healthcare system, enjoy smaller class sizes and most importantly get the opportunity to secure a residency position back home in Canada," he said.
However, before Dr. Devlin began his pursuit of a career in medicine, another career path opened up for him at age 15 when he joined his high school handball team. As a gifted athlete, he then progressed to the provincial level before eventually making it all the way to the Canadian national handball team in 2007.
"As an athlete on the national team, I got the opportunity to travel all throughout Europe and South America playing in international tournaments," said Dr. Devlin. "I even met my fiancée, Kate, who was also a professional handball player with the Women's Canadian team at the time.
The highlight of his career was his three trips to the Pan American Games—in Rio de Janeiro, Brazil in 2007; Guadalajara, Mexico in 2011; and Toronto, Ontario, Canada in 2015. He played one year professionally in France.
Although a successful athlete, Dr. Devlin always knew he would one day become a physician. At school, he excelled in the health sciences and could be seen after school soaking up information at the hospital where his mom worked as an x-ray technician. After graduating from university, he then became a nurse for nine years before entering medical school once things started to settle down in his athletic career.
"After reaching the pinnacle of my athletic career, it just seemed like the right time to retire and so, I decided to move on to pursue my childhood dream," said Dr. Devlin. "After doing my research and checking out their information sessions, SGU was just the right call. In terms of timing, attending SGU worked out perfectly with my schedule—allowing me to play in my final Pan-Am Games during my summer break after my first semester."
Today, Dr. Devlin is settling into his role as a first-year resident, splitting his time between practicing at the hospital and his family medicine clinic. He is also currently working on a quality improvement project analyzing the clinic to make sure it meets the national standard of guidelines set across Canada. The scholarly project would then strive to implement any changes or make improvements found in his research.
"As an international grad, I get asked by prospective students in information sessions all the time, 'would I do it again'?" said Dr. Devlin. "And my answer would be 'yes' because my goal was to come back and be a physician in Canada, and SGU helped me to do that. It was my pathway to getting to where I wanted to be."
That place is Kelowna, where he and his colleagues are working hard—and together—to address the ongoing pandemic.
"We will get through this at some point, and we have definitely felt the love and support from the city of Kelowna as we work to keep everyone safe and healthy," he said.
–Ray-Donna Peters
https://www.sgu.edu/wp-content/uploads/2020/04/Dan-Devlin-canada-845x500-1.jpg
501
845
lchartor
https://www.sgu.edu/wp-content/uploads/2020/02/sgu-logo-grenada.svg
lchartor
2020-04-02 21:49:16
2020-04-02 22:55:43
Former International Athlete Addressing COVID "Head-On" in Canada