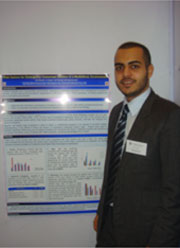 Five winners of a student research competition were announced by the Office of the Dean, St. George's University School of Medicine. This competition was instituted to encourage and promote the research component of St. George's University's medical program. Senior medical students were invited to submit an abstract of their research completed during their SGUSOM medical education. All submissions were accompanied by any published abstracts, papers, posters or manuscripts used in preparation of the work.
A faculty panel reviewed the submissions and chose five winners (from a pool of 70 submissions) based on originality, scientific merit, and level of involvement. Each of the winning students will receive an all expenses paid trip to Grenada the week of the clinical faculty meeting (March 1-5, 2010), with the opportunity to present and discuss their research with faculty and students on True Blue campus. This is a unique opportunity to showcase their work to the SGU community at large, and will likely support other students in their research endeavors.
The University congratulates the winning students as well as all other students who submitted their research projects as their initiative further substantiates SGU's commitment to research in the field of medicine. They are:
1. Kyle Smith – "Effect of Location of Drill Holes on the Bending Strength of Fresh Bovine Bone".
2. Ashish Jairath – "Active real-time hematoma expansion in intracerebral hemorrhage in the presence of the computed tomography angiographic spot sign".
3. Ahmad Firas Khalid – "Risk Factors for Emergency Caesarian Section in a Multiethnic Environment".
4. Supreet Bindra – "Clinical Laparoscopic Appendectomy Conversion Rates Two Decades Later: An Analysis of Surgeon and Patient-Specific Factors Resulting in Open Conversion".
5. Zachary Klaassen – "Thoracic Outlet Syndrome, A Review".
Reflecting on being an SGU Research Competition winner, Zachary Klaassen, a medical student who did his core rotations at St. Barnabas Medical Center in Livingston, NJ said, "I put in a lot of hard work and it is truly an honor. This award is a culmination of two years of hard work and being placed in a great research environment working with Dr. Loukas." Kyle Smith, a medical student at Long Island College Hospital, was very excited to be recognized for his work in the field of Orthopedics, "I was very happy my research has contributed to both the field of Orthopedics and has helped to promote the name of St. George's University within that field." Ahmad Khalid, a medical student who did most of his clinical rotations at North MiddleSex Hospital in London, sees the St. George's University Research Competition as a positive sign for the future, "It shows how SGU is committed to furthering the research program. Stressing the importance of research is a great message to send to younger students because when landing residency positions becomes more competitive, a strong research base makes a student stand out from the majority." Research is the first step towards medical advancement and St. George's University will continue to support the progress of its students beyond the classroom and across the world.

https://www.sgu.edu/wp-content/uploads/2016/10/news-StudentResearchCompetition.jpg
248
180
VS
https://www.sgu.edu/wp-content/uploads/2020/02/sgu-logo-grenada.svg
VS
2010-02-23 18:18:09
2017-01-18 01:42:39
St. George's University Announces Winners of Student Research Competition