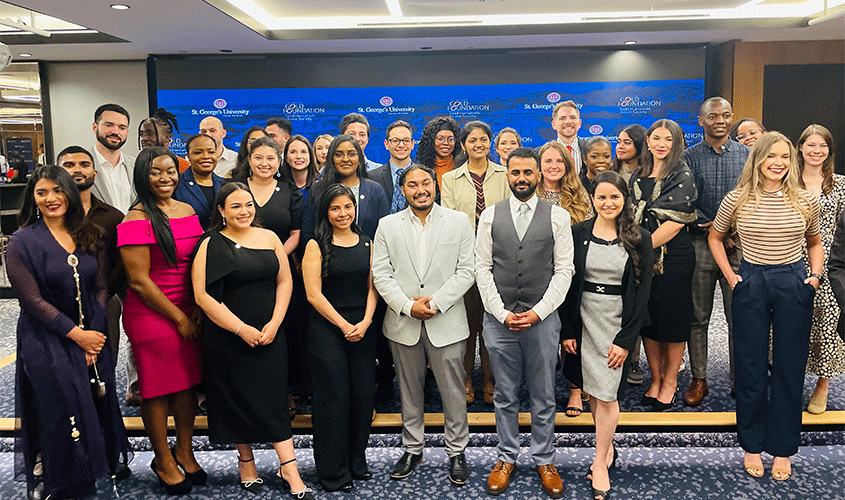 On June 2, St. George's University's Gold Humanism Honor Society inducted 59 students. The annual Gold Humanism Honor Society (GHHS) award recognizes students, residents, and faculty who exemplify compassionate patient care and serve as role models, mentors, and leaders in medicine. Recipients of the award are holistically compassionate individuals who exemplify the tenets of an excellent physician. Members of GHHS are collaborative in their approach to medical care, respectful, and inclusive towards patients' needs and backgrounds.
The Arnold P Gold Foundation established the Gold Humanism Honor Society in 2002. The goal of the organization is to foster and acknowledge humanism during medical education. Over 160 medical schools have a GHHS chapter, awarding thousands of students with honors. The SGU GHHS chapter was established in 2004.
Celebrating a commitment to compassionate care
At this year's GHHS induction ceremony, Dr. Robert Grant, senior associate dean of clinical studies, congratulated inductees on their achievements.
"As physicians, our profession has always embraced the concept of awareness of suffering and our ability to alleviate pain in many of its manifestations. As the esteemed Canadian physician Sir William Osler said: 'A good physician treats the disease; a great physician treats the patient,'" said Dr. Grant. "Induction into the Gold Humanism Honor Society is not merely an honor but validates your commitment to remain as an exemplar of compassionate care and humanism always."
Recent developments in SGU's chapter include Associate Dean of Clinical Studies Dr. Toni Johnson-Liggins's appointment as Chapter Advisor. She is replacing Dr. Cheryl Cox-McPherson, the prior Chapter Advisor who dedicated many years of service.
Students inducted into the GHHS are in the top 10 percent of their class and often involved in community service. GHHS is a steadfast advocate for humanism on medical school campuses and across healthcare institutions. Holding a GHHS chapter indicates that an institution highly values interpersonal skills and attitudes essential for excellent patient care.
—Madeleine Otto
Related Reading
https://www.sgu.edu/wp-content/uploads/2023/08/GHHS-845.gif
500
845
sstoss
https://www.sgu.edu/wp-content/uploads/2020/02/sgu-logo-grenada.svg
sstoss
2023-06-21 09:37:42
2023-08-22 13:31:42
Gold Humanism Honor Society inducts 59 students at 2023 ceremony