On November 10, 2007, a panel of world-renowned experts on global education and health delivery captivated the audience by contrasting the opportunities created by developed and developing nations, and the subsequent impact on their economies.  St. George's University's Provost Allen H. Pensick welcomed over 300 participants to the True Blue campus for this 30 th  Anniversary Symposium titled "The Role of Education in Global Human Development."
The first speaker, Dr. John Rowett, focused on the inequality of tertiary education in his address titled   "Challenging Global Inequality: Tertiary Education in the South."  As the former Secretary General of the Association of Commonwealth Universities, Dr. Rowett has been involved in a number of new Commonwealth education initiatives.  Drawing upon his expertise, Dr. Rowett highlighted the additional imbalance created by places like the UK where efforts are made to ensure that the top performing international students studying there are retained for jobs within the UK.  Dr. Rowett suggested strengthening policies for tertiary education, expanding scholarships, improving networking among tertiary institutions and increasing funding for tertiary education as some of the possible approaches to dealing with the problem.  Quoting Nelson Mandela, Dr. Rowett identified the existing problem as urgent and warranting immediate action at all levels "to close the circle of history."
Under his leadership, the Association of Commonwealth Universities and the Association of African Universities developed a ten-year US$8 billion partnership program.  With his expertise, he contrasted the tertiary education in Ghana and Malaysia since their achievement of independence 50 years ago.  He indicated that the education sector is one of the contributing factors in Malaysia's economic development and that by 2020 it is expected to become a developed country.  In comparison, Ghana, plagued by weak educational institutions, "brain drain" and other challenges, has failed to make similar strides.
Dr. Rowett has been honored in England for his contribution to UK – South African relations.  In 2003, he co-founded the Mandela Rhodes Foundation which is dedicated to education and human capacity development in Africa.  Under his leadership as the Chief Executive of the Rhodes Trust he has committed £10 million over the next decade to the Foundation's development
Dr. Fitzhugh Mullan, the George Washington University Head Professor of Medicine and Health Policy, is an expert on human resources for health with a long record of research and publication on the issues of the US and global health workforce.  Dr. Mullan's presentation titled "The Hinged World: Doctors and Diseases on the Move," reinforced Dr. Rowett's concerns with "brain drain" occurring in developing countries.  Dr. Mullan noted the direct correlation between increased mobility of persons and the spread of diseases – a reality which places an increasing burden on healthcare sectors.   Unfortunately for developing countries, Mullan described a "success quandary": the better they do in terms of educating personnel, the more likely they are to lose these successful professionals to developed countries.  Creative incentives for healthcare workers, enforceable bonding programs, emigration regulations and opportunities for trained personnel to practice within their home countries were among measures employed in some developing states to address this challenge. These, he said, have had limited success.   Dr. Mullan acknowledged that these would enjoy far greater success if developed countries were to meet their own demand for professionals, which is a situation he himself does not think likely.
Dr. Wally Morrow, a respected and progressive academic, is one of the most distinctive thinkers in South African education.  With a career in tertiary education that spans over 30 years, he emphasized the necessity of prioritizing education at the national level in his presentation titled "Education for All in South Africa: Thirteen Years after the Transition to Democracy".  "Good intentions are not enough," said Morrow, who contended that although access to education has increased, quality has suffered.  He identified the root causes as the shortage of financial and other resources, reverse discrimination where students must be promoted despite their lack of academic achievement, side-lining of academic professionals, marginalization of the practice of teaching, poor distribution of teachers and underemployment of human resources.  The former Dean of Education at two South African Universities, Morrow proposed redefining the perception of the education sector beyond a mere service provider to a system that sees teachers as respected professionals who must be integrally involved in planning outcomes for their students.  Dr. Morrow also believes that it is essential to separate the teaching function from the other support services necessary for learning to take place.  Finally, according to the presenter, in South Africa there is a need for fairer distribution of professional teachers.
The final speaker of the day, St. George's University's Vice Provost for International Program Development Dr. Calum Macpherson, outlined the institution's contribution to education and research in the region and beyond.  Dr. Macpherson showed WINDREF's partners throughout the world and highlighted the accomplishments of the research teams which have presented at international conferences for over 13 years.  St. George's has almost 7,000 graduates from more than 130 countries working around the globe.  With the creation of the Windward Islands Research & Education Foundation (WINDREF) on its campus in 1993, research students have collaborated with Ministries of Health, alumni, other universities, non-governmental organizations and communities on various projects.  Dengue fever, the Mona Monkey, HIV, AIDS and water are among the critical subjects studied by WINDREF researchers.
Dr. Macpherson shared Dean Margaret Lambert's presentation as she was unable to attend.  This presentation showed the true nature of SGU's international community.  Fully 40% of the students are non-US, up from 10% 15 years ago.  The University is realizing its goal of creating a truly international educational haven for students to live and work side by side and create a worldwide, lifelong network of colleagues and friends.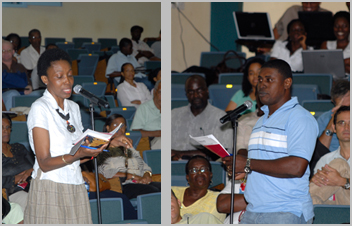 Lively and dynamic question and answer sessions followed each main speaker which challenged presenters and participants to analyze the implications of the topic as it applied to individuals, institutions and nations as a connected entity.  SGU's Dr. Antonia MacDonald-Smythe, Associate Dean of the School of Arts and Sciences, successfully facilitated the discussions throughout the day.
The objective of the 30 th  Anniversary Symposium was two-fold: encouraging greater deliberation on the issues affecting the delivery of education and the consequences for national development, and challenging the University and other institutions to respond to the demands on and responsibility of education in a world with abundant resources, unequal distribution and disproportionate opportunities.
For complete presentations by Dr. Wally Morrow and Dr. Fitzhugh Mullan please see:
Dr. Wally Morrow Power Point Presentation
Dr. Fitzhugh Mullan Power Point Presentation
Published 11/19/2007
https://www.sgu.edu/wp-content/uploads/2016/10/Dr-Fitzhugh-Mullan-Dr-John-Rowett-Dr-Charles-Modica-Dr-Allen-Pensick-Dr-Calum-Macpherson-Dr-Wally-Morrow.jpg
216
500
smashm3233
https://www.sgu.edu/wp-content/uploads/2020/02/sgu-logo-grenada.svg
smashm3233
2007-11-19 16:32:55
2017-01-18 02:41:05
St. George's University Hosts 30th Anniversary Global Education Symposium