The School of Veterinary Medicine welcomed its newest class of future veterinarians at St. George's University's Fall 2016 White Coat Ceremony on August 27 at Patrick F. Adams Hall. Donning their white coats and reciting the Oath of Professional Commitment, it marked the students' official entry into the veterinary profession.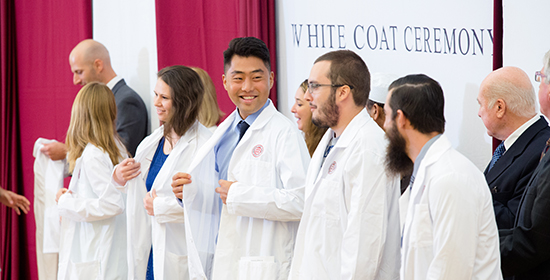 Ten years prior, alumnus and Master of Ceremonies Dr. Thomas Monaco, DVM SGU '09, made such a step himself. He reflected on his journey into veterinary medicine and admitted it would not have been possible without SGU giving him the opportunity to attend veterinary medical school – setting him on the path to becoming a board-certified small animal surgeon at Katonah Bedford Veterinary Center in New York.
"Now you all are in the same position with the same opportunities that I had," extolled Dr. Monaco. "Be proactive and utilize the talented and dedicated faculty available to you at SGU. While we can all appreciate the luxury of attending veterinary school at a place where most people come for vacation, it is critical that you always remind yourself of the real reason you are here, and that is to become a doctor of veterinary medicine."
Dr. Monaco stressed balance and time management to the future vets. He encouraged them to become caring and reliable colleagues. "The veterinary community is relatively small and everyone seems to know everyone, whether you are aware of it or not," he counseled. "As you progress in your career, having a reputation as a great colleague will go a long way."
Now entering his second year as President and Chief Executive Officer of St. George's University, Dr. G. Richard Olds was pleased to share in the happy occasion. Having spent most of his career as a physician working closely with veterinarians, he emphasized the link between veterinary medicine, human medicine, nursing, and all the health professions under the banner of One Health, One Medicine.
Dr. Timothy Ogilvie, Dean of SGU's School of Veterinary Medicine, also offered his advice, drawing from his 42 years in veterinary medicine. He then introduced the ceremony's keynote speaker, Dr. Sheila Allen, Dean of the College of Veterinary Medicine at the University of Georgia. Dr. Allen has been extensively involved in developing and revising the college's Doctor of Veterinary Medicine curriculum. Through the use of famous quotes from American cinema and personal reflections of her 35 years of experience in the veterinary profession, she hoped that her heartfelt words would both inspire and resonate with the incoming class.
"How you handle failure builds a whole lot more character than how you celebrate victory," she advised. "Secondly, don't compare yourself to others. I promise you your class rank will not be on your diploma or your tombstone. And finally, when you can truly celebrate the achievement of another person as much as your own, or even more so than your own, it is truly liberating."
St. George's University School of Veterinary Medicine was first established in August 1999, followed six years later by the installation of the first international chapter of Phi Zeta National Veterinary Honor Society on campus, the Alpha Delta Chapter. In September of 2011, the School's DVM program was granted full accreditation by the American Veterinary Medical Association Council on Education (AVMA COE) for seven years. The School of Veterinary Medicine continues to strive toward being a leader in providing veterinary knowledge and technology, while expanding its curriculum and adding new state-of-the-art laboratories and classrooms.
By Ray-Donna Peters
Published on 9/1/16
https://www.sgu.edu/wp-content/uploads/2016/09/SVM-White-Coat-Ceremony-August-2016-group-of-students.jpg
280
550
Erin Shaw
https://www.sgu.edu/wp-content/uploads/2020/02/sgu-logo-grenada.svg
Erin Shaw
2016-09-01 17:08:33
2017-01-17 22:50:07
St. George's University Veterinarians-In-Training Welcomed At Fall 2016 White Coat Ceremony