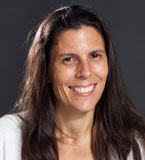 Sonia Cheetham Brow, DVM, PhD
Associate Professor, Veterinary Virology
Department of Pathobiology, SVM
Email: scheetha@sgu.edu
Website: https://www.sgu.edu
Phone: (473) 444-4175 ext. 3805
Fax: (473) 439-5068
---
---
Biography
Dr. Cheetham Brow joined St. George's University in October, 2012 as an Associate Professor in the Department of Pathobiology, School of Veterinary Medicine. She is Course Director for "Veterinary Virology". In addition to teaching, Dr. Cheetham Brow is conducting research projects on zoonotic viruses in bats, viruses in pigs and poultry.
Dr. cheetham Brow earn her DVM degree from the University of Buenos Aires, Argentina. She then completed PhD in Virology under supervision of Dr. Linda Saif in the Veterinary Preventive Medicine program at The Ohio State University in 2006. This was followed by a posdoc in human colorectal cancer in the School of Medicine at the University of British Columbia, Canada.
Dr. Cheetham Brow has conducted research in various countries including Argentina (Leloir Institute, INTA), Australia (CSIRO), US (OSU), Canada (UBC, BC cancer Agency) and Grenada (SGU). The diverse research programs have provided a strong background in virology, molecular biological techniques and first hand use of several animal models (including mice and gnotobiotic pigs and calves) to determine the effects of pathogens.
Areas of Interest
Viruses, Teaching, Research using both in vitro and in vivo models, Zoonotic viruses, Viruses in Grenada
Selected Publications
S Cheetham, M J Tang, F Mesak, H Kennecke, D Owen, I T Tai. British Journal of Cancer - BRIT J CANCER , vol. 98, no. 11, pp. 1810-1819, 2008. SPARC promoter hypermethylation in colorectal cancers can be reversed by 5-Aza-2′deoxycytidine to increase SPARC expression and improve therapy response.
Michelle J. Tang, Sonia M. Cheetham, Isabella T. Tai. Gastroenterology , vol. 134, no. 4, pp. A-385-A-385, 2008. M1627 SPARC-Induced Apoptosis Is Mediated By a Specific Domain of SPARC That Interacts with Pro-Caspase 8.
M. Souza, M. S. P. Azevedo, K. Jung, S. Cheetham, L. J. Saif . Journal of Virology - J VIROL , vol. 82, no. 4, pp. 1777-1786, 2008 Pathogenesis and Immune Responses in Gnotobiotic Calves after Infection with the Genogroup II.4HS66 Strain of Human Norovirus
Cheetham S, Souza M, Meulia T, Mc Gregor R, Wang Q and Saif L.J. Norovirus VLPs binding patterns in buccal and intestinal tissues of Gn pigs and comparison to A/H histo-blood group antigens expression in the gnotobiotic pig (Journal of Virology 2007 Vol 81 3535-3544).
Cheetham S, Souza M, Meulia T, Grimes S, Han M and Saif L.J. Pathogenesis of a GII human norovirus in the gnotobiotic pig model (Journal of Virology 2006 Vol 80 10372-10381).
Souza M., Cheetham S., Azevedo M., Costantini V., L.J.Saif. Cytokine and antibody responses in gnotobiotic pigs after infection with human norovirus genogroup II.4-HS66 strain. Journal of Virology - J VIROL , vol. 81, no. 17, pp. 9183-9192, 2007
Han, M.G., Cheetham S., Azevedo M., Thomas C. and Saif L.J. (2006) Immune responses to bovine norovirus like particles with various adjuvants and analysis of protection in gnotobiotic calves. Vaccine 24, 317-326.
Wang, Q., M. G. Han, S. Cheetham, M. Souza, J. A. Funk, and L. J. Saif. (2005) Porcine noroviruses: genetic and antigenic relationships to human noroviruses. Emerg Infect Dis Vol 11, No.12, 1874-1881.
Parreño V., Constantini V., Cheetham S., Blanco Viera J., Saif L.J., Fernandez F., Leoni L., Schudel (2001) A. First isolation of rotavirus associated with neonatal diarrhea in guanacos (Lama guanicoe) in the Argentinean Patagonia region. J Vet Med B Infect Dis Vet Public Health. 2001 Nov; 48(9):713-20.
Selected Projects
Identification of Dengue, Zika (Flaviviridae) and Chikungunya (Togaviridae) viruses in Aedes mosquitoes from Grenada, West Indies. Molecular detection of the mentioned viruses of public health importance to the region.
Identification of potential zoonotic viruses in insectivorous and frugivorous bats in Grenada, West Indies
Our approach is to perform RT-PCR using previously published primers targeting conserved regions with degenerate primers or multiplex primers for each of the following viral families: Paramyxoviridae (Hendra virus, Nipah virus, etc), Togaviridae (Eastern Equine Encephalitis (EEE), Western Equine Encephalitis (WEE), Venezuelan Equine Encephalitis (VEE), Chickungunya virus, etc), Flaviviridae (West Nile Virus (WNV), Japanese Encephalitis Virus (JEV), St. Louis Encephalitis Virus (SLEV), Dengue virus, Zika virus, etc), Bunyaviridae (Rift Valley Fever virus, California Encephalitis Virus, etc), Coronaviridae (SARS (Severe Acute Respiratory Syndrome), MERS (Middle East Respiratory Syndrome), etc)
Rabies in bats in Grenada, West-Indies, this is a collaboration with Dr. Zieger
Also collaborating with other researchers working on Orthomyxoviridae (Influenza), Retroviridae (Caprine Arthritis encephalomyelitis), Poxviridae (Avipox, Orf)
https://www.sgu.edu/wp-content/uploads/2016/12/Cheetham-Brow-Soniasm.jpg
160
145
VS
https://www.sgu.edu/sgu-main-website/wp-content/uploads/2016/01/SGU-Signature-Horizontal-SPOT-300x55.png
VS
2016-12-22 17:10:21
2018-04-19 00:40:10
Sonia Cheetham Brow, DVM, PhD