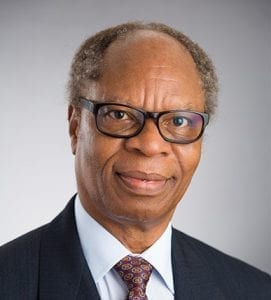 Program Director, Anatomy and Physiology
Email: taire@sgu.edu
Website: https://www.sgu.edu/psc
Phone: (473) 444-4175 ext. 3327
Fax: (473) 444-1480
---
---
Biography
Dr. Aire holds the degrees of D.V.M. and Ph.D. (University of Ibadan), and did postdoctoral studies in Sweden and the United States of America. He is a Foundation Fellow of the College of Veterinary Surgeons of Nigeria (FCVSN), and an inducted member of the Fellowship of the Academy of Sciences (FAS).
He has taught veterinary anatomy in various universities: University of Ibadan, University of Illinois, USA, University of Zimbabwe, University of Pretoria and Swedish University of Agricultural Sciences, Uppsala, Sweden, and has had research visits to Universities of Minnesota, Ontario Veterinary College, Guelph, Canada, and The University of Liverpool, England, and external examiner to several universities in Africa, the Caribbean and India.
Dr. Aire has had considerable administrative experience at Head of Department and Deanship levels, as well as serving in several committees in several universities, and also at the national level. He is a National Research Foundation-rated scientist in South Africa, and he has had the honor of being the representative for Animal Sciences and Veterinary Science in the Rating Assessment Committee of that Foundation, 2004 to 2006. He is currently Professor of Anatomy, the immediate past chair of the Department of Anatomy, Physiology and Pharmacology, School of Veterinary Medicine, and currently Associate Dean of Academic Programs, School of Veterinary. Before coming to the Caribbean, he was Professor of Veterinary Anatomy, University of Pretoria (1996-2006), where he is Professor Emeritus.
His research activities are in reproductive biology of animals, with particular reference to male reproduction in birds, wildlife and laboratory animals. His journal and book publications, well over a hundred and thirty, have received good international acceptability and respect. He has been invited a number of times to write specialist reviews in this area of research in journals and books. He has won a number of publication and paper-presentation awards, including, but not limited to, the 2nd Prize of the European Academy of Andrology, 1997, for a publication in 1996 in the International Journal of Andrology, Researcher of the Year, Faculty of Veterinary Science, University of Pretoria, 2003. He has written chapters in four state-of-the-art books, including in the Encyclopedia of Reproduction, 2nd Edition, 2017, in his area of research specialty. He was nominated in 2000 to serve in the Nomina Anatomica Avium Committee, which is responsible, globally, for avian structural nomenclature.
Dr. Aire has supervised eleven Ph.D. degree theses and several M.Sc. degree dissertations, and he is currently supervising one Ph.D. degree and several Master of Science degree students.
Professionally, he has, at different times, served as Secretary and then President, Nigerian Veterinary Medical Association (NVMA); Council Member, Commonwealth Veterinary Association (CVA); National Representative, World Veterinary Association (WVA) and Pan African Veterinary Association. He received the Livestock Feeds (Nigeria) Award for contributions to Veterinary Medicine, 1996.
https://www.sgu.edu/wp-content/uploads/2017/01/AIRE-Tom-20170914_0154-BIO.jpg
428
387
dbriggs
https://www.sgu.edu/wp-content/uploads/2020/02/sgu-logo-grenada.svg
dbriggs
2016-12-08 12:36:40
2021-01-13 14:59:20
Tom Aifuo Aire, DVM, PhD